With 3.8 billion individuals found on social media in 2020—and perhaps more in the coming years—these social media platforms should take top priority in every financial advisor's marketing strategy.
Social media is free-to-use, easily accessible, and highly engaging—which is why financial advisors can use social media marketing to quickly begin finding clients.
2020 through 2021, 74% of U.S. financial advisors who used social media marketing for business initiated new relationships or onboarded new clients, according to the Putnam Investments Social Advisor Study. 
Why Social Media for Financial Planners Matters
Regardless of a financial services niche and target market, a well-planned digital marketing strategy will reach and tap the right target audience and leads—whether young or old.
The "Gen Z" is omnipresent and digital savvy social media users who love content creators, while the Baby Boomers are keeping up with the trends and learning the ways of the digital world.
Those seeking information on wealth planning, industry tips, or financial life hacks turn to social media to help them decide on products, services, and financial advisers.
Social media marketing has the power to offer instant messaging and links to your website for added resources or information.
Social media platforms are the instant gateway to connecting you with your prospects, clients, and followers—with efficiency, cost savings, and a targeted approach.
How to Create Your Social Media Marketing Strategy
1. Make a Plan
It all starts with a strategic and well-thought marketing plan. You can't just write LinkedIn posts and expect your followers to balloon overnight.
Your social media campaign brief—whether you will do things in-house or hire an agency—should sum up all your objectives and requirements so that you can launch a successful, consistent, and effective campaign.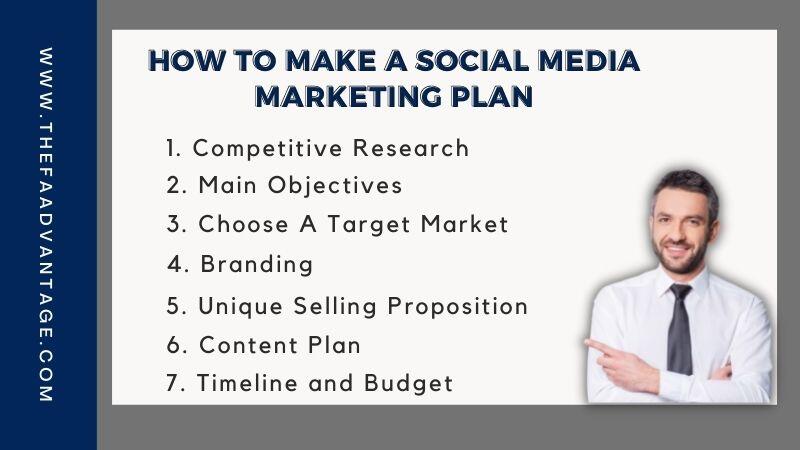 Remember to include the following in your marketing plan:
Competitive Research – An introduction to the competitive landscape, current industry trends, and opportunities can paint a comprehensive picture of what the business can explore.
Objectives – Whether it's awareness or engagement, at the end of the campaign, a financial advisor needs to see an increase in conversions, sales by X%, and profits by X%.

Your social media campaign should yield a healthy Return on Investment, especially if you allocated a marketing budget for your programs.

Target Market – Define and describe your target market's demographics, psychographics, interests, needs, and other behavior online.

You can create a "brand persona" to represent your core target market's likes, dislikes, activities, and goals in life.

Branding – If you have brand guidelines on the tone of voice, color palette, imagery, and other references, you can apply them to the social media marketing plan.
Key Messaging and Unique Selling Proposition – If you have a caption, a brand value, or an idea that you want to wrap around a social media campaign, you must indicate and enforce it.

For example, if a financial advisor wants followers to associate your brand with "Health is Wealth," then your content should revolve around synonymous ideas like money, gold, or even a bowl of salad.

Don't forget the call-to-action that should always lead to a sign-up sheet or your website.

Content Plan – Now that you've defined your target market, you can identify the social media sites to reach them, the type of content (text, images, infographics, videos, etc.) to execute, and the messaging types.

To keep up the engagement, rotate your topics and media type to prevent followers from losing interest.

Timeline and Budget – No plan is complete without the timeline, calendar, and available budget.

If you are aiming for larger returns, then you may need to invest in promoted posts and a creative agency to deliver quality and timely posts.
2. Select your social media platform
Facebook – Facebook is the top-of-mind social media platform that has a community of almost all your acquaintances, if not all. It also happens to be the most popular for the Boomers and retirees.

If you intend to capture a large chunk of the market and also do bull's eye targeting (demographic or location), Facebook has the analytics to help you accomplish both.

With multimedia capabilities, engagement buttons (like, love, share), and live video posting,

Facebook allows you to curate your content to meet your followers' interests and needs. It also is the perfect ad space for interaction, well-targeted communications, and extended reach.

The Messenger app built-in Facebook is a financial advisor's seamless tool to reply and communicate with interested prospects and clients.

Positive client experiences can be built on the messaging app: troubleshooting issues, customizing solutions and getting client referrals in return.

Linkedin – LinkedIn is the professional and career hotspot for prospects belonging to entrepreneurial or business-related industries.

People love to share their career milestones, promotions, and retirements, so the best place to seek qualified leads is right through their profiles.

Building an impressive profile for a financial advisor and the financial advisory firm is equally important to get started in LinkedIn. Add your achievements and specialties, and form networks with quality leads, potential recruits, and clients.

Connecting with others through InMail is a professional way to start relationships outside your network—and you can build on that by offering your prospects the right solution to their wealth, life, or savings goals.

Share your expertise or even participate in a LinkedIn Live session!

Instagram – Instagram is like Facebook's younger sibling and the look-book among social media sites.

If you have beautiful, enticing, and lifestyle-themed content, then this is the place to showcase those photos, videos, and live stories.

It is also the digital space for brands and influencers, so if you're targeting the Millennials and Gen Z, Instagram is the right spot.

For financial advisors, Instagram can be a place for a myriad of topics that can talk about your personal brand without having to do a hard-sell.

Consider these IG-friendly topics: editorial shots (talking about growth while featuring a forest), positive quotes (especially if you offer health or life insurance), vacations and food trips (to reach out to wealth management clients).

Another plus is that the Instagram messaging app is linked to Facebook!

You can manage both social media sites with a single account.

YouTube – Did you know that YouTube comes next to Google as a top search engine?

Video marketing is becoming a vital part of every campaign—especially in a fast-paced society where people search for "how-to" videos or want to learn about investments and making money without doing a lot of reading.

A YouTube account or channel is the television of the digital age where you can post videos about your financial advisory firms, advisors, services, and webinars. Produce your content.

Examples are a talk show, finance-related series, or how to get rich tips—and use YouTube to get interested followers and fans.

You can also showcase your finance knowledge and charisma—and attract clients in the process.

In the digital age where there is a lot of fake accounts and bots, YouTube videos lend more authenticity and credibility to financial advisors when viewers can get a glimpse of you.

Twitter – With its 280-character limit, Twitter is best known for being the hub for ideas, topics, and what's trending.

Easy to search and scroll down, you can use Twitter for one-liner captions, events, product updates, or to share news and other industry tidbits.

Maximize hashtags and trending topics to your advantage on Twitter, and own some keywords about your strengths and services.

Wins in Twitter include follows, shares, and re-tweets—and these are the ways to spread awareness about your brand and pique the interest of the media or like-minded specialists.

Users can also engage with you via comments or DMs.
3. Fully Complete Profiles
Social media accounts contain a wealth of information about financial advisors and potential clients.
At a glance, the photo, profile, achievements, and common contacts already give a snapshot of an advisor's portfolio.
In place of an actual calling card, you can dazzle others with an impressive profile that builds your credibility and value in the financial services industry.
It also helps to add testimonials and reviews from past clients to add to the seasoned experience.
4. Understand the Compliance Process
The financial services industry has a lot of compliance and security regulations, and these extend to the posting of social media materials.
After all, your service involves money and financial instruments so it's best to understand the requirements and process beforehand to avoid delays, penalties, and complaints.
Areas that you can focus on are:
Data privacy – Even in social media, you should inform people how their data are stored and used.

Followers do not equate to clients so you will need their consent for communication materials outside of social media.

Confidentiality – Every firm respects and maintains the confidentiality of client information and data, even non-clients who communicate through social media.

If you will post their names or photos, you must get their explicit consent.

Claims, disclaimers, and promotions – Marketing for financial advisors have to abide by the rule that ads should be "clear, fair, and not misleading."

Promotions need to be labeled clearly. Claims of being the "number 1 brand" or "best in the world" can be misleading to the client, so find a proposition that is transparent and suits your brand.

If you will be sharing information about rates and returns, always add a disclaimer.

Compliance Guidelines – If you work in a team or organization, designate a compliance unit or person who can help review and clear your social media posts.

Make them part of your approval flow so that in case of internal audits or client complaints, you'll have solid proof of compliance.

Social media marketing for financial advisors should include a compliance checklist ensures that everyone in your organization is aligned with the rules and requirements for brand-compliant posts.

Enumerate all the mandatories required and standard disclaimers so that everyone is on board the compliance boat.
5. Develop a posting schedule
As a starting point, make it a rule to post on social media at least once a day. Generating daily content increases the chances of getting more impressions, more engagement, and more fans.
Creating a content calendar—whether manual or automated—is the best way to organize and schedule your posts.
Your social media strategy should include a calendar that allows you to plot and spread content strategically to coincide with events and special occasions.
Remember to optimize the posting time to get more traffic. Workweek engagement is continuing to increase so you can take advantage of earlier posts that coincide with working hours.
Recommended posting on Facebook and Instagram is on weekdays at 10-11 AM. Twitter attracts the early risers—as early as 8 AM to 3 PM, while you can explore LinkedIn users in the morning or during the lunch hour, especially on Fridays.
Weekends can still capture quite the audience, but with leisurely, friendly, and less serious matters.
End-of-day posts shouldn't stretch up to dinner time; keep within office hours when people are still "stuck" in traffic or their office chair.
6. Create Platform Specific Social Media Posts
Social media posts are not a "one-size-fits-all" type of material.
You may need to tweak your content or copy to optimize your post, or better yet, curate the right content, depending on the selected platform:
How To Post On Facebook
Having the highest user volume, you can do the most on Facebook: write lengthy captions, add multimedia, ask to be shared, and re-target to interested folks.
Focus on attracting a mass audience with interesting and valuable content, market insights/tips, and other useful information that will make them want to reach out to you.
Because you can reach niche groups, local areas, and communities, you can curate your content specifically to them—send invitations to events, use the "local" lingo, or even showcase targeted features or solutions that interest them.
How To Post On Instagram
Instagram is targeted to a more feminine, affluent, and a younger crowd, so image-rich visuals will work well.
Captions are just secondary to the post—so live stories and the carousel can drive engagement with lively, enticing, aspirational imagery.
How To Post On Twitter
With 280 characters, focus on punchy lines that highlight a webinar you hosted, a trending financial topic, a new product launch, or a newsworthy achievement.
Your target is to propagate ideas, and get media or other SMEs interested in what you have to offer, and be re-tweeted.
How To Post On LinkedIn
LinkedIn houses the professionals and those at the peak of their careers, so consider posts that appeal to the academic, the ambitious, and those aiming for wealth and retirement goals.
Webinars, infographics, and market statistics will surely get the right traffic on LinkedIn.
How To Post On YouTube
Post videos on different topics to appeal to various types of demographic and academic achievements.
Quick and simple explanations will work for finance newbies, while those with advanced knowledge may opt for webinars and serious discussions.
7. Reevaluate
To gauge a social media strategy's success, check if you've met your goals and metrics.
You can correlate a certain post with its generated clicks (conversions) or engagement (likes).
Assess which materials and platforms were most successful in driving awareness to interest to an actual sale, and re-formulate your winning strategy.
Analyzing the reports on impressions and conversions will help you derive the best mix to help you realize your targets faster.
With that information, you can modify your content calendar with a more effective plan.
Don't Get Left Behind. Our 2022 Marketing Report Free
(Like Really Free… No Email or Anything Needed!)
Social Media Topics for Financial Advisors
Here are some social media topics and ideas that you can use:
Firm updates – Spread the news about your new offices, executives, products, and website.
Corporate affairs and activities – Promote your online and offline events such as webinars, walkathons, and hosted dinners.
Community and charity – Showcase community events and CSR (corporate social responsibility) activities to show that you care about the environment and other causes.
PR – Leverage news and press releases, TV interviews, awards received, and other media articles and features.
Current events – Include timely or real-time content such as economics, news, elections, weather—and link these with your services and offerings.
Statistics and infographics – Use numbers on health, mortality and interest rates, and education costs to drive the point and necessity of your services.
Market updates and insights – As a thought leader in your industry, always include in-depth forecasts, tips, and valuable insights.
Questions and polls – Ask thought-provoking or just leisurely questions or polls to get your community highly engaged. Even spark a friendly debate just to get the comments going.
Promos – Introduce promos or contests to drive traffic on idle days.
Series – For complex topics, break them down into series, so followers will look forward to #FinancialFriday or #MoneyMonday.
Humor and Inspiration – Insert the occasional humorous posts, memes, gifs, and "quote of the day" to show your fun side. It will be a break from the usual numbers.
Yourself – Last but not least, as the financial advisor selling your services and knowledge, you should also post something about yourself: an anecdote, a pet, an ambition story, your best vacation, or a throwback in the office.

This will warm you up to any audience and show your authentic and human side—which is what financial services is all about.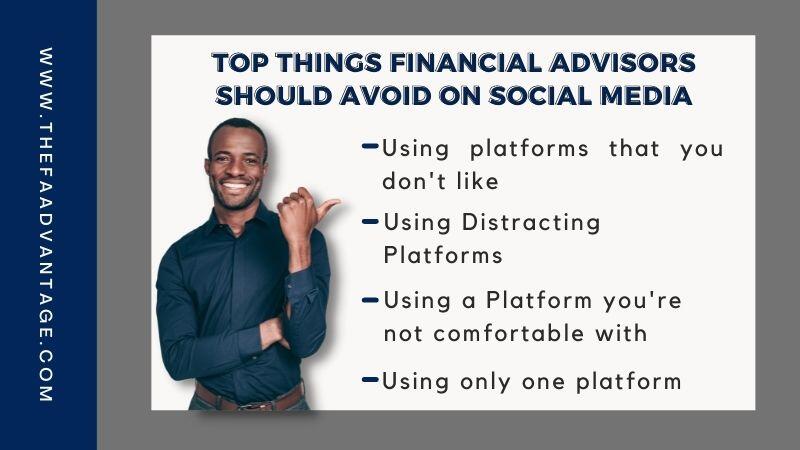 Top Things Financial Advisors Should Avoid on Social Media
Using platforms that you don't like
Social media for advisors does not necessitate the use of all the social media sites available.
If you do not find value in Instagram and its photo layout, it's all right to skip this medium.
If you can maintain a consistent and quality output in other channels, that's all that matters to you and your followers.
Using Distracting Platforms
Managing a social media presence is time-consuming and affects the course of the firm may need to be re-assessed.
Your social media presence should be an efficient and extended channel to reach clients.
If you spend more time chatting with old acquaintances or just browsing through profiles all day long, this might not be a good fit for your growth strategy.
Using a Platform you're not comfortable with
If you have issues with a short character count or posting videos about yourself, don't force yourself to create that kind of content.
Choose the social media platforms that can highlight what you're great at so that you can showcase your strengths with confidence and style.
Using only one platform
You'll be missing out on other connections and networking possibilities if you stick with just one social media platform.
As a financial advisor, you should know all too well, "Never put all your eggs in one basket."
The more platforms, the more chances to hit the right people and meet quality leads.
Financial Advisor FAQ
Can financial advisors use social media?
Of course! Creating a strong social media strategies are one of the best and most effective ways to create awareness and reach out to your target audience in the digital space.
Whether through a post or chats, getting conversions has increased with the use of social media through the years.
How many financial advisors use social media?
83% of a little over 1,000 financial advisors surveyed in the US say they are using social media for business.
What can financial advisors post on social media?
They can post about their firm and its services, financial highlights, videos and webinars, and any kind of content that will create brand awareness, interest, and conversions.
Can financial advisors advertise on social media?
Yes, financial advisors can advertise on social media but need to be mindful of compliance and advertising regulations.
They cannot make false or misleading claims about themselves and their offerings, and should add disclaimers to products they may promote.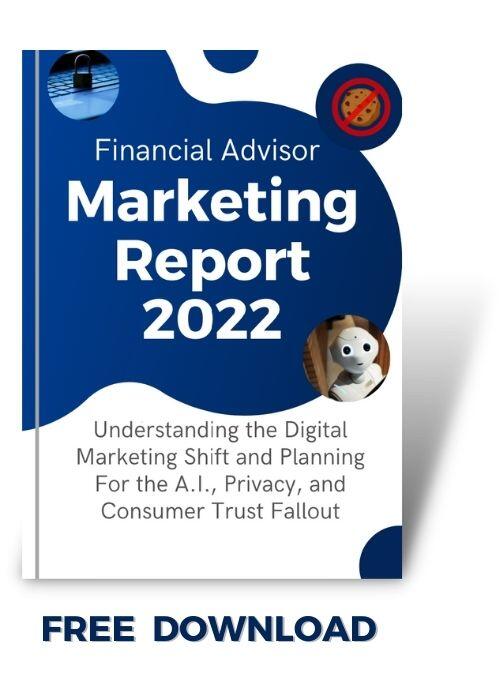 Attracting Better Leads Online
Our 2022 Marketing Report is 100% Free! Learn what it takes to be successful online with all the digital changes happening right now!
(No Email Or Anything Required)
You May Also Like