Social media is an indispensable tool for financial advisors because it broadens their reach toward prospects and clients.
This gives financial advisors a huge opportunity to seamlessly share their financial services with an unlimited number of people.
There are many social media platforms but among them, LinkedIn stands above the rest in many aspects.
The platform was traditionally the go-to hub for job seekers, but today, LinkedIn is considered one of the most effective vehicles for marketing strategy and lead generation.
The tool is just as good as its user. LinkedIn is a huge instrument to obtain high-quality leads, but it all depends on how you use it.
Let this article be your quick reference in making the most out of your LinkedIn profile.
Why Financial Advisors Should Use LinkedIn
Based on LinkedIn's latest update at the time of this writing here, they have already reached a community of 774 million users.
Facebook has the largest number of users with 2.74 billion, followed by Instagram, which has about 1 billion users.
If we put this data in perspective, there is no doubt that LinkedIn is a viable source of leads for all sales and marketing professionals.
Personal Branding
You are your brand. Personal branding means marketing yourself to support your career or your business.
How you leverage your brand will affect the success rate of your business.
Trust is not given but earned. In the course of your whole career, you are continuously building your credibility so that people will not only like you, but trust you.
Bear in mind that in the world of financial planning, money is at stake, so people would naturally want a reliable financial advisor.
LinkedIn is the perfect place to show the world your trustworthiness and professional skills. The more connections you have in LinkedIn, the more frequent you appear in search results.
LinkedIn makes prospecting easy and effective through profile optimization.
Your profile is your primary asset, especially to those who aren't acquainted with you and your brand.
Since prospecting starts with a healthy client relationship, your profile must be neat and credible.
Personalized Prospecting messages
In LinkedIn, you can swiftly create prospecting messages with high response rates.
Always remember that what you're after in prospecting messages is not to convert customers on the spot, but to simply have them reply.
Below are some prospecting message samples that effectively work as openers that you can use prior to your Linkedin scripts:
Ask a relevant question. If you see your prospect participating in any activity online, you can use that to your advantage by asking them specific questions regarding it.

Example: "I would like to ask something from your conversation with _______…"

Give a sincere compliment without asking a question. People become soft and vulnerable when you begin with appreciation. They will feel more comfortable and open to engaging in a conversation with you.

Example: "Hello, I watched your performance and I enjoyed it…."

Have your mutual contact create a group chat with you and the referral. As part of courtesy, don't create the group yourself.

Example: "[Mutual contact] recommended me to you because you also have [relevant concerns]. I'm just here to let you know I can help with that."

Ask a question about your referral's post. People like it when you are interested in their agenda.

Example: "Hi, I read about your post regarding _____ and I'm very much interested to know more. Can you tell me more about it?"

Cite your attendance in the same event. Attending the same conferences, seminars, or workshops can breed a lot of discussion points.

Example: "I can see that we attended the same event, I'd be glad to know your comments about the topic."

Request feedback on someone who reacted to your post. Many financial advisors neglect the simple likes that they get from the audience. Use these reactions as a way to spark a conversation.

Example: "Thank you for liking my post. I'd love to know your thoughts about it."
Original Content
Include an image or photo when you create posts on LinkedIn as they have twice the chance of engagement. – Linkedin
There's a reason why originality is always part of the criteria during competition.
People want something raw, authentic, and unique. What do you have that others don't? This will be your strongest selling point.
Publish your articles on LinkedIn. If you possess valuable information, prospects are more likely to click on your content. Once your prospect likes your post, this appears on other connections, strengthening your presence in LinkedIn.
A good way to solidify your original content is to use hashtags with 3 or 4 relevant keywords.
This will categorize the audience of your content through a hashtag's search mechanism. To support your ideas, it's a great idea also to add original research to it.
Play the Long Game (Don't expect quick results)
You are in the for the long haul, and it takes time to build a strong reputation.
Don't expect immediate results as this will cloud your mindset in achieving your goal. Instead, focus on your long-term goals.
If you want to see results right there and then, you will only be disappointed. People at the top didn't arrive there magically; there's a lot of sweat and hard work involved.
If you recall the race between the tortoise and the hare, it's slow and steady that wins the race.
Did you know that Bamboo Trees manifest progress in growth only in their fifth year?
For the first four years, it would seem like they are not growing. So, the message is this: be patient and trust the process.
In LinkedIn, it may take some time to build your network, depending on your hard work and the quality of your existing contacts.
Make sure to cultivate your network by consistently producing fresh and usable content for them.
Focus on Inbound Leads (Adding value that makes leads come to you)
Normally, consumers don't buy products out of whim but by function.
In the same way, clients look at how much value could be added to their lives when they use your product.
The focal point of an inbound marketing methodology is a long-lasting customer relationship.
You add value to your inbound leads when you attract, engage, and delight them. To attract means to draw customers using valuable content that causes them to trust you.
To engage is to present solutions that can address their existing issues, while to delight is to willingly provide support to help your customers succeed.
Limit Automation
Automation is powerful to efficiently reach out to prospects simultaneously without lifting a finger.
However, depending too much on automation will affect your organic engagement with clients. Not all the clients are the same; some will require less and some will require more.
Use Sales Navigator.
LinkedIn's Sales Navigator improves your prospecting and lead generation by letting you connect seamlessly with individuals or an organization.
With its Lead Builder search, you can create a high-quality pipeline. You can filter the specific type of leads you are searching for according to job title, company, industry, and geography.
What's great is that you can save these customized searches so that you will be notified when prospects are matching the set criteria.
The Sales Navigator also has a Teamlink function that lets you see your relationship with a prospect (whether first or second-degree connection).
If there are no connections yet, don't worry because LinkedIn can notify you once an acquaintance makes a connection with your leads.
How to Find Leads on LinkedIn
Complete Your profile
Based on research, completed profiles are 40 times more likely to receive inquiries than incomplete ones.
Successful financial advisors have fully accomplished profiles, which boost their image.
You could be one of the best financial advisors, but if you still aren't getting visitors, then your profile might not be thoroughly filled out.
Use an eye-catching but relevant headline
Your headline in LinkedIn is an important tool to increase your discoverability in the platform because this is the first thing prospects see when they visit your profile.
To maximize your headlines, carefully choose the keywords so that when people search on LinkedIn, there's a higher chance for your profile to show up.
The headline should be simple, concise, and clear, with no fluffy words. You can also add some relevant skills as long as they are written short.
For people to easily find you, the keywords must be specific and not generic.
Create a niche-focused Summary
After the headline, the searchers will be looking at your summary.
In this portion, you introduce yourself in the simplest yet strongest way. Make clear your professional goals and what you want to achieve for the clients in your niche.
It's similar to a cover letter in a resume but only in a more conversational style.
You can include the following points in your summary:
Your job title
Your accomplishments (related to your profession as a financial advisor)
The number of years you have served in the profession
The reason you love your job
Your specific strengths
Use the Featured Section wisely
The Featured Section is an area within LinkedIn where you can showcase your work samples like original or co-authored articles.
This is located between the About section and Activity section of your profile.
If you have posts with a healthy number of likes or mentions, you can set it as a featured post by just clicking on the star icon at the bottom of your post.
If you have relevant articles you want to feature, just click on the plus button of the Featured Section and click the plus button beside Articles to see a list of published articles.
You can also add links to websites or pages that are relevant to the services you are offering.
Get Recommendations
Increase your plausibility among prospects by getting recommendations from LinkedIn members who are also your first-degree connections.
Once a connection submits a recommendation, you will be notified for acceptance, dismissal, or revision.
After you accept the recommendation, this will be visible in your network.
They are just like employment references because the people who recommend you know what value you will bring to other people or organizations.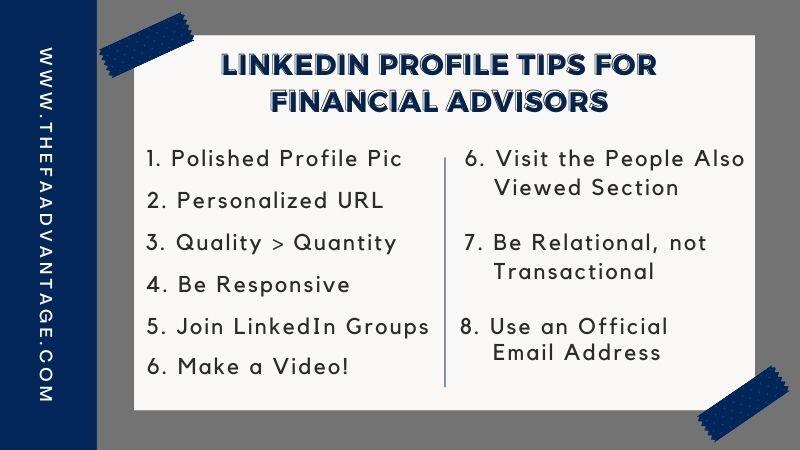 LinkedIn Profile Tips for Financial Advisors
The good news is that LinkedIn works. The bad news? There's a tough competition out there.
If you want to reach prospects successfully, then you need to make a strong statement about what sets you apart from other financial advisors. Below are some tips you can try:
Polish Your Profile Picture
Choose a neat, professional, and vibrant photo. The image must be of high quality and your background should support your brand. Make sure that you are displaying a friendly aura.
Personalize Your URL (Uniform Resource Locator)
Create a customized URL. Your URL is usually found in the address field at the upper part of your browser.
After making a profile, LinkedIn automatically generates your URL, which is usually a string of random numbers.
Having a professional-looking URL like putting your name on it, matters.
To change your URL, go to your profile and click Edit public profile & URL.
Quality Over Quantity
LinkedIn is not an online resume so do not flood it with all your previous job experiences.
Only include the ones relevant to your profession as a financial advisor.
Include contact information such as email, website, and phone number.
Include also your work experience and education. These details will highlight your professional and educational accomplishments, which the clients will also look into.
Visit the People Also Viewed Section
By visiting LinkedIn's section called People Also Viewed, you will see other profiles that other users have looked at.
Thus, this is also a good place to find new leads.
There's a higher chance that the viewed personalities share a similar background to that of the viewers.
Be Responsive
When you get notified of tags or mentions, respond as quickly as possible and don't procrastinate.
Reply in such a way that triggers a conversation. Doing so lets your audience know your readiness to serve and expertise on the said topic.
Be Relational, not Transactional
When you communicate with your LinkedIn prospects, you should enjoy it and make it comfortable for your audience.
While LinkedIn is a professional platform, approaching your clients in a friendly manner can make a difference.
Use an Official Email Address
You can always use common email addresses like Yahoo, Gmail, and Outlook, but when you use a professional email address (like the one in your company) its gives you more credibility.
Make a Video
Posting articles and images can convey your message to your target audience, but creating a video makes a world of difference.
Video marketing allows you to connect with your prospects on a personal level.
To make video marketing effective, plan out your content well and practice diligently.
Apply proper lighting so that they can see you clearly and use a decent microphone for audibility.
Lastly, use a tripod to avoid shaky videos.
Join a LinkedIn Group
To easily find people that share the same interests, you can search keywords on LinkedIn and filter them according to groups.
In your case, you can filter it according to relevant topics like financial advice.
How Often Financial Advisors Should Post on LinkedIn
The results of a study published in Science Direct showed that it was not a LinkedIn user's number of contacts that could give the user career benefits but the frequency of usage.
There are various opinions regarding the posting frequency of financial advisors on social media, but LinkedIn itself suggests posting 20 times per month.
This means creating a post every single business day.
This is a wonderful idea if you want to create an active presence on LinkedIn, where your followers can see recent posts or updates, while not flooding them with too much content.
Consistency Is the Key
Whether you're going for just 10 times per month or 20 times per month, it's a matter of experimenting at first with what works best.
The bottom line is your consistency in posting so that your brand's growth will also increase steadily.
Type of Post
Unlike other social media platforms like Facebook, Twitter, and Instagram, LinkedIn is mainly a professional platform.
Therefore, your post should also have a professional or educational tone such as that of business updates, industry news, job vacancies, and the like.
As a financial advisor, ensure that you play within these boundaries also.
Conclusion
There you have it! Your guide to getting better results from the effort you put into Linkedin.
A good financial advisor Linkedin strategy can deliver you awesome results as long as you remember to remain consistent and dedicated to winning on the platform.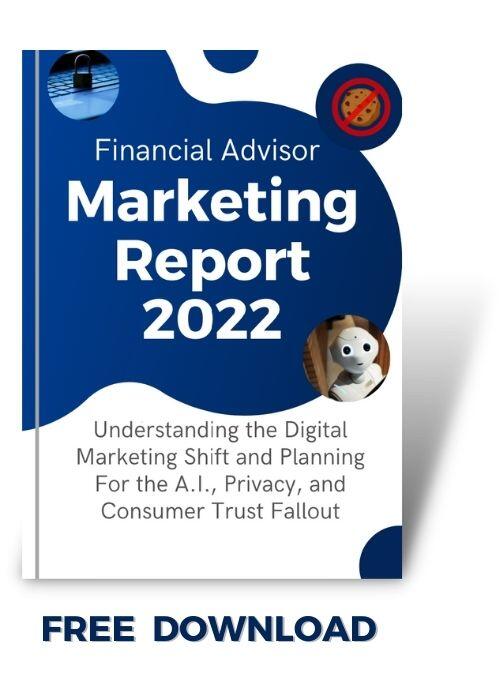 Attracting Better Leads Online
Our 2022 Marketing Report is 100% Free! Learn what it takes to be successful online with all the digital changes happening right now!
(No Email Or Anything Required)
You May Also Like