If there is one thing that is constant with our world, it's Change.
The most obvious change we have observed is in Technology which, in itself, has changed a lot of aspects regarding how professional services get in touch with their potential clients.
There is no denying the fact that the number of Internet users has increased exponentially in the past decade and is expected to maintain strong growth in the 2020s.
Aside from an increase in population, there is also an increase in demand for financial services like advice from a financial advisor.
In the last 2 years, there has been a 75% increase in searches involving financial advice on the Internet.
What does that mean for you, then? It's simple: you have quite a lot of prospective clients to meet and engage within the online world.
The only thing that you have to do is to get your name across through Marketing.
Financial advisor marketing can be quite a challenge in itself. But that is not to say that it is needlessly difficult or even expensive.
To get it right, there are a few aspects that we need to cover first.
In this article, we'll discuss digital and offline marketing for financial advisors.
How to Create a Digital Marketing Plan for Financial Advisors
You can't succeed with your efforts if you don't have a marketing plan.
Your marketing plan will remind you what needs to be achieved, how you go about achieving that objective, and when things need to be completed after all.
Here's the challenge: the Internet is not as inflexible as the real world. The tactics that have worked in the past are not as effective here.
That is why you need to create a Digital Marketing Plan. There is no true template for this, but you should cover the basics, which will include the following:
1. Choose a Target Market
Going for a mass-market appeal is difficult and not recommended.
This is quite true, especially if you are offering a specialized product or service like financial planning.
You are better off finding the right audience to market your offerings to and nurturing a relationship with them.
A financial advisor should search characteristics of your prospects that will help you figure out what they're looking for.
Demographic profiles, spending habits, preferences, and the way they frame their concerns about the solution your services may provide are all matters to consider.
The aim is to divide your audience into groups so that you may reach them in relevant ways.
If you think that finding a niche for financial planning is hard, that's not always the case.
There are some firms out there that have found ways to cater to different niche demographics like veterans, adults fresh out of college, and even spiritual folk.
It's all a matter of finding out how these people think and then coming up with an offer that resonates with them the most.
Important Note: Finding your demographic is not going to be effective without research. Take the time to go into your sales records to find out where you have done the most business with and what sectors you have yet to tap into.
2. Create a List of Goals
A goal gives you an idea as to where you are heading and what you must do to achieve what you set.
A goal will tell you whether or not your tactics being employed are working.
But this does beg the question: what are the usual goals for a digital marketing strategy? To answer that question, you must first establish your business's overall goals.
These could range from increasing brand awareness, tapping into new niches and markets, nurturing goals with prospective clients and investors, and, of course, increasing profit.
Once you have your overall goals, you can then start setting your marketing goals.
When it comes to digital marketing for financial advisors, there are quite a few goals that you can achieve, which will include:
Improve incoming site traffic
Better search engine optimization (SEO)
Improve engagement in social media platforms
Create an effective email list
Target, retarget and nurture the audience
Improve client conversion rates
Increase click-throughs in all ads
When creating goals, you run the risk of setting up impossible or unreasonable objectives.
How do you make them even more attainable and sensible? The time-tested SMART approach will come in handy here.
SMART is but an abbreviation which stands for:
Specific – All the goals should use precise language and designate specific objects.Example: a goal like "Increase website ranking in search engines to the first page" is more specific than "improve website visibility".
Measurable – The goals you have set should always be measured in numbers.Example: "Increase click-through rates by 80%" is measurable.
Attainable – The goals must always be set within reality. In other words, it should not be too high to overwhelm you or too low that it's pointless to even try achieving.Example: "Increase social media engagement by 25% within the next 4 months".
Relevant – Goals must always relate to your business's wider objectives.Example: "Improve website traffic to increase conversion rates to improve monthly profit by at least 25%".
Time-Bound/Time-Based – Scheduling must always be at the forefront when you create goals. Something must be done within a set amount of time so you could proceed to the next phase of your plan as quickly as possible.Example: "Increase audience engagement and build an email list within 2 to 4 weeks after the initial implementation of strategies".
Important Note: Just remember that your goals are there to guide you, not tie you down to the point of rigidity.
The landscape of the Internet can change at any time so you must be as flexible with how you achieve your goals and when. 
Remember: Your strategy should meet your goals, not the other way around.
3. Identify What Tools Can Help You Reach Your Goals
Your tools can determine how effective you will be in running and maintaining your marketing plan.
There are quite a lot of tools to employ in your marketing.
To make things easier for you, here are the 3 types that you should take a look into:
Organization – These tools can help you keep track of the tasks that need to be done and keep productivity levels at a high.From assigning tasks to monitoring deadlines, organization tools are your go-to solutions for handling multiple campaigns at once.Some popular organizational tools include Trello, Evernote, and Slack.
Automation – Some of the processes in your marketing campaign can be done with automation.Apps like MailChimp, for example, can automate the email listing and marketing for financial advisors.All you have to do is to set the conditions for which tasks will be performed and the program will do the rest for you.
Tracking – Of course, you have to know how your marketing campaigns are faring.You can do this with performance-tracking tools like Google's analytics services.With their help, you can track how your marketing campaigns are funneling traffic to your site in real-time.
4. Analyze Your Current Online Presence
The marketing campaigns you will employ must be responsive to your current online presence.
Thus, you must set the baseline for your performance.
Some crucial information you have to determine here include the following:
Client conversion rate
Number of sales opportunities generated by each campaign
Current advertising methods used (if any)
Competitor strength relative to yours
Existing and potential issues with your current layout
You can easily find such information by looking at all your available marketing channels.
One crucial aspect you could also discover here is the strength of your financial advisor marketing mix.
That simply means the diversity of media you are using to get your name across the Internet.
With marketing campaigns, a good mix should comprise of three media forms, which are the Media You Own (the content you generate), the Media You Earn (the content your existing clients generate for you like testimonials, referrals, and reviews), and the Media that You Pay (for example: Paid Ads).
Determining your financial advisor marketing mix will be also crucial as it will lead to the next phase which is……
5. Create High-Quality Content
It's easy to say that you should have a consistent content production schedule for your marketing campaigns.
The question is this: what kind of content should you produce?
To answer that question, you must determine the Content Gap in your current production schedule.
These are simply the areas that have not been focused intently on.
You can determine this gap by a Google Search. If you think that the topmost results are outdated or poorly made, then that is the Gap that you could fill.
Your Google Analytics tool will also help you find out this Gap by the usual queries that people enter into the search bar relative to the topics that your business covers.
Once the Gap has been identified, all you have to do is to come up with a content creation schedule where you and your team create diverse and high-quality content.
6. Launch, Analyze, and Relaunch
At this point of the plan, all you have to do is to release your content to the public. So, you're done now, right? Not quite.
Upon the release of your content, you must then track its performance through Analytics. Is it engaging? Does it drive traffic to your website? Is it compelling enough that it leads to better click-throughs and conversions? 
The performance of your content will tell you what to do next for your future marketing campaigns.
Perhaps one of your posts did quite well that you want to elaborate on it later. Or you might want to provide updates on developing stories.
The point here is that there is much that you can do to keep your content "Evergreen".
That's an SEO term for content that is always relevant and responsive to current user preferences.
10 Effective Digital Marketing Strategies for Financial Advisors
So, what marketing strategy would work specifically for financial advisors?
Following are some of the more effective tactics that you can employ.
1. Content Marketing
The easiest strategy that you could employ is simply to amp up your content marketing production schedule and the quality of what you produce.
As of now, content that ranks well among audiences contains several traits like:
Being multimedia – Combines at least 2 forms of media (I.e. text and images).
Relevant – The topics being covered are close to what the brand stands for. 45% of Internet users are known to be turned off from brands that keep posting irrelevant content.
Valuable – Value in terms of content simply means providing information that will help the viewer in one form or another.They might learn something new to improve their approach to a certain problem or gain a new perspective.
2. Website
Your website is not only a platform for your internet marketing campaigns.
It is a marketing strategy in itself. The easiest way you can do this is to improve the overall layout of your website.
The goal here is to make the overall user experience better, so your audiences can convert faster.
But what if you don't have the necessary skills to design a website? Don't worry.
There are some website-building tools that you can subscribe to that will help you create a professional-looking website for your business with some built-in assets.
All that is required from you is to be as creative as possible with what is given
.
3. Blogging
This is a variant of content creation, but it allows you to directly engage with your audience.
Maintaining a dedicated blog on your website will help you directly engage with users as they comment on your content.
Again, consistency is going to help you here with blogging.
However, you also need to be as engaged as possible with your viewers. Responding to comments (positively, that is) will drive engagement even further and bring attention to your brand.
4. SEO
Search Engine Optimization, in simple terms, is about making your web pages as visible as possible to the search engine algorithm.
This is a rather comprehensive strategy as you have to look at various aspects of your content to improve your ranking on the results pages.
A crucial skill to learn here is in understanding how the average consumer thinks when looking for information that your brand can offer.
This will tell you the kind of keywords you must place in your content as well as the topics that you must address.
Aside from consumer behavior, you must also play by the algorithm's rules. You have to know what works now and create your content accordingly.
The more that the search engine bots find traits in your pages that respond to user queries well, the higher they will place your pages on the SERPs.
Hint: The difference between Content Creation and SEO is who you are trying to please. SEO will have you pleasing the search engines while content creation will have you pleasing your audience. Ultimately work to please both.
5. Local SEO
While traditional SEO looks at your pages' visibility on a worldwide scale, Local SEO has a smaller and more controllable scope.
This is helpful for financial advisors since rarely do you offer your services to people beyond your locality or state.
As you are targeting locals more with this strategy, your focus here should revolve more on user-generated content.
Reviews from existing clients are a good start but you could also look into audience engagement with your marketing campaigns and content.
One other crucial element here is optimizing your site for mobile
users. Keep in mind that there are close to 7.101 billion Internet Users today that prefer mobile devices. That is about 89.94% of the world's current population. 
Mobile optimization will focus on designing your website from the ground up to be responsive to mobile-based navigation.
Again, some tools can help you automatically adjust your site's size and layout for mobile devices.
6. Email Marketing
This strategy will have you send out message-based content to your subscribers.
What makes this strategy effective is that you are not targeting potential clients but are RE-targeting those that have already shown interest in your brand.
Aside from that, email marketing only gets sent with the consent of the recipient by way of them subscribing to your list.
Thus, you mostly don't have to worry about your audience rejecting your message once you have them sent.
Since sending emails to every subscriber can be tedious, it is better that you automate this process with apps like MailChimp for your newsletters.
By inputting the conditions for which certain types of content will be sent out, you can focus on another marketing plan while you are nurturing your email list.
7. Social Media Marketing
Maintaining a strong social media presence on platforms like LinkedIn, Facebook, YouTube, Instagram, and Twitter will be highly beneficial for any brand.
This is because social media tends to be the most populous for social media marketing platform today with a combined 3.6 billion people being on the platform of their choice at any given time. 
And if that is not enough, that amount is expected to increase by 4.1 billion before this decade ends.
That's nearly 60% of the world's current population that you can tap for your social media marketing efforts.
This strategy will take full advantage of your content creation schedule and your personality as the main representative of your brand.
With every post, you have to also engage with those commenting and sharing your content.
But here's a caveat: engagement in social media only determines your popularity, not profitability.
As such, do take the time to link your audiences to your main web pages where you can do further business with them.
All those social media likes, shares, and comments will be for nothing if they don't contribute to an increase in your client conversion rates.
8. Search Engine Marketing 
Another way to improve your visibility in the search engines is to pay for your spot in it.
Search engine marketing for financial advisors is where your page will be given the topmost spot at the SERPs for every relevant query.
However, this does not mean that your placement will be mixed with other more "organic" results.
Since this is a paid ad, your placement will be marked as such in the topmost place. Thus, people will know that you are paying for your spot before clicking through.
9. Video Marketing 
As this strategy's name would imply, you are going to use videos to promote your services. Why bother with videos, you ask?
The answer is that they just happen to be one of the most consumed forms of media on the Internet right now.
In YouTube, for instance, there is a monthly average of 2 billion active users.
That's a population count that your brand should never consider missing out on.
Aside from that, engagement rates for videos average at 6.15% in multimedia sites like Facebook compared to 1.3% of pure text-based content.
10. Webinars/ Digital Seminars
Webinars work for three reasons.
First, it is multimedia by default as you mix text, images, and videos in one format.
Second, it is a product in itself as people may have to pay for a spot in your event.
Third, and most important to digital marketing, it allows you to directly interact with your audience and potential clients while also giving them valuable and actionable information.
Sites like Livestorm allow you to host your webinar for a small fee.
Once you have set up the basics, you can then provide a link to your webinar at any of your content and social media platforms for the weeks that precede the event.
Benefits of Digital Marketing for Financial Advisors
What exactly are you setting yourself up for when you have an effective digital marketing campaign? Here are a few benefits.
1. Connect With Your Target Audience
One of the key traits of an effective marketing strategy is the ability to home in to any of your target audience without necessarily having to change the core message. 
Some of your audience might require a specific approach like maintaining a presence in a particular platform.
Others just need you to reach out to them with a message that resonates with what they are looking for.
The point is that you can create multiple approaches for different audience members without breaking your budget.
2. Brand Awareness
By using tactics like regular content creation and SEO, your pages' visibility on the Internet increases.
When you play by the rules of the search engine algorithms, they will push your content more to answer relevant queries.
But visibility to the algorithms is just part of the equation for brand awareness.
Your ability to engage with your audience will push brand awareness even further.
A sound post-launch strategy as well as responding to audience queries and comments (as long as they remain healthy) will increase awareness for your brand even further.
3. Increase Conversions
Nowadays, conversion have to be earned. You can't just tell people that you are the best in your field. It has to be shown by your content, offering something of "value" to the audience.
Each Internet user defines value differently but this falls along the lines of actionability and responsiveness to their primary concern.
Having a strong Conversion Rate Optimization program will matter here as well. 74% of CRO programs have been known to increase sales for their users.
4. Extended Reach
Perhaps the best benefit with digital marketing is learning that your business can reach out to even more sectors of the market that you were aware of.
Perhaps there is a niche in the market out there just waiting for a business like you to approach them with an offer so responsive and yet unique to their preferences.
And do remember that gaining a foothold in niches that others have yet to tap into gives you a tremendous advantage over your competitors.
5. Control 
Whenever you engage in any form of marketing, you have to be mindful of the amount you have to spend on every potential audience member.
The Return on Ad Spend metric will measure how much you have earned in contrast to your advertising expenses.
To get your ROAS, you only have to find out how much of your monthly revenue came from client conversions in your digital marketing campaigns, and then divide it from the overall costs.
More often than not, you will find that you have a greater degree of control over your ROAS when it comes to digital marketing.
This can be attributed to the more precise nature of the targeting as well as instant user feedback.
The point is that the very nature of digital marketing for financial advisors helps you adjust your strategies so you earn more while keeping expenses down to a minimum.
6. Qualified Leads
Qualified Leads are simply individuals in your audience that have shown the highest probabilities of converting into a potential client in the future.
Just keep in mind that leads are not yet clients. 40% to 70% of qualified leads in any business do not yet show the willingness to convert.
So what are you going to do with these qualified leads? You retarget them with new content, offers, and other opportunities for engagement.
Because they have higher conversion rates, these individuals will not take a lot of enticing and compelling to take that final step towards conversion.
Digital Marketing Tips that You Need to Know
Create Personas
A "persona" is not an actual audience member or client.
They are more or less an "avatar" of your ideal clients. What would your ideal clients need from you? What are their preferences? How will they use your advice?
These questions can be answered by coming up with a list of traits and qualities that you are looking for in a new client.
What's the point of the persona, then? It will help you identify your actual target audience and then come up with a unique angle for your offer to them.
If you are lucky, your personas might lead you to create an offer that specifically targets a yet-to-be-tapped niche in the market.
Strategically Use Automation
There are a lot of aspects of digital marketing for financial advisors that need to be supervised.
However, some can be completed with minimal human intervention.
Your email marketing, for instance, can be handled by a program like MailChimp.
Take the time to find out what aspects of your digital marketing campaigns can be automated, merged, or removed.
The fewer moves you have to do yourself to reach your goals, the better it would be for you finance-wise.
Focus on the Long-Term
Marketing campaigns have short lifespans. The longest you could have one in place is a year but the rest should yield you observable results within months.
To avoid having to constantly reinvent your image just to respond to changes in the Internet landscape, you should set up long-term goals.
Your business's core vision can be these goals or you could define ones specific for the Internet market.
The goal here is to set up something that all your strategies can serve regardless of the current Internet climate.
Get Coaching to Shorten Success Path
There are quite a lot of sources of training and information out there.
So why try to learn by trial and error? The easiest way for you to get good at digital marketing is with coaching to learn from those that have already made a name for themselves in the market.
Luckily for you, these people are more than willing to teach you a thing or two about digital marketing (for free or for a fee, of course).
These successful marketers may have set up their e-Learning courses where you can enroll in their webinars.
The point is that you should not have to figure stuff out on your own.
That is too costly on your part in terms of time and resources.
Streamline your learning experience by adding in some form of structure with the help of mentors and coaches.
How to Create an Offline Marketing Plan for Financial Advisors
Offline marketing is more or less the conventional method of marketing that we all grew up with.
As such, creating an offline marketing plan will draw from the same processes as online marketing plans.
This means you have to know your target market, identify your strategies, acquire the right tools, and set up the proper parameters for success.
That being said, there are a few things that you have to do slightly differently for offline marketing plans.
1. Devote a Lot of Time to Research
Like digital marketing, offline marketing is best done when you have the right information.
The challenge here, however, is that much of the information you need is not readily available compared to digital marketing.
In the latter, you can get most of what you need from a simple search engine query or an analytics service.
In the former, you'd have to go through a lot of data manually. 
A crucial source of information here is your own business's performance.
Your monthly income records will tell you whether or not you are bringing in a lot of potential clients to your brand.
Aside from that, you can look into your locality and see how your competitors are doing.
Are they performing well relative to your performance? Is the local market conducive for services like yours?
What about the local economy? Are people demanding your services? Are they aware that services like you exist?
These are some questions that you can get answered if you take the time to look around your local area.
2. The Message
It's easy to get worked up in figuring out what tactics you should employ for offline marketing.
The truth is that you shouldn't waste a lot of time on the channels that you should use.
There are two important aspects in offline marketing that you should focus on, which are the message and its angle.
Craft your message in a way that makes it authentic to your brand and relevant to what your audience are looking for.
As for the angle, that simply means molding the message to fit the preferences of your market's segments.
Here, client personas will greatly benefit you. Whatever the case, your message to be delivered must be unique and responsive regardless of what channel it is being distributed on.
3. The Channels
When it comes to offline marketing channels, you only have 3 channels to choose from, which are:
Print – Ads on flyers, posters, billboards, business cards, etc.
Broadcast – Radio and TV
In-Person – Human-to-human interactions that are either planned like events or opportune ones.
So where should you focus the most?
There is no right or wrong option here as you will also be limited to what is available to you locally.
More often than not, there is always a print station, a local radio show, and more than a handful of networking events for you to take advantage of.
As to how you are going to take advantage of these channels, there are several strategies that you could employ in each, which will be discussed in the next section.
8 Offline Marketing Strategies for Financial Advisors
1. Direct Mail 
Like online email marketing, the key to direct mail marketing's success lies in the fact that you are essentially targeting people who are qualified leads.
It also helps that 70% of consumers would prefer direct mail over any interaction and 54% would prefer direct mail from the brands of their choice.
As for open rates, direct mail still holds a percentage of 90%, which makes it rather effective.
As for expenses, you do have to cover printing and mailing services, but the ROI here is known to be higher than any paid offline ad.
2. Sponsor Events
Events like fundraisers or local celebrations are a good way to get your name across.
This is because being a host gives you full control over what is being advertised and gives the impression to people that you are someone influential.
Of course, sponsoring an event is not going to be cheap.
Also, you need to establish a healthy relationship with other professionals and influential people in the market to generate enough buzz for your event.
Use this strategy only if you have a sizeable amount of money to spare and enough clout.
3. Join Local Clubs and Organizations
For professional service providers like you, an easy way to generate credibility is if you get to join local groups like clubs, charitable organizations, and other civic associations.
Even becoming active in a church counts here. 
The reason for this is that these groups already have strong credibility. Thus, you get to benefit from their reputation through association.
Aside from that, the networking opportunities with these groups are great.
Perhaps there is a member there that you can provide your services.
Alternatively, you might get in touch with potential clients by joining any of the events these groups host.
4. Local Media
As was stated a section ago, you have to take full advantage of what available media channels there are in the local area.
The key here is to set up an optimized budget for each local media you will
use. Of course, broadcast ads are going to be expensive while print and in-person tend to be cheaper.
5. Cold Calling
Here, you will put up a list of prospects and start calling them. How will you get their number if they don't know you exist?
Just get a copy of the local phonebook or equivalent and start cold calling.
Like any marketing strategy, your approach and messaging will matter here.
Come up with a conversation sequence that will guide you and your callers through every interaction.
Your pitch must also be tailor-made to meet the needs (and mood) of your caller.
This strategy does not exactly drive sales directly. However, it can set up a base for which you may build strong community relationships.
6. Host Seminars
As an event, a seminar will help you gather a lot of potential clients in one place.
However, a seminar will also help you display your knowledge over a certain topic to impress and entice these people.
Seminars are also done best if you are not the only speaker.
Have other financial advisors co-host the event to widen your reach as well as minimize expenses.
7. Referral Marketing
What makes Referral Marketing for financial advisors highly effective as an offline strategy is the power of Word of Mouth.
People will be easier to convince if the persons delivering your message are people who have experienced what you have to offer.
This strategy will not only work with existing clients. You can get your friends, family, and associates to refer you to their social circles.
The point is that people are easier to convert if the person doing the converting is someone that they trust.
8. Follow Up Plan
All of the tactics a financial advisor will employ might not be as effective as you want them to be if you don't know how to follow up.
A follow-up is as simple as sending a thank you to people who availed of your services or notifying them of upcoming services and events.
To make follow-ups effective, you have to come up with a plan. Take the time to draft some responses to typical client queries or notifications in case they perform certain actions.
For offline situations, a financial advisor can employ tactics like meeting your prospective clients where they are most comfortable like their homes, or inviting them to events free of charge.
The key here is to "sweeten up" the deal for them since they took the time to hear what you have to offer.
More often than not, an effective follow-up will take that potential client one step further towards conversion.
Offline Marketing Tips You Must Not Forget
Focus on the Funnel
A sales funnel is the journey a person takes where they change from a stranger to your brand into a loyal client.
You might be familiar with the concept as we already have gone in-depth with client conversion rates.
In offline marketing, the sales funnel is something that you should never forget about.
And by not forgetting, that means every part of the conversion process should be incorporated into your overall marketing plan.
A financial advisor should have separate campaigns for increasing awareness of the brand, enticing people to your offers, retargeting potential leads, building client relations, and boosting brand loyalty.
Of course, each campaign should complement the other.
Get Internal Feedback
If you want an inexpensive source of marketing information, look at your staff.
The people that do the marketing for you or have to constantly deal with clients might know a thing or two about what people in the market currently want.
Better yet, include them in the formulation of your marketing plan.
Not only will this increase the pool of knowledge and experience you can draw from, but it will also give your staff the impression that their opinions do matter in improving the business as a whole.
Unify
Your offline marketing plan must not serve to undermine your online marketing plan and vice versa.
When drafting the former, it would be better for you to use strategies where both offline and online marketing plans complement each other.
The easiest way to do this is through Cross Promotion.
A financial advisor might have an existing TV ad that you can reupload to your social media platforms for free.
Or perhaps you can have your financial advice blog posts compiled and made into a book guide that you can pass around the local area.
The beauty of unifying both your marketing plans is that you double the reach and effectiveness of both without going over the budget.
So as long as both plans share the same vision and goal, you can be certain that they will work to benefit your brand.
If everything is properly executed, of course.
Tip: Want to show your expertise to potential clients in real time? Host a seminar where you can talk about finance-related matters. This will help you build a network of industry contacts and potential clients for further marketing opportunities. 
The Benefits of a Strong Offline Marketing Strategy
Offline marketing for financial advisors offers certain unique advantages, which include:
1. Greater Creative Control
You have full control as to how everything in your ads will look.
You still have the option to use templates but print and broadcast ads allow you greater leeway in creating content that shows more of your creative side.
2. Resource Control
With print and broadcast advertising, you exactly get what you ordered.
This should help you maximize your marketing budget and eliminate unnecessary spending.
It also helps that you yield higher ROI for each ad that you print out due to the smaller scope of your campaigns.
3. Tangibility
Marketing is best appreciated if more of your senses are involved.
What offline marketing strategies offer that digital marketing can never replicate is the ability to touch and hold something.
4. Networking Opportunities
Many of the offline marketing strategies allow you to directly interact with people.
This means you have endless opportunities to showcase your knowledge and personality to people.
So as long as you come as somewhat genuine and appealing in these events, people will gravitate towards your brand.
5. Better Impact
In digital marketing, there is always this constant barrage of advertising that makes standing out a bit more challenging.
With offline marketing for financial advisors, you can give your audience something to look into when they want to.
That way, the message that you are trying to convey to them will have better retention in their minds.
Financial Advisor Marketing FAQ
1. How Much Do Financial Advisors Spend on Marketing?
There is no definite answer to this as each financial advisor has their profit margin, which determines how much they should spend on marketing.
However, many financial advisors do spend between 4% and 10% of their revenue on marketing. That 10% should allow you to focus on both offline and online marketing.
As for the 4%, that should be enough for basics like print ads, website design, and content creation.
2. What Strategies Do Financial Advisors Use?
Hosting an event, webinar, seminar, or e-learning course is quite popular among financial advisors.
Also, they have the chance to succeed with strategies like joining organizations, blogging, and social media interactions.
The point is the strategies where a person gets to showcase their skills, knowledge, and personability tend to work well with financial advisors.
All of the tactics above are viable for financial advisors. However, financial advisors do excel in strategies that take advantage of their skills and charisma.
3. How Do Financial Advisors Get First Clients?
There are many ways for a financial advisor to get their first batch of new clients.
However, what seems to work the most is direct involvement in their communities. 
Starting at a local area and increasing your visibility there will establish a foothold from where you can base all your upcoming marketing strategies from.
What makes this strategy appealing is that it only requires you to devote time while others also demand money.
4. How Do You Market an Advisory Firm?
The best way to market an advisory firm is to focus on building client relationships.
This means that financial advisors should consider strategies like hosting or joining events and other networking opportunities later on.
What is important to remember here is that advisory services depend greatly on their market knowing what they can do and what fields they excel in.
This cannot be immediately observed through standard marketing strategies.
Thus, being in a place where a financial advisor can showcase such knowledge and expertise to potential clients would be an ideal marketing strategy.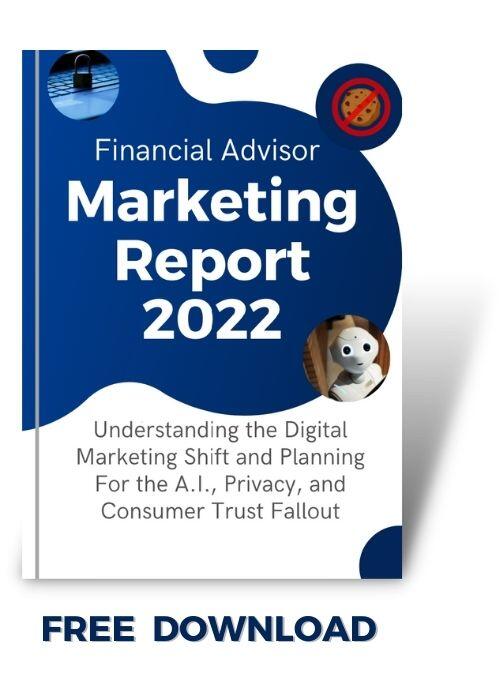 Attracting Better Leads Online
Our 2022 Marketing Report is 100% Free! Learn what it takes to be successful online with all the digital changes happening right now!
(No Email Or Anything Required)
You May Also Like