All small, medium or large-scale businesses have risks because they entail investments.
Most marketing strategies are not implemented correctly or produce an ROI.
As such, it's just normal for us to partner with those whom we know and trust.
People naturally entrust their finances to the most credible person such as close friends and family.
This is where referral marketing comes in as a key source for your sales strategy.
Referral marketing is a marketing approach that uses recommendations or word-of-mouth to build your client base through your existing contacts.
It's all about turning your present contacts into brand ambassadors.
A typical frustration of any financial advisor is this: "I'm out of prospects!".
What some advisors overlook is the fact that they are not alone. What do we mean by this? It means that your professional network, including colleagues and clients, is part of your overall prospecting efforts.
Did you know that 81% of customers prefer the recommendations of family and friends over companies?
Why Referrals Are So Valuable to Financial Advisors?
A referral happens when a friend or family member recommends your product or service to another person or organization.
The act of recommendation itself is already a hint that they are satisfied with your services.
Through your referrals, financial advisors can more efficiently build their business.
We will provide a few reasons why referrals are so important to financial advisors like you.
Credibility
Having loyal clients is an asset to your long-term credibility. When your clients are satisfied with the products and services, they will refer you to their contacts who are not yet part of your network.
In this manner, new doors are opened and your trust rating increases, and you're not even doing additional things.
Just make sure to maintain an intimate connection with your present clients.
Quality Leads
Financial advisors may not notice it, but when you capitalize on referrals, you are qualifying your leads in advance.
The referrals you get from your existing clients belong to their contacts or the same field, which means they are most likely qualified.
If their referrals are of the same industry as them, there's a high chance that the products are also applicable to them.
Client Growth
Once your new clients sign the policy, you're done.
A big NO-NO!
Your job is not just to make them purchase a product, but help them mature in the business by making them feel connected.
You have to let them feel that they are playing an important role in the success of your business.
They're Free!
Let's face it, financial advisors are committed to reaching something from their pockets just to close a deal.
Fortunately, with referrals, financial advisors don't have to spend a single cent, which means more savings for you and your firm.
Well, technically you may spend for the incentives but not these rewards are relatively small compared to the new leads and successful prospects that come in.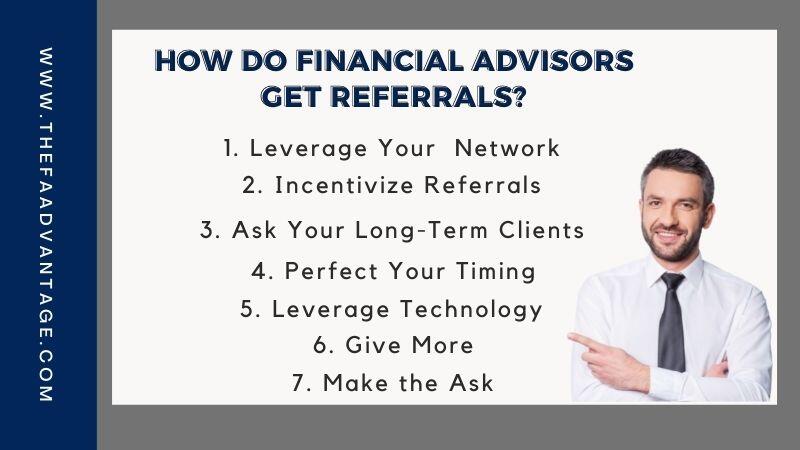 How Do Financial Advisors Get Referrals?
Getting referrals is easier said than done; financial advisors hustle hard in this aspect.
Advisors who are introverted or those that easily get intimidated may find it difficult to generate referrals.
Well, you cannot move forward if you don't take the first step.
The greatest opportunity is the one you can do today.
Leverage Your Existing Professional Network
Before wandering to other places, make sure you first exhaust all efforts in your existing professional network.
Identify prospects that you may know but find it hard to reach directly. You can get a hold of them through your first or second-level contacts.
Your family and existing friends can draw a huge number of people, so take advantage of it.
When you meet up with your existing clients, you can encourage them to support you. For example, you can take a picture with your clients and share it on your social media page, thanking that person for patronizing your product.
The recent pandemic may have restricted physical meetups but it has led to new opportunities for seamless connections such as the use of social media and virtual meetings.
You can request people to introduce you to their friends so you can present your material to them. They're more likely to attend since their close acquaintance referred them.
Incentivize Referrals
When your family or friends promote your brand to other people, it's an appreciative gesture to give them something in return. It works because everybody loves free items.
There is an unlimited number of ways to provide incentives to successful referrals. Just make sure that your incentive programs are following the regulations imposed by the firm.
Your referral incentives can be in the form of a physical gift such as a cash reward, gift certificate, store discount coupons, tasty food, or wine.
It could also be in the form of service like massage, spa, or treating them to any place that makes them happy.
Ask Your Long-Term Clients
Clients showing long-term unwavering support for your products are perfect sources to ask for a referral.
They stayed long because they believe in you and find your service valuable. If they truly understand your service, they will know who needs it as much as they do.
You must have a good working relationship with your clients in financial services, and not leave them be after closing a sale.
Checking on them regularly is essential to make them feel nurtured and valued.
Perfect Your Timing
Timing is essential in referral marketing for it to be effective. Asking the question prematurely will let them feel used.
Every transaction a financial advisor makes with your prospect or client must be relational.
So, what is the perfect time to ask for referrals? Well, it depends on the scenario but the key requisite is this: your client should be satisfied with your products and services.
For example, you can solicit a referral only after your client has posted a positive review.
Logically, you cannot ask people to promote products they don't want for themselves.
Asking them to do it will only ruin your reputation. However, when your clients are happy, you can ask them anything.
Give More
A good portion of customer service means going the extra mile. The extra help you extend becomes emotional bank deposits for your clients.
From the business perspective, we are making a transaction, but in the eyes of the customer, it's personal.
Clients recognize your willingness to do something even if not required from you.
Good financial advisors must not have a reputation of being mere money-seekers but advocates of good financial health and security.
You may be diligent in prospecting, making follow-ups, or collections, but if this is all the customer can see, then you won't progress with your client relationship.
Think also of what you can offer to your clients like free financial planning seminars and regular financial advice.
You can also regularly provide them with newsletters that contain relevant topics like money ideas, educational resources, market news, and others.
Leverage Technology
According to Forbes, most successful financial advisors leverage technology.
There are now several technologies available at your disposal, depending on what stage of your client lifecycle. It innovates the way you target your market and the way you communicate with them.
Indeed, we are forgetful people but don't worry, there's automation so the computer doesn't forget.
A classic example is Facebook's automatic birthday reminders. By properly configuring technology, we can set it up such that we are automatically reminded of special events (birthdays, weddings, etc.) to identified persons.
Handling a few clients is easily manageable but when they grow to a large number, you need to have software like CRM (customer relationship management) and email automation.
Make the Ask
After leveraging your professional network and technology, and executing your sales pitch, it's time for the big question.
You might have planted the seeds, but deliberately asking the question is another thing.
At the end of a productive meeting, wrap it up by telling your clients that you need referrals. It's not simply asking them names. Do not give the impression that you are milking them.
As a financial advisor, your guiding goal is to help people manage financial risk and build wealth over time.
Holding on to this principle, tell your clients that you want to help others through their referrals.
Where Do You Get Referrals?
Today, there are many ways to reach out and get a referral, whether in person or online.
Let's discuss in detail each of the options and know about their advantages and disadvantages.
In-Person
After a face-to-face presentation and your client has accepted your proposal, you can ask for referrals.
There's nothing like a personal touch when asking for referrals. This shows your authenticity as a financial advisor and they are more likely to give you a name when asked in person than online or via SMS.
One of the most effective ways is tapping local organizations and offer to make a presentation on the importance of financial planning. After your lecture, you can segue into a question-and-answer session.
Bring business cards or presentation handouts that could be distributed to the attendees. This will become future references for them and they can easily share it with others.
E-mail
As a financial advisor, email marketing should be part of your arsenal. You can ask for a referral thru the emails you send to your clients.
A great advantage of email is that you can instantly send the referral request to a large group of people.
Establish an email automation campaign by shooting emails to segmented subscribers.
People love surprises! You can surprise people who sign up with a gift. You can take advantage of emails as follows:
From the start, create a strong subject line. This lets you know how your recipients will react to your message and how effective your email is as bait.
Choose the proper time. Sending emails any time you want won't get you anywhere. The timing of your email depends on the niche of your audience, so you have to know them well.

As a general rule of thumb, the best days to send emails are Tuesday, Wednesday, and Thursday. In terms of time, it's best to send emails at 6 AM, 10 AM, 2 PM, and 8 PM as these are the times when people are least distracted from their activities.

Anyhow, you have to make a test run and determine the sweet spot of your current clients.

Pick an email service provider (ESP). These are software that streamline your email marketing efforts through automation, notification, subscription, integration with other software, and the like.

The options are limitless! Examples of ESPs are Hubspot, MailChimp, SendGrid, Mailgun, Constant Contact, Phonexa, and many more.
75% of Instagram users will either buy or share with a friend if they get inspired by a post.
Social Media
Social media is the new rendezvous for many people of different ages and backgrounds.
The most common professional social media is LinkedIn. You can create a general post and encourage people to spread your brand.
A more effective way would be to message your connections individually and request referrals directly from them.
Other social media platforms you can take advantage of for referral marketing are Facebook, Instagram, and Twitter.
For Facebook, you can create a page and invite your connections to like it and share it with their contacts.
Be bold to remind your clients of the importance of financial planning and how it has benefitted them. They can quote these examples when referring to a friend.
See to it that your content is engaging and informative enough that your audience can't help but share it with friends, neighbors, and associates.
A good social media presence is an indispensable tool for priming referrals.
Website
Building a landing page on your website for your referral program will come a long way.
When you ask someone to refer you to their contacts, all you have to do is send them the link to your referral program page and voila, they can see it!
Another effective way is to create weekly or monthly blogs on your website.
At the bottom of the content, you can add a comment section, which yields a fruitful discussion. If your clients deem the content as relevant, they are likely to share it with their friends or associates.
One way to grow your website is to enhance referral traffic. These are the clients that visit your website by clicking links to other sites. We've prepared some tips for you to follow so you can enhance the referral traffic to your website:
Publish at Online Directories – The easiest way to direct traffic is to have your website published in online directories. You don't want to list in every directory, though, so you have to choose ones that are relevant to your niche or field.
Get Listed in Review Websites – Again, the more satisfied your clients are, the more they will recommend you. Review websites are great means to get more referral traffic because visitors here have already through the initial stage of canvassing products or services. They are now in the process of decision-making.
Accommodate Guest Blogging – Guest blog posts help create opportunities for referral traffic through external links.
Participate in Online Forums – While online forums are considered hubs for people with unanswered questions, it's also a marketing strategy for generating traffic. Like blogs, focus on your relevant niche and leave an informative impression, not a promotional one.
Growing Your Referral Network FAQ
Who Should You Ask for Referrals?
When we hear the word "professionals", we easily associate them with well-regarded people like lawyers, accountants, and banking people.
However, any group of professionals can be a source of referrals.
There is practically no discrimination of profession in referral marketing because every client has the potential to give referrals.
Part of prospecting is to analyze the sub-network of each client. Prioritize the ones that have large networks, because they can give you more referrals.
Who and How Many Do You Need?
"Quality over quantity" is a common principle among financial advisors and it is indeed an effective strategy to ensure the quality of our leads.
However, why not aim for both quality and quantity?
By cultivating your relationships regularly, you can build your network over time. Create a list of 50 to 100 professional referral sources and send monthly email newsletters to them.
You can organize a seminar or group session and give your professional clients a slot to present.
How Do You Manage Your Network?
Stay on top of your referral sources by tracking them.
You started with a handful of referral sources but over time, you can determine which of them actively recommend you and what efforts you made to connect to them.
A conventional method of knowing how your new leads got on your doorstep is asking them generic responses like "through a friend", "through social media", or "through the newspaper".
This will not help you in monitoring and acknowledging special referral sources. Instead, you can directly ask them who it was that referred them.
Conclusion
Yes, profitability is the bottom-line concern of every business, but having a referral mindset should be your guiding principle in every effort.
You need to truly understand the importance of your career as a financial advisor, which is not to simply earn money but protect and improve the lives of your clients.
Asking for referrals must not sound like a favor to your clients, but a noble cause to protect lives. People are emotional creatures and we need to target that soft spot to win their trust subtly.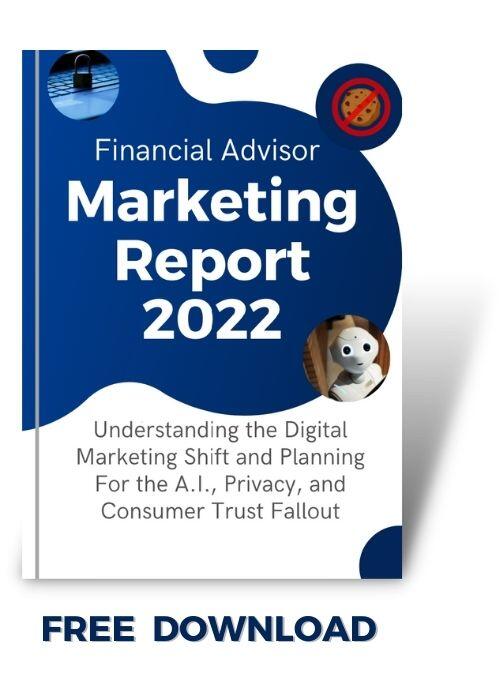 Attracting Better Leads Online
Our 2022 Marketing Report is 100% Free! Learn what it takes to be successful online with all the digital changes happening right now!
(No Email Or Anything Required)
You May Also Like