Selling life insurance online is more attractive than calling or contacting countless agents and brokers.
Unfortunately, the process of selling life insurance is often much more complex than creating an insurance website and waiting for an alert to arrive.
An insurance agent with a successful business typically uses digital marketing as a supplemental method of generating leads and guiding prospective clients through the sales process.
The insurance business is a sales industry. You can have the best life insurance policy in the world, but if you don't know how to get discovered and sell it, no one will ever buy it.
Why Sell Insurance Online
When creating your marketing plan, digital marketing is by far the most efficient way to connect with prospects and customers. It's fast, relatively cheap, and allows you to target specific groups of people with laser precision.
If you're not selling insurance online, you're missing out on a huge opportunity.
The sales process has changed dramatically in recent years, and the traditional method of selling insurance, cold-calling, and door-to-door sales is no longer as effective as it once was.
People are increasingly turning to the internet to research and purchase life insurance policies.
Those who want more life insurance sales need to adapt their sales methods to meet the needs of modern consumers.
Selling life insurance online is a more efficient way to reach potential customers, and it's a sales method that is only going to become more prevalent in the years to come.
Generate leads and build brand awareness
The web is your brand ambassador on the internet. Your website will attract more visitors with innovative SEO and social marketing techniques from multiple channels.
This will help you build a sales funnel to attract visitors.
Increasing closing rates
You must close those leads to make sales no matter what leads you receive. Without an effective sales funnel, life insurance agents can't turn prospects into leads and revenue.
When digital marketing strategies are done correctly, your prospective clients have been learning from you about how you can help them before they ever even talk to you.
So by the time you get them on the phone, they know, like, and trust you.
Reduce customer acquisition costs (CAC)
You can reduce your CAC by 70% by selling life insurance online.
That's because digital marketing is a more efficient way to reach potential customers, and it's a sales method that is only going to become more prevalent in the years to come.
Don't get left behind!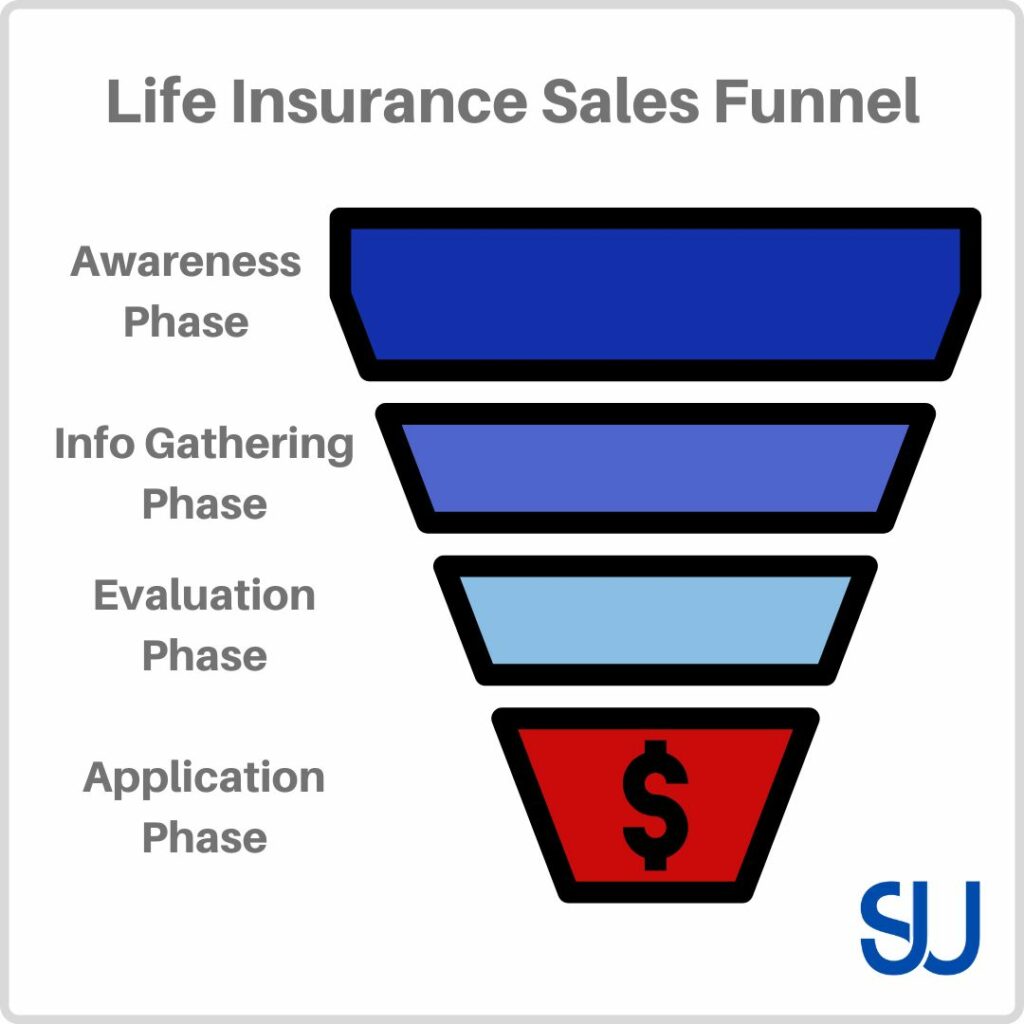 The sales funnel
This process has thousands of possibilities. But all of them revolve around these four phases.
If you want to start selling life insurance online, skipping one of them will decrease conversions, so don't move forward without understanding each phase.
Awareness phase
Awareness is the stage at which the prospect aims to learn which life insurance policy applies to their circumstances.
The goal is for prospects to discover your content that addresses the questions they have about getting a policy.
It removes the hurdles and carries the questions into the next phase.
Information gathering Phase
The information-gathering phase is where the prospect wants to know more about what you are offering.
They will look for reviews, testimonials, case studies, and anything else that tells them that you are a life insurance agent that can be trusted.
Evaluation phase
This is the phase where prospects compare you with your competitors. They want to know what makes you different and better.
Of course, they will also look at the price here, but it is not the main factor.
Application phase
Congrats! Prospects are going to become customers through the application phase. Your goal is to fill up your pipeline as quickly as possible with qualified leads.
Continue to be helpful in answering their questions about the life policy they are interested in a timely manner to help them with their progress.
It's not over until the policy is signed!
Tactics to help you sell insurance online
Now that you understand the phases, you can use a number of the following digital marketing strategies to sell insurance online.
1. Build a life insurance website
A website for a life insurance sales agent can be straightforward. However, the choice depends entirely on your financial plan and your needs.
A Web-Builder offers tools for creating a life insurance website from scratch. Platforms such as Elementor and Weebly provide competitive packages that allow for building your website from scratch without design or code experience.
One website that gets 1000 unique visitors each month generates 1000 prospects. In addition, 10% of visitors to your website provide contact information using whatever method you set up to capture leads for your insurance policies or services.
That's 100 fresh leads a month. With a closing rate in excess of 10%, a life insurance agent may sell ten to 20 items monthly via their own website on autopilot once the proper content and SEO strategy are implemented.
If you are truly ready to build your career selling life insurance online, a website it the foundation to your entire strategy.
2. Nurture leads with e-mail marketing
Life insurance agents can start getting more prospects to join your email list now that they have a website.
Most people that hit your website will not contact you about a life insurance policy since they are likely there for the information.
You can offer a specific piece of content that requires them to add their email to access.
Now you have a lead that you can continue to nurture and build trust with so you can establish your brand across all brand awareness levels.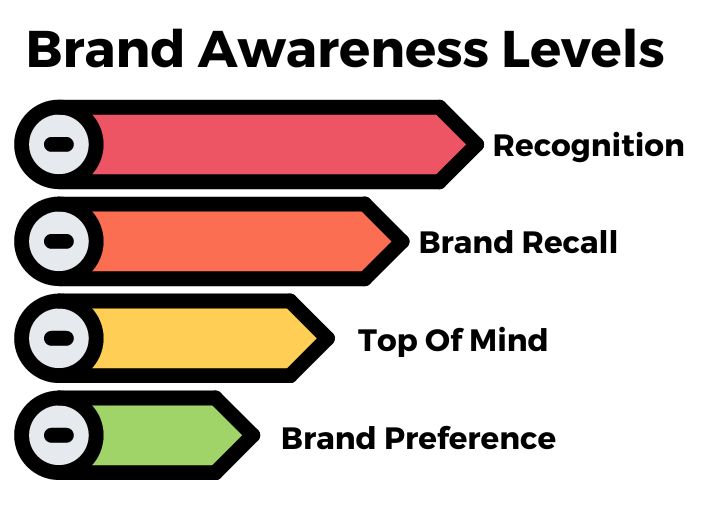 Your email should be informative, such as highlighting current insurance industry news, which would be helpful to your prospective clients.
Avoid being overly sales-y in your emails, as this will turn people off, and they will unsubscribe from your list.
Instead, focus on helping them understand the life insurance process and what options are available to them.
You should also include a CTA such as "Get a free quote" or "Request more information" to encourage people to take action at the end of your email.
3. Use social media to stay visible to prospects
Many life insurance agents struggle to get high-quality leads from social media.
Instead of just selling your life insurance products through a social media platform, sharing helpful content will help agents build a relationship. Now of days, the least selling you do on social media, the more life insurance leads you'll get.
People do not like to be sold to, but they will buy from those they know, like, and trust.
If you can be seen as a trusted expert with whom they feel connected, then people will be more likely to do business with you when they are ready to purchase a policy.
Use social media to share blog posts, infographics, and other types of content that will be helpful to your target audience.
You can also use social media to run Facebook ads for your products or services or wherever your audience hangs out online.
This can get expensive, so focus on retargeting people that already showed interest in getting a life insurance policy.
4. Answers to your audience's questions with a blog
If you want to drive more traffic to your website, blogging is one of the best ways to do it.
Make sure to blog about topics relevant to your target audience, which will be helpful to them.
For example, if you sell insurance policies for seniors, then you could blog about "10 things every senior should know about life insurance" or "5 mistakes to avoid when buying life insurance."
By creating helpful content about life insurance, you will be more likely to rank higher in search engine results, which will drive more qualified prospects to your website.
You can also use your blog to showcase your products or services.
For example, you could write a blog post about "10 reasons why you need life insurance" and then include a CTA at the end of the post for people to get a free quote.
There are still so many opportunities out there to write relevant content that life insurance companies and insurance agents are missing.
Blogging is a massive untapped opportunity you should take seriously.
If you know more content is helpful but not sure about what to write about, start by focusing on these most popular keywords searched online about life insurance policies:
Whole life insurance policy
Universal life
Final expense insurance
Death benefit
Indexed universal life
Buy life insurance
Life insurance monthly premiums
Term insurance
➡️ If you are unfamiliar with using keywords, read our article "How To Use Keywords."
5. Use SEO to passive lead generation
If you want people to find your website, you need search engine optimization.
This means using the right keywords on your website and in your content so that people can find you when they are searching for life insurance-related terms.
Once you have a list of keywords, make sure to use them on your website and in your blog posts.
Including relevant keywords will help you rank higher in search engines, which will drive more traffic to your website.
There is also a massive opportunity here that independent agents and life insurance companies need to take advantage of.
This doesn't mean blindly going out there and getting subpar content made or cheap backlinks that actually hurt your site and waste your money.
If you don't know where to start but are serious about using search engine optimization to drive long-term results for your business online. You should look into SEO specialists or a marketing consultant.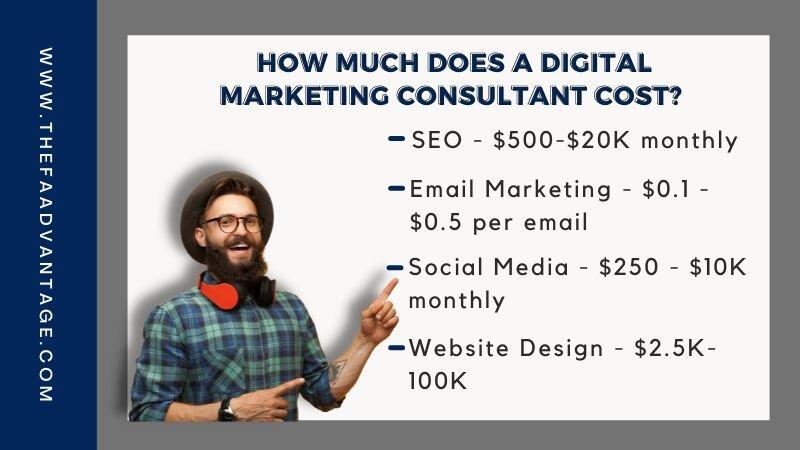 Prices for these services vary wildly, but there are good options out there for every price point.
6. Use Advertising to scale up your pipeline
Pay-per-click advertising is another great way to drive traffic to your website.
For example, a life insurance agent can use Google AdWords or social media ads to sell insurance policies.
When people click on your ad, they will be taken to your website, where they can learn more about what you have to offer and book an appointment.
7. Use webinars to educate and sell
Insurance agents can use webinars to sell life insurance policies online. For example, you can use a webinar to give a presentation about a particular life insurance topic.
For example, you could do a webinar on "10 Things Every Millenial Should Know About Life Insurance If You Have Or Want A Family."
Or let's say your target niche is government services like firefighters or the military you can do a webinar on "5 Mistakes To Avoid When Buying Life Insurance If You Have A Dangerous Career."
Webinars are a great middle-of-the-sales funnel tactic to move qualified prospects into the application phase.
Be sure that you provide valuable content and save the selling for the very end.
Webinars have been a prominent source of getting new clients in the digital space for the last couple of years and show no signs of slowing down.
8. Use video marketing to reach a wider audience
Video marketing is an excellent way for insurance agents to build their authority with prospects.
You can also use video testimonials from life insurance policyholders to show the value of a policy and how it has helped them and their families.
These will be excellent sources of content to add to your website, on social media, or on video-sharing websites like YouTube.
Video content is also great for repurposing.
For example, you can take one longer video and break it up into shorter videos for each social media platform, transcribe it into a blog post, create an infographic from the data you present or pull the audio and add it to your podcast.
Video is one of the most versatile engaging, and authority-building types of content you can create, so make sure to include this in your digital marketing strategies.
Selling Life Insurance Online Q&A
Is life insurance easy to sell?
Insurance policies are tough to sell. The simple process of gaining the acceptance that you're dying for is an extremely tough first step. After identifying the hurdles, you must now create urgency so they can buy quickly.
The insurance business is hard to crack, but the payoff can be significant once you do. For example, using digital marketing strategies like social media, video marketing, and search engine optimization can reach a larger audience and increase insurance sales.
Can I sell life insurance virtually?
It's possible to sell insurance at home! You only need your phone, internet connection, and video conferencing software such as Zoom or Google Meet (optionally).