Website traffic is crucial for business owners. More traffic to your website could mean more sales, Ad revenue, email subscribers & leads, so it should be a top priority. 
While you know that you should be driving more traffic to your website, it not as easy as some make it sound. It doesn't take much to overcomplicate the process and get confused about what to do next. 
So, it's time you learn the many ways to increase your website traffic, which I rounded up for you along with additional resources to help you dive deeper into the strategies that you want to try out or optimize. 
 They all come with their own sets of strengths and weaknesses, which I detail below. 
Advertise 
Paid advertising is a quick way to drive traffic to your website. There are many ads that you can run on different channels. 
For search engines, you can run pay-per-click (PPC) or retargeting ads. For social, there are sponsored posts. You can also have banner ads or rich media on websites, apps, and socials with display advertising. 
Each channel has its pros and cons, but combining the different types of advertising can be an excellent strategy to consider. 
That said, paid advertising is a vital strategy for digital marketers. In fact, marketers who participated in the 2019 CMO survey project a nearly 90% increase in social media spending in the next few years. 
Meanwhile, 40% of brands and agencies said in another study that they want to increase their PPC budget. This indicates how effective and lucrative it is for marketers. 
Strengths: 
Paid search ads are well-targeted 
Offers huge reach and immediate results 
Results are measurable through detailed data analytics 
Running a paid ad is usually inexpensive 
You have control over your marketing budget 
Weaknesses: 
Paid search still costs money 
Ads disappear after the campaign ends 
There is a risk of overspending 
Additional Resources on Paid Advertising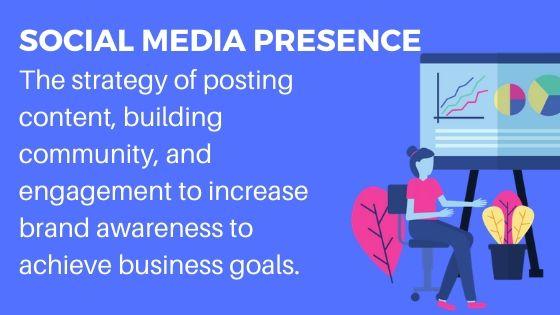 Establish A Social Media Presence 
Fact: 45% of the world's population are on social media. And 54% of them use social media to research products according to statistics by Oberlo. 
But most importantly, 73% of marketers believe social media marketing has been "somewhat effective" or "very effective." 
These numbers just show how vital having a social media presence for your brands is. That's why you should start paying more attention to your social media efforts now. 
Ensure you are doing more than just creating a profile. Use your social channels to link and promote your content. But it's not just mediocre content I'm talking about here. You should post relevant content that gives the most significant value to your followers, which we will discuss further in our next point. 
Aside from posting great content, you should also use social features such as Facebook Messenger, live videos, Instagram Stories, and IGTV. Remember that the key to succeeding in your social media marketing efforts is by being an early adopter of new features. 
LinkedIn is my recommended platform at the moment. You can still have success with others, but LinkedIn's organic reach easily makes it the social platform you should take seriously sooner than later. 
Start by connecting with me on LinkedIn here. 
Strengths: 
Social media marketing is cheaper than most marketing strategies 
Offers broad reach and large audiences 
You get to engage with your customers through community building 
Gives your brand personality 
You get to learn more about your customers 
Weaknesses: 
Social media marketing is time-consuming 
It takes a long time before you get results 
Your brand is prone to negative feedback 
Most end up utilizing the "Pay to Play" model 
Additional Resources On Social Media Strategy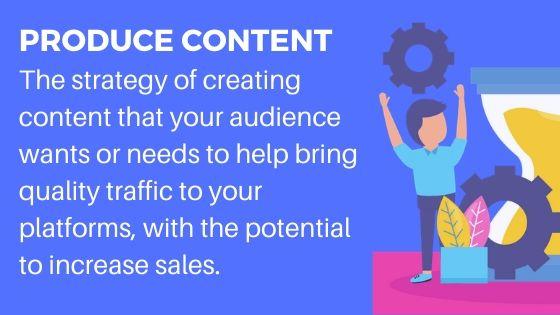 Produce Relevant Content 
If you don't have a blog yet, you should start it as soon as possible. 
Statistics show that marketers who prefer blogging are 13 times more likely to attain a positive ROI on their efforts. 57% of marketers also said they'd gained customers through blogging. 
The content you produce on your blog gives people a reason to keep coming back to your website. Aside from that, it also helps improve your SEO, which I will discuss later on. 
But how do you create content that is of value to your customers? First, you need to know your buyer persona. Then, conduct SEO research to learn what your audience is searching for online. From there, create a well-written blog. 
There are different types of content ranging from lists, interviews, infographics, evergreen, and more. Discover which content attracts more website traffic and devise an effective content strategy. 
Strengths: 
Blogs are excellent for brand awareness and authority building 
Gives your audience a reason to come back to your website 
Blogs help improve SEO ranking 
You attract new customers, engage existing ones, and convert both 
Weaknesses: 
Creating content can be time-consuming 
Producing unique and creative content can be challenging 
Blogging requires you to have regular updates 
Additional Resources On Content Creation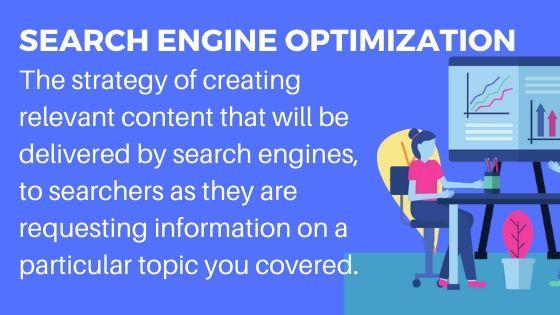 Utilize Search Engine Optimization 
As previously mentioned, blogging can help boost SEO. But what is SEO, or search engine optimization? 
SEO is a method used to gain 'earned,' 'unpaid' organic traffic from search results. 
Optimizing for search engines can increase the quantity and quality of traffic your website receives. This involves several methods, including on-page SEO, off-page SEO, keyword research, improving site architecture, link building, and content creation, among others. 
According to Adweek, SEO is vital because 81% of shoppers conduct online research before they purchase a product. And this strategy helps people know your website exists at the time they are most engaged with what you offer. 
Strengths: 
SEO gives your website exposure to people searching for solutions online 
Delivers a continuous flow of traffic through on-page and off-page methods 
Makes you an expert in your niche 
SEO-generated leads can go as high as 14.6% close rate 
Weaknesses: 
SEO requires time to see results 
Has no guarantee for results, especially if you are aiming for page 1 ranking 
May require significant investment if you're hiring external help 
Additional Resources On SEO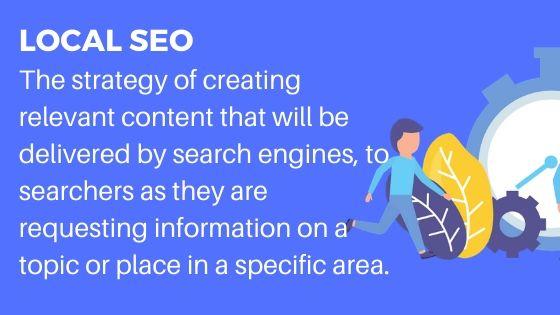 Don't Forget Local SEO 
Local SEO is an excellent strategy if you own a brick-and-mortar store. The same holds if you service a specific geographic area. 
Data shows that 80% of local searches result in conversions. In fact, 50% of users visit a store within a day after conducting a local search, while 76% who look on smartphones drop by after a search, according to Google. 
So, if you're offering pizzas and a local customer searches, "best pizza near me," you'll be missing out on the opportunity to get found and convert. That's why you should optimize for local SEO. 
To do this, claim your business page on Google My Business. Enter your name, address, and phone number, and make sure they are consistent with your social media pages. 
Also, ensure you are using location-based keywords that are relevant to your industry. 
Strengths: 
Local SEO gives you the upper-hand over competitors 
Increases visibility for businesses in their communities 
Shows your website at the exact time local customers are searching 
Ensures business is legitimate to your prospective customers 
Weaknesses: 
Not recommended for international or online-only businesses 
Additional Resources on Local SEO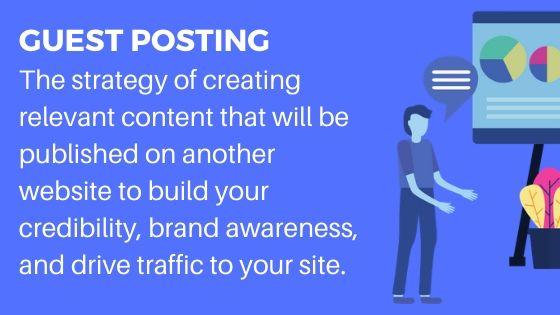 Guest Posting 
The art of finding popular blogs and writing a high-quality article for them. This is one of the fastest ways to boost your website's traffic and awareness if you target the correct sources. 
Several case studies have shown how effective guest posting is in driving significant traffic to a website. For instance, one SEO expert generated nearly 400 visitors after publishing on Moz. And that guest blog still drives 10-20 visitors even after more than two weeks after the post was published. 
While it promises excellent results, guest posting is easier said than done. But there are definitive guides out there to help you get started with guest blogging. 
The first step is to find respected blogs in your niche and build a relationship with them. Learn about their audience, style, and the topics they cover before making a pitch. 
Strengths: 
Guest posting shows you're active in the community 
Builds your reputation in your industry 
Allows you to generate more backlinks 
Weaknesses: 
Building a relationship with reputable bloggers can be a challenge 
The standard for guest blogs can be very high 
Writing high-quality guest posts can be tedious 
Additional Resources on Guest Posting 
Utilize Email Marketing 
Email marketing is a traditional content marketing strategy that is still very much alive. When combined with other approaches, it can prove a valuable tool for driving traffic to your website. 
Data shows that an average return of $42 can be expected for every $1 you spend on email marketing. 
As you produce valuable content, you can support it with email marketing. Promote a new blog to your current subscribers or followers for a quick traffic boost. 
This is why it is crucial to build your email list as soon as possible. 
To get started in the email list building, add sign-up forms on your website. This can be a pop-up on your homepage or about page. You can also use your social channels to promote email newsletters. 
You'll have to be creative. Personalizing the email marketing experience is crucial now of days. You have to stand out. A set it and forget it email drip will not cut it if you are looking for the best results. 
Strengths: 
Email marketing is relatively affordable 
You can quickly create an email campaign and reach a warm audience promoting your content and offers 
Easily track and measure your efforts 
Weaknesses: 
Your emails could get marked as spam 
Not well-targeted; you may not be reaching the right audience 
Unsolicited emails can cause customers to consider your business less reputable 
It's getting more challenging to cut through the noise  
Additional Resources on Email Marketing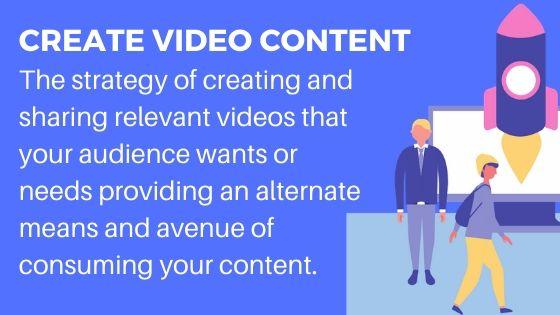 Create Video Content 
While text-based content is still the heart of digital marketing, social evangelists are beginning to prefer watching a video than to read. In fact, visual materials such as videos offer significantly higher information retention. That said, you must incorporate video in your content strategy. 
According to BrightCove, videos yield a 157% increase in organic search traffic. Hubspot finds that 85% of marketers create video content online. 
Fortunately, you don't have to spend much to produce a video. There are free tools out there to make the video creation process a tad easier. 
Consider embedding videos into your blogs. Then, you may want to put up a YouTube channel for your business. 
Also, take advantage of social features such as Facebook Stories, Facebook Watch, IGTV, and live videos. The last one is particularly useful in boosting organic reach, which I will discuss in my next point. 
Strengths: 
Video content has strong engagement 
Improves conversion rates 
Easy to repurpose and reuse 
Weaknesses: 
Professional-looking videos have high production overheads 
Some people can't watch videos online, limiting your reach 
Not all audiences are into video content 
Additional Resources on Creating Video Content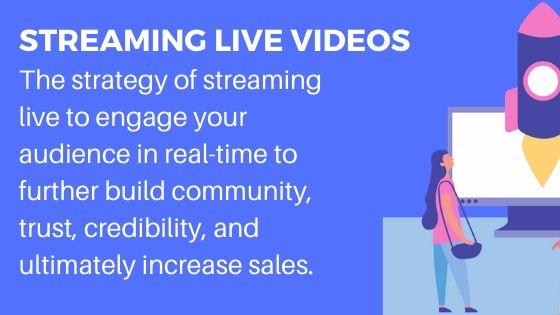 Broadcast Live Videos 
A decline in organic Facebook reach began affecting brands in 2014. One of the primary reasons for this decline is the volume of content being published on the platform. 
So, how can you expand your reach organically? Facebook has begun the shift to make News Feed more about connecting with people, and one way to do this is through live videos. 
Yes, live videos rank even higher than news feed videos. This is because it is exciting, in-the-moment, and creates a more personal relationship with your audience. 
Broadcasting live videos is a great way to establish your social media presence. It can also help boost your traffic by directing your audience to your website. But most importantly, it has a positive impact on sales. 
Strengths: 
Live videos boost organic reach 
Allows stronger engagement than regular videos 
Weaknesses: 
Requires to go live regularly 
Risk of producing low-quality videos  
Can be unpredictable as it is prone to technical difficulties 
Additional Content on Video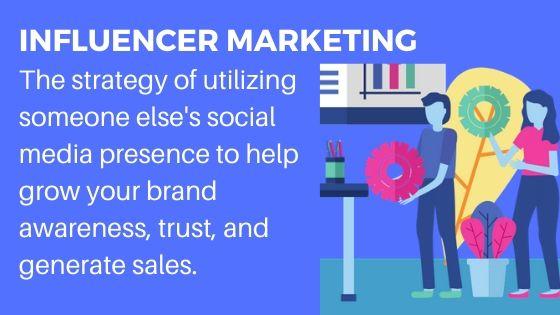 Engage in Influencer Marketing 
Influencer marketing is a powerful strategy to raise awareness about your brand. Did you know that driving brand familiarity is four times more effective when you team up with YouTube influencers than those with celebrities? 
Your brand also gets more credibility when you collaborate with influencers. 
When deciding on whom to team up with, research the micro-influencers in your community. 
Micro-influencers may have smaller following, say, 10,000 or below. But their followings are well-targeted and could lead to the best results for your brand. This means more engagement, clicks, and a higher ROI. 
Collaborate with micro-influencers, tap into their followers, and generate more traffic to your website. 
Strengths: 
High engagement rate 
Broadens your brand's reach 
Tap into a relevant audience 
Helps build trust and credibility to your brand 
Relatively affordable 
Weaknesses: 
Difficulty measuring results 
Risk of fake influencer metrics and followers 
Additional Resources on Influencer Marketing 
Interview Industry Thought Leaders 
Aside from influencers, you should also tap into the insights of thought leaders in your industry. 
When thought leaders talk, people listen. Respected people in your industry can attract attention from your target audience. 
Think Pat Flynn with Smart Passive Income, John Lee Dumas with Entrepreneur on Fire, and Tom Bilyeu with Impact Theory. These entrepreneurs offer tons of value on their own, but utilizing other thought leaders helps them expand their audience and keep people coming back to learn from the next thought leader. 
But what makes a thought leader? He or she is someone who offers information that people can't get from anyone else. A thought leader can adequately explain what works and what doesn't on a particular topic based on their research and experiences. They offer great advice that makes for valuable content. 
And once you complete an interview, be sure to promote it across multiple channels. Doing so can bring in loads of traffic to your website. 
Strengths: 
Builds your authority, expertise, and trustworthiness 
Attracts attention from your target audience 
Longer shelf life than the average blogs and articles 
Access to the thought leader's following, resulting in a more extensive reach 
Offers new information and ideas that are shareable 
Weaknesses 
Finding industry leaders to interview is a challenge 
Additional Content on Interviewing Thought Leaders 
Media Coverage and Public Relations 
If you're a thought leader yourself, you can use your expertise to catch the attention of the media. 
Media coverage creates an excellent opportunity for you to to generate some word of mouth buzz, which can help to bring traffic to your website. 
You can also get yourself interviewed without being a thought leader. 
If you have new products that you deem valuable for the community, or if you have a unique company culture that you'd like to share, you can be in the center of the media attention. 
The key is to let your marketing and public relations teams collaborate. 
Also, do your research and use your connections wisely. Avoid spamming media outlets if you want to secure a segment and build an ongoing relationship with them. 
Strengths: 
Wider reach through media outlets 
Can put a face on your company, boosting credibility 
Gets people to pay attention to your business 
Lets you develop an emotional connection with your audience 
Weaknesses: 
Attracting the media's attention can be tough 
Additional Resources on Gaining Media Coverage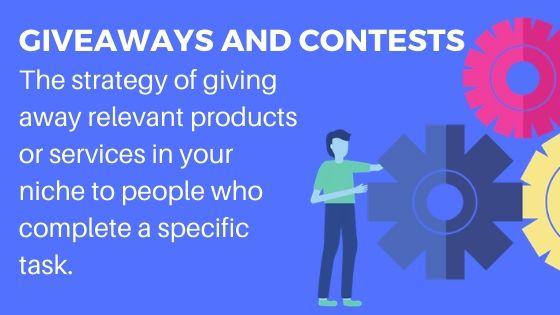 Host Giveaway Contests 
Contests and giveaways can get people engaged and excited. And this means an opportunity to increase your website traffic. 
Aside from website traffic, hosting contests can grow your following by a considerable percentage.  
According to Tailwind, Instagram accounts can achieve 70% faster follower growth when brands hold contests. 
But when I say giveaway, I mean freebies that people would want and are relevant to your brand. So, ensure you do some research about your audience. Then, decide the prize, the contest type, and the platform to hold your contest. 
Once these are all set, craft a compelling ad copy with engaging graphics. Do all these, and you're ready to run your first giveaway contest. 
Strengths: 
Giveaway contests are engaging 
They have the potential to go viral 
Gain a substantial social following 
Allows you to gather user-generated content 
Weaknesses: 
Requires time and money 
Risk of causing drama around your brand (People don't like not winning) 
Prone to unsuccessful campaigns 
Additional Resources on Host Giveaways and Contests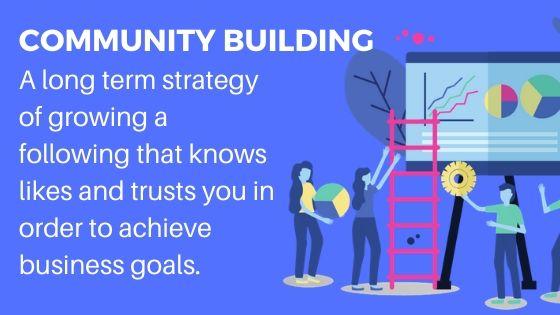 Community Building 
Community building involves starting a Facebook group, Twitter chat, or LinkedIn group, etc. Invite your followers to join your community where you can provide value while driving traffic to your website. 
Social media groups are a great avenue to build awareness while engaging with your audience. In fact, 40% of marketers believe they should prioritize private communities in 2020. 
It's a powerful strategy because communities are highly-targeted, and it lets you establish authority in your niche. 
Above all else, brands should provide solutions to the problems shared in the group. This opens up the opportunity for you to gain FAQs that you can use to produce original content. 
I also encourage brands to engage in your community other than the groups you have built. Join Facebook group discussions, participate in Twitter chats, and answer questions on forums. 
The key to community building and engagement is to be human, and to connect with your audience. 
Strengths: 
Directly engage with your audience 
Gain valuable insights about your customers 
Allows linking back to your website 
Weaknesses: 
Starting to build a community can be tough until you're established 
Requires constant updating and moderation 
Can be time-consuming 
Additional Resources on Community Building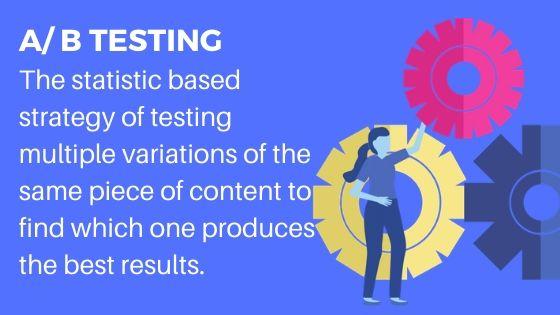 A/B Testing 
Data is crucial in running successful campaigns. One way to obtain this information is through A/B testing. 
A/B testing is a method to compare two versions of your marketing materials. These can be a web page, an email, or a social media ad. 
There are various elements that you can test. It can be the headlines, CTAs, images, audio, and videos, among others. 
For example, you create two versions of a social media ad with only the image changed. 
Then, you run the two versions of the ads, against the same audience, to test which will appeal more to that audience. The results can be measured based on specific metrics such as click-throughs or conversion rates. 
A/B testing allows you to learn which elements work best for your goal, say, increased website traffic. 
Strengths: 
Gain quantitative evidence of what works and what doesn't 
Test new ideas 
Make gradual changes to improve performance 
Weaknesses: 
Requires time and resources 
Works with only one variable each test 
Could end up with constant testing 
Additional Resources on A/B Testing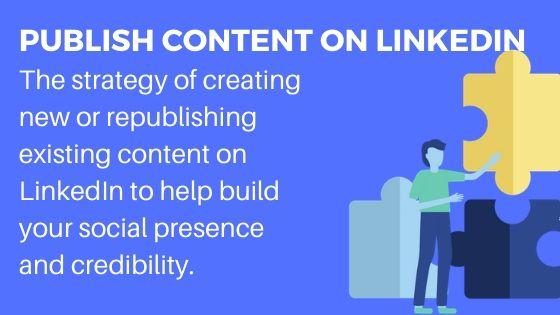 Publish Articles on LinkedIn 
The world's largest social network for professionals has been offering a valuable publishing platform that can drive traffic to your website. 
This gives your content an excellent opportunity to reach a large audience. 
Here's another reason why you should publish on LinkedIn: over 80% of social traffic to B2B sites come from LinkedIn. 
Publishing on LinkedIn is an excellent way to boost your traffic.  
Strengths: 
Chance to get featured on LinkedIn Pulse, displaying your content to a large audience 
Connections are notified each time you publish on LinkedIn 
Makes you an authority in your industry 
Posts are shareable; users who interact with it also make your post visible to their first-degree connections 
Weaknesses: 
Articles require some traction to be featured 
Needs high-quality articles and engagement to gain traction 
Requires constant update along with your website's blog if not utilizing syndication 
Additional Resources on Publishing to LinkedIn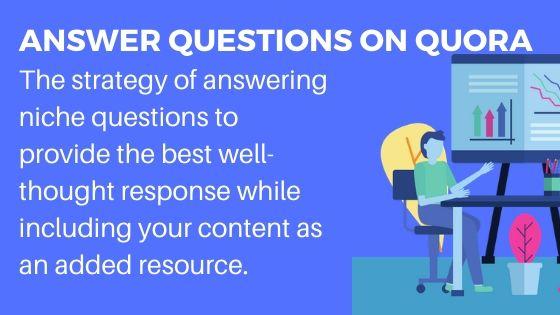 Answer Questions on Quora 
A wide range of questions is posted daily on Quora. And this is an excellent opportunity to get your content found. 
Answer questions on Quora, and include a relevant link to your website to further expand on your answer. 
However, you should not link just to promote your content. Make it a practice to post a helpful, thought-provoking, and inspiring answer. Remember that readers can tell an intelligent post from a salesy one. 
Quora posts have the tendency to go viral. Use it properly to leverage the Q&A site. 
Strengths: 
Wide range of questions posted daily that you can provide answers 
Allows you to connect with others in your industry 
Great way to generate early traffic 
Another platform to syndicate content 
Weaknesses: 
Answers require expertise to make an impact 
Prone to spam content 
Additional Resources on Answering Questions on Quora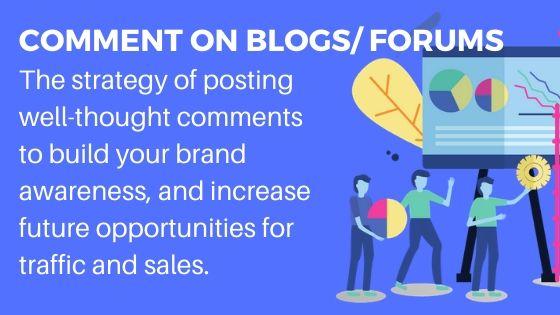 Comment on Blogs and Forums 
Blog or forum commenting will not get your website large amounts of traffic, but it does help in getting your name out there. 
The key is to provide quality and relevance in each comment. 
When commenting on blogs or forums, comment on specific points. Offer more information and add additional value to the post. You may also share your experience in solving similar problems mentioned in the blog. 
Posting well-thought comments can show your depth of knowledge on the matter, which can even win you a guest posting spot on that particular blog. 
Eventually, you'll be rewarded with what you desire: more website traffic and additional traffic opportunities. 
Strengths: 
Allows you to display your expertise 
Makes a name by providing well-thought comments 
Search engine rewards you with more authority 
Helps generate more backlinks and traffic 
Attracts new readers to your blog 
Weaknesses: 
Requires knowledge of the subject 
Can be deemed spam if your comment is not useful 
Takes time if you do it regularly 
Additional Resources on Blog Commenting Strategies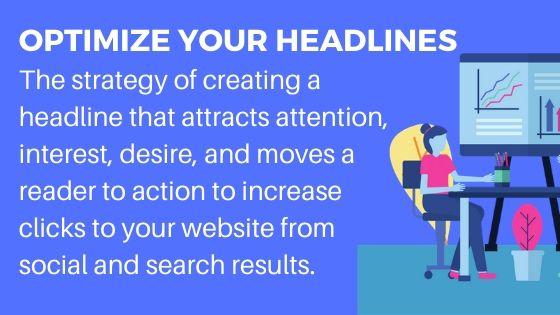 Focus On Your Headlines 
Your headlines can make or break your content.  
Your headline is the most seen piece of content and should not be an afterthought. When you share your content on social media or your post shows in organic results, your headline is one of the determining factors of whether they will visit your site. 
The majority of times, readers don't get the opportunity to see the stats you've compiled, those custom images, relatable stories, your products or services unless you first get your headline right. 
Strengths: 
Narrows traffic to relevant audiences 
Can boost Click Through Rate in organic results 
Increases social shares 
Peaks curiosity 
Weaknesses: 
A weak headline can create a low click-through rate 
Low social shares 
Sometimes you have to try multiple headlines 
Additional Resources on Creating Headlines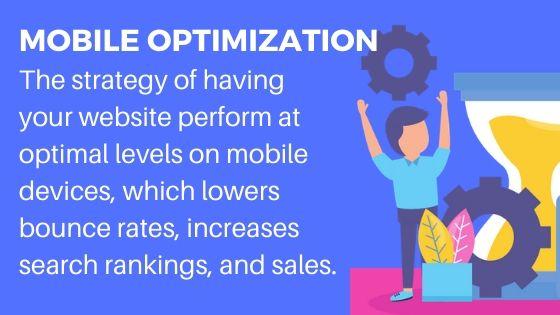 Mobile Optimization 
A study by Hitwise found that nearly 60% of all searches take place on a mobile device. 
Mobile web surfing is continuing to pull dominance away from the desktop. Google is even prioritizing it in its algorithms. 
The simplest thing you can do is use a mobile responsive theme, compress images and video, and have good mobile caching. Setting up an AMP mobile site could be an option depending on your objectives as well. 
The first organic listing on mobile receives 27.7% of clicks, versus 19.3% of clicks on desktop according to SEOClarity. 
Strengths: 
A faster mobile site is attractive to Google 
Allows for a good user experience 
Increases conversions 
Weaknesses: 
May require some technical knowledge 
Additional Resources on Mobile Optimization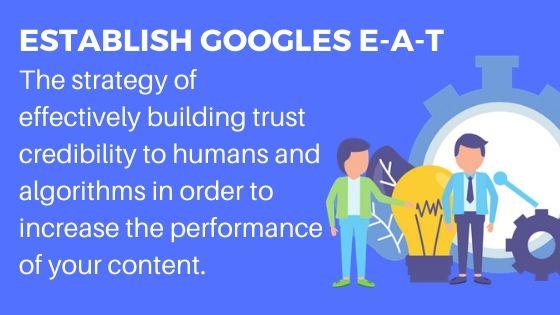 Focus on Establishing E-A-T 
E-A-T stands for Expertise, Authoritativeness, and Trustworthiness. Google developed E-A-T as a way to help determine how knowledgeable and trustworthy your content is to searchers. 
Google is very cautious when it comes to sending traffic to content that could affect someone's life or finances. 
Google defines content that can alter someone's life or finances as YMYL, Your Money Your Life.  
Doing the things mentioned throughout this post is a great way to establish E-A-T and will help your content rank in Google. 
Strengths: 
Rank higher in search results 
You are trusted in your topic 
Increased natural backlink opportunities 
Strong branding 
Weakness: 
It takes time to build E-A-T 
You must produce many pieces of content throughout relevant sources on the web 
You have to develop an effective outreach strategy 
Additional Resources On Establishing E-A-T 
Final Words 
All of the above methods are proven useful and effective for business owners, brands, and marketers. 
Start by implementing a few of these tactics, optimize your own strategy, and start generating more traffic for your website. 
What is your best traffic generating sources?