An effective digital marketing action plan consists of understanding your audience, creating SMART goals, utilizing the appropriate tools, analyzing your online presence, creating content, and launching and optimizing your campaign.
The number of Internet users worldwide is growing each year. In 2023, the numbers are projected to grow to 317.1 million in the US alone.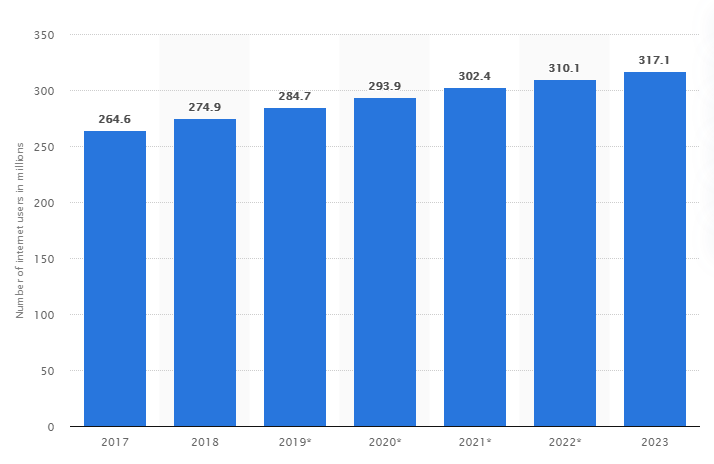 And what does this mean for your business? Without a digital marketing action plan, you'll miss out on the opportunity to grow your customer base.
However, coming up with a digital marketing strategy to support your business goals may seem overwhelming.
This is especially true for small- and medium-scale businesses or personal brand development.
But with a step-by-step action plan below, I will guide you to create an effective digital marketing strategy for your business.
But before I delve into that, let me first define what digital marketing strategy and campaigns are.
What is a Digital Marketing Strategy?
A digital marketing strategy is a marketing plan of action that you, the business, implement to achieve your desired goals (emphasis on goals).
Identifying goals is a crucial step here because your marketing efforts will revolve around the goal or multiple goals.
For instance, your business goal is to increase sales by 3% by the end of the quarter.
To do this, your strategy may involve generating twice the website traffic in the following months.
Your strategy, which involves a series of actions, should work toward your business goal.
But how?
A strategy may utilize one or multiple marketing channels to support what you want to achieve.
These online marketing channels include paid media, earned media, and owned media.
Later, I will discuss the owned, earned, and paid media framework in great detail in the succeeding sections.
Keep on reading to learn more about these marketing channels.
What is a Digital Marketing Campaign?
With a strategy in place, the next step is to set your marketing plan of action in motion. This is where digital marketing campaigns come in.
A digital marketing campaign is the building blocks within your strategy. These are the actions you take to achieve your desired goal.
But isn't it basically the same with digital strategy?
Think of it this way: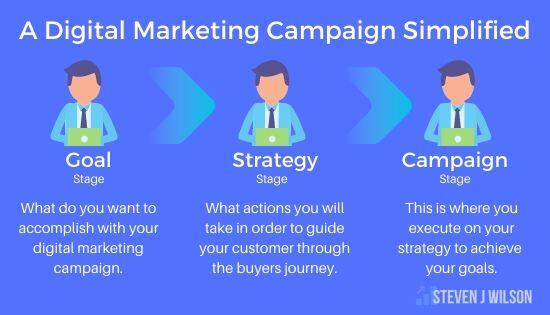 Goal > Strategy > Campaign
Within your goal is a strategy, and within a strategy is a campaign. 
In a strategy, you identify the what, who, where, when, and why of achieving a goal. In a campaign, you answer the how.
Digital Marketing Strategy & Campaign Example
To illustrate, let's take a look at Red Bull's example below: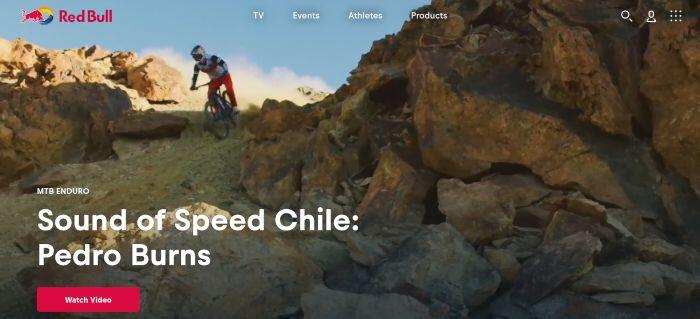 Red Bull has established itself as a brand that focuses on sports, culture, and lifestyle.
This is all thanks to its digital marketing campaign utilizing articles and videos about the latest happenings in the sports community.
Its strategy involves using owned media (what), creating content and experiences that would resonate with people even if they don't care about energy drinks.
Red Bull's content is catered to extreme sports fans (who) and is distributed through various platforms including their website and social accounts (where).
The brand's campaign to appeal to sports fans via relatable content and experiences (how) makes it an unbeatable marketing powerhouse.
While achieving what Red Bull has reached may seem unlikely as no marketer has a perfect first marketing campaign, you can still follow some steps to help you achieve the best results for your business.
Read on to know how you can create a digital marketing action plan.
How to Create a Digital Marketing Action Plan
Understand Your Audience
Create a List of Goals
Identify What Tools Can Help You Reach Your Goals
Analyze Your Current Online Presence
Create High-Quality Content
Launch, Analyze, and Relaunch
1. Understand Your Audience
It is crucial to any marketing strategy to understand its audience.
Knowing who they are, where they hang out, what are their needs and problems, and other vital information can help you craft an effective strategy.
Let's put it this way: If you don't know who you're talking to, you won't even know what message to give them.
You won't know what media to use, or where to find them.
That's why it's essential to understand your audience.
Demographics and Psychographics
But what kind of information should you gather about your target customer? There are two kinds of information to make an informed digital marketing strategy.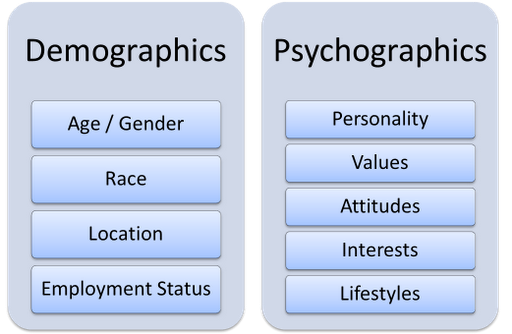 Demographic Information
Demographics are the quantitative data of your target audience. These are measurable characteristics that can be a useful insight when crafting your strategy.
Location
Age
Gender
Income
Job title
 Psychographic Information
Psychographics are qualitative data that forecast consumer behavior.
These less measurable characteristics determine the following:
Goals
Personality traits
Hobbies and interests
Values
Lifestyles
Priorities
Opinions
It takes more than knowing their demographics to better understand your audience.
You also have to take into consideration their psychographic information to come up with an effective digital marketing strategy.
And the above items are just some starting-points.
Knowing your audience's demographics and psychographics helps you:
Create an accurate list of topics for content
Find keywords to target
Optimize content
Deliver a message that resonates to your audience
Set up your pages for a more effective conversion
Provide a great user experience
Find key influencers in your niche
 How to Reach Your Online Target Audience
Now, the million-dollar question is: "How do you know your audience better?"
Search Engine Journal outlines some key steps to understand your audience so your digital marketing strategy can reach them.
 Conduct market research
Nothing beats good old market research to obtain your audience's demographics and psychographics.
Market research allows you to get as many details as possible about your prospects.
But most importantly, you can get this acquired information to build buyer personas.
Here are some methods to gather your much-needed information.
Reach out to the sales team
Gather data using tools
Perform social listening
Create a quantitative survey
Conduct interviews (qualitative research)
 Build your buyer personas
The use of buyer persona is an indispensable tactic in digital marketing.
In fact, research shows that marketers who utilize it achieve 73% higher conversions than those who don't.
But what exactly is it?
A buyer persona represents your ideal customer. But it isn't just a simple buyer profile.
This information is based on real data to ensure your marketing strategy is in the right direction.
That's why it is essential to conduct market research first to come up with the closest representation of your target market.
This will evolve over time and should continue to be updated as you learn more about your audience.
 Identify influencers in your niche
Influencers, without a doubt, can help build awareness and sales for your brand.
To put that in numbers, eight out of 10 consumers buy something after seeing a recommendation from an influencer.
But for influencers to be effective, you need to choose one that is relevant to your target audience.
For instance, if your audience is into a healthy and active lifestyle, you might want to find and reach out to a popular fitness blogger.
But aside from the niche, here are some considerations when you are looking for influencers:
Pay attention to engagement
Ensure the influencer believes in your brand
Know how much the influencer is worth
Once you've created your list, narrow it down by getting to know your prospective influencers.
Take the time to check out his posts before reaching out to them.
Don't forget to communicate your brand objectives and expectation when you speak with them.
2. Create a List of Goals You Want to Achieve
Previously, we've touched on the importance of setting goals to create an effective strategy.
Without them, you wouldn't know where you're headed, much more if your strategy is working.
Goals are crucial, but just what do digital marketing goals look like? And how do you come up with these for your business?
Below, find out some common examples of digital marketing goals as well as business goals.
Also, discover the SMART way of creating a list of goals for your digital marketing strategy.
Examples of Common Business Goals
Remember that the most important thing about goal-setting is to align your digital marketing goals with your business goals.
That's why you must first define your business objectives before you come up with digital marketing goals, which include:
Drive more sales
Raise more revenue
Increase profits
Reach new audiences or demographics
Secure funding
Enter new markets or territories
Develop stronger relationships with stakeholders
Expand market share
 Examples of Common Digital Marketing Goals
With your business goals defined, it is only then that you can create a list of goals for your digital marketing strategy.
To give you an idea, here are some common goals that marketing teams come up with to support their overarching goals.
Improve conversion rates
Drive more click-throughs on paid ads
Get more website or social media engagement
Grow an email list
Gain more social media followers
 SMART Goals of Digital Marketing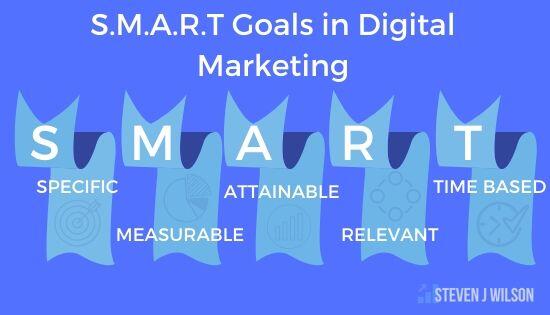 When it comes to goal-setting, you should be SMART.
And by that, I mean your goals should be specific, measurable, attainable, relevant, and time-based.
The SMART framework works best in digital marketing because of the following:
It gives you a clear direction
Allows you to use time and resources productively
Focus efforts
Ensure goals are relevant to business
Emphasizes the role of measuring results
Ultimately, having SMART goals can increase your chances of achieving your desired result.
Here are some examples of how to leverage SMART goals in your digital marketing strategy:
Specific – Be specific to make your goals clear to anyone who has a basic knowledge of the campaign.

Example: I would like to increase our brand awareness by growing our Facebook page following.


Measurable – The success of the goal should be measurable in numbers.

Example: I would like to double the number of follows on our Facebook page.


Attainable – Your goals should be realistic—targets not too high or too low. Ensure that you have all the resources to achieve your goals.

Example: I would like to gain more followers by allotting a certain marketing budget on Facebook sponsored posts.


Relevant – Your digital marketing goals should support the overarching goals of your business.

Example: I want to drive more traffic to my website by building our Facebook presence since that is where our audience hangs out.


Time-based – Deadlines are crucial so you won't end up aimlessly exerting efforts without an idea when should you stop. Determine how much time you need to achieve your goals.

Example: I would like to run a Facebook sponsored post for two months to double my following.
3. Identify What Tools Can Help You Reach Your Goals
Tools are essential before, during, and after running a campaign.
There are plenty of digital marketing tools out there that make executing your strategy easier.
From organizing your to-do list, automating tedious tasks, and tracking your progress, you can find a tool that best suits your needs.
I curated some of our favorite tools to get you started.
Organization Tools
With a team working on your digital marketing campaign, it's easy to lose track of tasks.
This is where these organization tools come in handy.
To maximize organization and productivity, here are some tools that can keep your marketing team updated with what's happening in the campaign.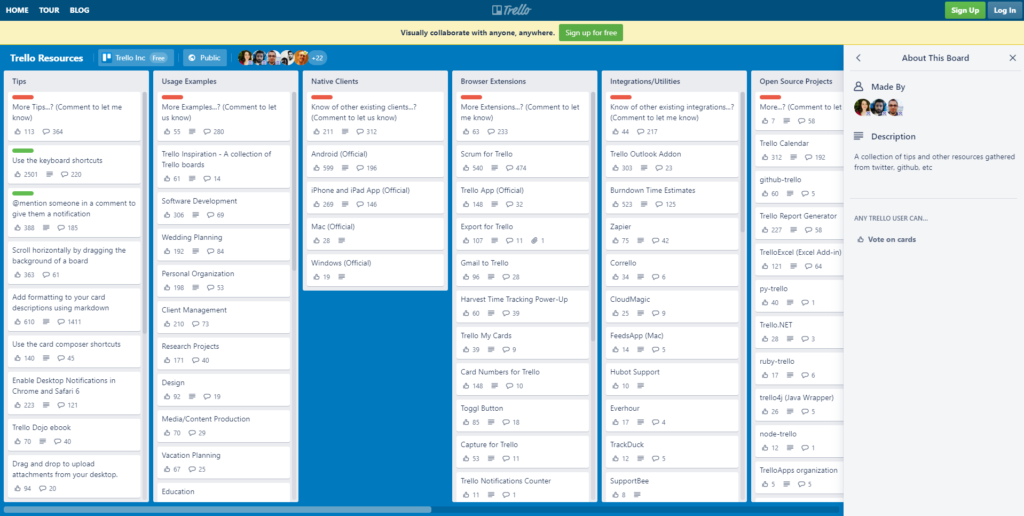 A simple visual project management tool, Trello's system of boards and cards makes it easy to keep up with a list of to-do tasks, ongoing tasks, and completed tasks.
Create lists, add labels, assign teammates, set deadlines, and make it easy for everyone to visualize each step of the campaign.
This communication service appeals to small and medium companies because it allows them to create channels specific for certain information.
For instance, you can create a channel for #Copywriting to talk about everything copies there.
Slack is all about focused collaboration so the team won't get distracted by conversations about where to go for lunch.
Leave notes in one place for everyone in the team to see.
With the Evernote tool, you can store important notes, organize research, draft blog posts, save articles, and access them for later use.
Automation Tools
Automation tools save precious time that you could use for other tasks. These tools will allow your team to focus your efforts on other things that support your campaign.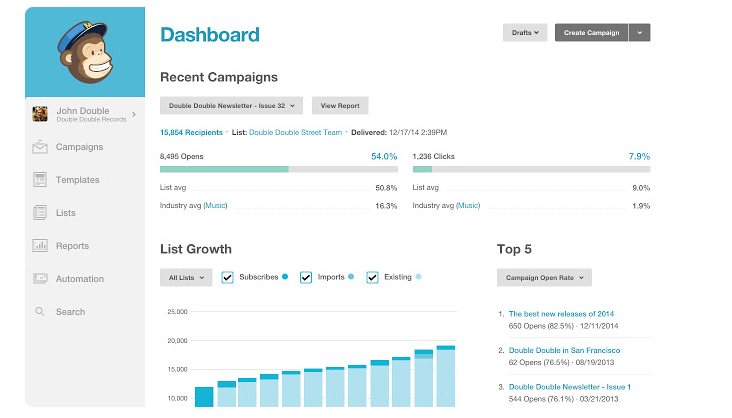 If you're looking to automate email drip campaigns, MailChimp got you covered.
This tool offers intelligent email marketing features including personalizing, behavioral targeting, and automating emails.
Hootsuite is popular among marketers for its social media post scheduling feature.
This is a real savior as it takes Facebook posting, tweeting, LinkedIn updates, and scheduling YouTube videos done on a single platform.
HubSpot offers advanced marketing solutions for businesses.
This goes beyond automating email as it puts lead nurturing, managing data in bulk, notifications, and other tasks on auto-pilot.
Tracking Tools
Jeff Bullas, one of the top online marketing influencers today, provides a great resource of digital marketing tools that you should check out.
My favorites among his tracking tool recommendations include: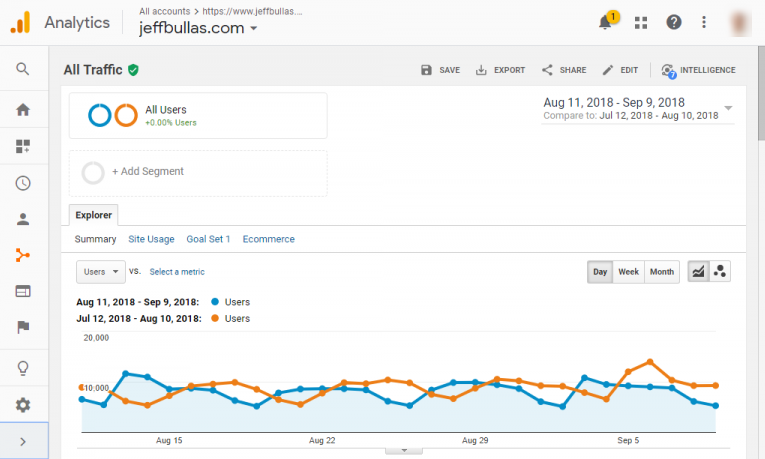 GA is a tool that should not be missing from a marketer's arsenal. It's free, powerful, and offers insightful data about your website.
This tool allows you to see who's visiting your website, and which pages they spend most of their time.
It also has a goal feature that enables you to track events, conversions, and a lot more.
Check out HubSpot's Ultimate Guide to Google Analytics if you want to learn how to use this amazing tool.
Another free tool from Google, this tool gives you information about which queries bring users to your website.
It also offers insight on your site's clicks, impressions, and position on Google Search.
To utilize this tool, here's a comprehensive beginner's guide to Google Search Console by Moz.
SEMRush
What I love about SEMrush is it allows users to track the position of the keywords they are trying to rank on search engines.
But it doesn't stop there. SEMRush is also a handy tool for anything digital marketing—from SEO, PPC, link building, traffic analysis, and more.
The above tools are only a few of the many that can make your job a little more painless. Now, identify what tools you need that can help you reach your goals.
4. Analyze Your Current Online Presence
How is your online presence doing at the moment? Are your prospects finding you on search engines like Google?
Are you getting enough leads without paying for advertising? Do your competitors show up for high-volume keywords?
A thorough audit of your online presence (e.g. website, editorial content, social accounts, etc.) will give you a clear picture of where you are standing right now.
It identifies and rectifies potential issues that weigh down the performance of your business.
What worked? What didn't? Which platforms performed best?
Analyzing your current online presence plays a key role in a successful digital marketing strategy.
And a good start to do this is by looking at your available digital marketing channels.
The Owned, Earned and Paid Media Framework
Categorizing your digital assets as owned, earned, or paid media lets you identify how your content reaches your target audience.
Below, let's take a look at the media framework you may already be using.
Owned Media
Owned media refers to the digital assets that your business owns and has complete control over.
This can be your website, blog posts, and social accounts, among others.
Owned media always takes the form of content. It can even be off-site blogs that you own, such as the ones you publish on Business 2 Community and Medium.
It is essential that you audit and plan your owned media to build a more effective digital marketing strategy, which I will discuss more in Step 5 of this guide.
Earned Media
When people speak about your brand through press mentions, social shares, and reviews, those are "earned" media.
What's great about earned media is that it reaches a new set of audience, and you don't have to pay for it.
It also buids stronger trust and loyalty. We of course will say great things about ourselves. When those are also echoed by third parties is helps your brand and increase sales.
Paid Media
Paid media also gets you in front of your audience, but it comes with a price, literally.
In this category, you have to pay for media placements to reach more people. This can be in the form of PPC, Facebook Sponsored Post, and Google Ads, among others.
Here's a great image from Search Engine Journal that summarizes the digital marketing trifecta: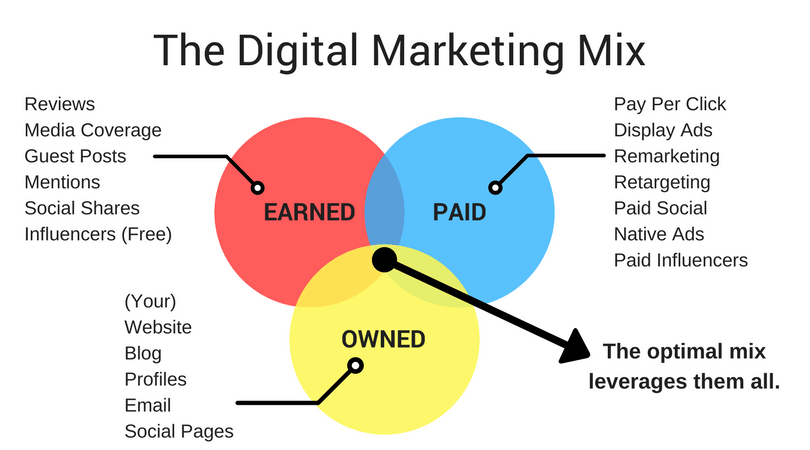 The Mix: Combining Two or More Types
A common misconception is that you only need owned media in your marketing efforts.
While it's true that owned media is indispensable, it is not enough.
A great digital marketing strategy combines these categories to get better results.
For instance, getting your audience to read your blog post (owned) may be a challenge with so much online content vying for attention these days.
If that's the case, you may consider tapping into influencers (paid) who may be interested in your blog.
If your content is relevant and good enough, people may share them on their social profiles (earned).
Now, you have all these channels working together to significantly grow your visibility.
5. Create High-Quality Content
Now that you've taken a better look at your channels, it is time to evaluate existing content to make a well-informed editorial calendar.
A good start here is to analyze content gaps.
A Look Into Content Gaps
Content gaps are areas in content that could be improved upon.
For instance, if you're writing a post about web design, you may find that the content on Google's First Page may be outdated, lacking examples, or difficult to understand.
Those are gaps that you could fill with your content. And because you are improving those gaps, you are able to create better content.
Some best practices to spot content gaps include:
Evaluating Google's first page
Using gap analysis tools such as SEMrush to scale the process
Auditing your own content
Creating Your Editorial Calendar
With these content gaps in mind, you can now fill your editorial calendar with valuable articles and blog posts to write about.
But what is an editorial calendar in the first place?
An editorial calendar is a publishing schedule that documents your content efforts.
With an editorial calendar, you can track publish dates, authors, content types, and promotional channels you set for your digital marketing strategy.
Editorial calendars may take the form of spreadsheets or software.
Either way, you need to answer the following questions to determine what your editorial calendar should look like.
What platform will you use to manage the calendar?
How many people will use the calendar?
Do you create more than one type of content?
How frequently are you publishing content?
What stages will the content go through before it's published?
With an editorial calendar in place, your marketing plan will strategically fill gaps, track content, improve scheduling, and manage your editorial team more effectively and efficiently.
Learn How to Create High-Quality Content
There are a lot of considerations before one could come up with high-quality content.
And what better way to learn about these from the experts themselves?
Ann Handley of MarketingProfs, a Wall Street Journal's best-selling author and a digital marketing pioneer, shares a lot of tips about writing high-quality content on her blog.
From developing a strong tone of voice, short-form and long-form storytelling to writing better and making boring writing fun again, she discusses some key elements of great content.
6. Launch, Analyze, and Relaunch
It's the moment you've all been preparing for. When you completed all the steps above, it is time to finally execute your strategy.
Giving yourself enough time to prepare before the launch of a campaign significantly increases your chance of achieving your goals.
With all these goal-setting, planning, and organizing, you're one step closer to success.
In fact, CoSchedule's annual State of Marketing Strategy Survey of more than 3,000 marketers found the following: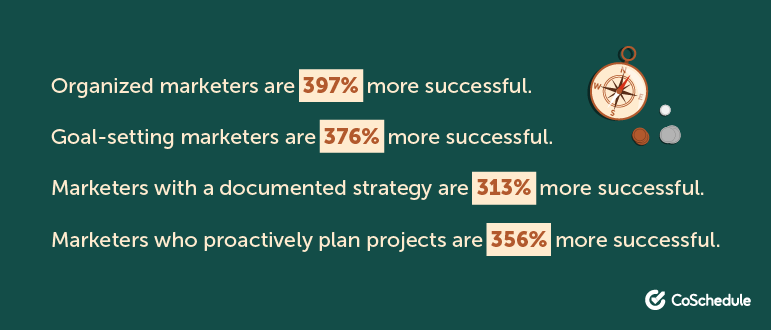 But you can't rest easy yet.
There is always the possibility that you might not experience what you had hoped for once you launch your digital marketing campaign.
And that's an inevitable part of the process.
That's why your campaign shouldn't go untouched once you press the "Launch" button.
What you should do is to continuously monitor and improve your campaigns.
Adapting in real-time and your willingness to make small and big changes can make the big difference between a winning and losing campaign.
Relaunching with Adjusted Strategy 
In case your marketing strategy doesn't work as planned, here are some ways to adapt to the situation:
Give it more time, or adjust
Some digital tactics start working immediately like PPC while others take a long time to pay off such as SEO.
Short-term strategies should improve over time when you make adjustments based on available information.
For a long-term strategy, give your campaign more time. Otherwise, adjust using the approaches below.
Be different
Based on the data you gathered from the duration of the campaign, adjust your strategy to make it unique.
With so many competitors vying for your audience's attention, you have to stand out.
For instance, find out what your competitors are saying.
Then, change your brand messaging in a way that only you are the one saying it. This could get your brand cut through the noise.
Offer more value 
People always want something valuable in return.
Whether it's an affordable product, discounts, freebies, or more useful content, they are more likely to notice your business depending on your offers.
If your campaign doesn't get enough interactions, it might mean that you have to consider increasing the value of your offer. Incentivize and win some customers.
Retarget to fit your audience 
Say, your ads are not getting enough clicks from your target makret. This could mean that your message is not resonating enough with that group of people.
If that's the case, revisit your buyer personas and conduct some new research about your demographics.
You may be targeting the wrong group that you may have to retarget your ads.
Segment (and AB test) your strategy
Alternatively, you could get better results by running AB tests. Test different personas, types of messages, and channels to see which ones perform better.
Doing so lets you understand which marketing elements work and which don't.
Try a new strategy
If all else fails, be ready to try another strategy.
While your previous strategy may seem like a failure, this doesn't mean it's for nothing.
Remember that digital marketing strategies are hardly total successes or total failures.
Whether your campaign performs well or poorly, there are always opportunities to learn, and then begin anew.
Again, no marketer has a successful marketing campaign that's perfect the first time. Take these learnings to further improve your digital marketing strategy.
Free Marketing Plan Template
This one page marketing plan template will assist you to create a winning marketing plan.
It's useful in helping you quickly decide what key performance indicators will give you the best ROI on your marketing action plan.
Click the image below to get a free fillable download on this template.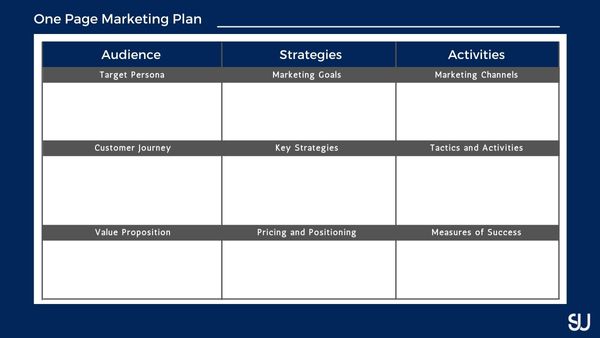 This free template will help you develop a marketing roadmap in areas such as search engine optimization, content marketing, social media plan, developing your marketing message, and creating a winning value proposition.
Many businesses start without having a marketing action plan in place.
You can wing this and see how it goes.
You should understand what marketing channels make the most sense, what tools you will use to build out your marketing funnel, and most importantly nowadays how you will execute your content strategy.
If creating a marketing plan seems intimidating start with a 3-month digital marketing action plan.
Take some of the pressure off by only focusing on the short-term strategies for getting new customers.
Then after you have been in the trenches for a few months and have a better understanding of key marketing metrics and your target market you can update to a 6-month digital action plan.
Your marketing action plan template should be updated every six to twelve months.
And this one-pager campaign action plan template is all you need to get started.
Final Thoughts 
To conclude, a digital marketing action plan is crucial to map out the actions you're going to take to achieve your overarching goals.
Yes, creating an effective digital marketing action plan may seem an overwhelming task.
But with this guide, it's never impossible.