Search engines are essential for insurance agents and agencies, as they help drive traffic to your website and increase online visibility.
To get the most out of search engine optimization (SEO) for your insurance business, it's essential to understand how search engines work and strategies to improve your search rankings.
Insurance SEO can seem like a lot to grasp at first, but you can take a few key actions to improve your search visibility and stand out from the competition, and we've outlined them in this article.
Why Insurance Agency SEO
Insurance agency SEO is essential because search engines are one of the main ways potential insurance customers find insurance websites.
If your insurance agency's website is not optimized for search engines, you could miss out on many potential customers.
This means that insurance agency SEO is vital for driving traffic to your website, but it can also help you win more business.
How Search Engines Work
Before we get into how to improve your insurance agency's SEO, let's quickly review how search engines work.
Search engine bots crawl the internet and index websites (find out what they are about).
These algorithms are constantly changing, but they typically take into account factors such as the quality of your website's content, your website's structure, the number of backlinks to your website, and much more.
When someone conducts a search, Google looks through its index of websites and returns the search results that it believes the best match the search query.
There are a few key tactics you can use to improve your search rankings and optimize your insurance agency's SEO.
Organic insurance SEO strategies
Organic traffic, which comes to your website from unpaid search results, is one of the most important traffic sources for insurance agencies.
This is because you are the resource people when they are searching for insurance solutions and are showing up in the search results because you have been recognized as a knowledgeable resource.
For an insurance agency to successfully sell insurance online and off, SEO must be a focus for long-term growth.
You'll want to set up Google Analytics to monitor your website's organic traffic and digital marketing efforts.
Web Design
Customer experience is an essential factor in building your website's authority. A well-organized and user-friendly website design can help improve your SEO rankings.
You want to be sure that your design has a good flow and allows for easy navigation.
The last thing you want is someone coming to your site and bouncing right back off because they can't find what they are looking for.
Many SEO services offer web design as well, and you should consider getting professional help with your site's design if you want to improve your insurance SEO.
Page load and mobile-friendliness
The speed of your web page will affect both your search engine rankings and your prospects' experiences.
Google promotes sites with faster loading speeds. It is essential to load on mobile devices that often use 3G and 4G connections for faster download speeds.
You want to avoid using large images, videos, and flash as they will significantly slow down your load time.
It is also essential to have a mobile-friendly website design as more people conduct searches on their mobile devices.
If you want to improve your insurance SEO, you should focus on improving your page load and mobile-friendliness.
Keyword research
Keyword research is fundamental to SEO in the competitive insurance industry.
A keyword research tool can help you identify quality keyword phrases, identify user intentions or determine your website content strategy.
You can also use Google itself, which is my recommendation. Always go to the source first!
Google autosuggest is a great way to get an idea of the things people are searching for related to your insurance agency.
To do this, simply start typing in a general keyword related to your business (e.g., "life insurance") into the Google search bar and note the suggestions that appear below.
You can also use Google's Keyword Planner Tool to get more detailed information about keyword phrases, including search volume and competition level.
Once you have identified a few relevant keyword phrases, you should focus on incorporating them into your website's content in a way that sounds natural and is still relevant to your insurance agency.
Meta titles and descriptions
The meta title is a name that represents a specific web page on your website's title tag.
Meta descriptions or page descriptions are other HTML attributes that show an overview of page content.
They are often also optimized for the Google search results, but Google manipulates them frequently for specific searches.
If you are using WordPress (recommended), get the free plugin Yoast SEO, and they make it easy to update the meta information on your web pages.
Content marketing
Quality content is vital in showing higher and more frequently on SERPs (search engine results page).
When you produce good content, you increase the chances that people will link to your website and share your content on social media, which helps improve your SEO.
Your content should be well-written, relevant, and informative if you want people to stick around and read it.
It should also be optimized for the keywords that you are targeting so that search engines can easily index your content.
There are many different types of content marketing strategies that you can use to improve your insurance SEO. This might include creating blog posts, writing articles for industry publications, or producing videos and infographics.
Whatever content you decide to focus on, make sure that it is high-quality and relevant to your insurance agency.
Link building
Linkbuilding refers to acquiring backlinks from other websites to your website.
It's crucial to build your credibility with Google and domain authority.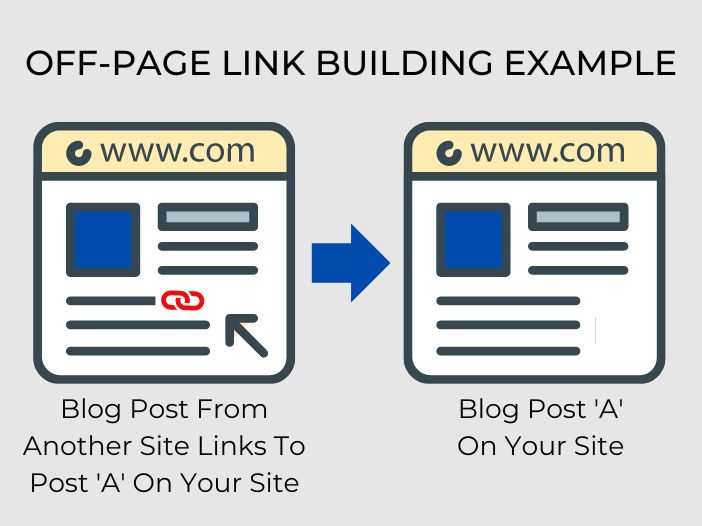 One of the best ways to do this is by getting featured on high-quality, relevant websites in your industry.
You can reach out to these sites and offer to write guest posts or contribute articles.
Alternatively, you might consider doing some outreach campaigns to generate links from other related websites.
Independent insurance agents can also use HARO services to search for journalists at many online publications who need your expertise for an upcoming article.
You can also follow hashtags on Twitter like #journorequest, where journalists request insights on various topics.
There is also the strategy on interlinking relevant content on your website.
Internal linking is a strong SEO factor and should be included in your strategy.
Ultimately, link building is a long-term strategy that requires patience and persistence. But if done correctly, it can significantly impact your insurance SEO strategy.
Top-notch website security
You should have an SSL certificate for your website at the most basic level. This ensures that any sensitive information, like credit card numbers and personal data, is transmitted securely.
Beyond basic SSL encryption, you will also want to invest in other security measures to protect your website from hackers and malware attacks.
This may involve implementing stringent password requirements for your users or installing a web application firewall to block malicious traffic.
The key is finding the right security solution that fits your needs and budget while providing maximum protection for your insurance website.
Whatever measures you decide to take, you must prioritize website security as a critical part of your insurance SEO strategy. Then, you can build trust with your website visitors and protect your website from potential threats.
For WordPress, a plugin called Sucuri is my recommendation for premium website security for you and your website visitors.
Use premium hosting
To ensure a fast, responsive, and reliable website experience for your users, you should consider investing in premium hosting.
This hosting offers higher bandwidth limits and faster loading times than free or budget hosting options.
Do not use free sites because it limits control, and you can get spammed with advertisements.
Get quality hosting from an experienced company.
For WordPress, we recommend Wp Engine for premium hosting. They offer a user-friendly dashboard, a reliable platform, and top-notch security features to protect your website from attacks.
By using premium hosting for your insurance website, you can ensure that your site performs at its best in order to maximize SEO for insurance and improve the overall user experience.
Local insurance SEO
Local SEO is an essential part of insurance SEO, as it allows you to target users in your specific area or region.
This might involve optimizing your website for local keywords, building citations on local business listings websites, or creating custom landing pages that target local consumers.
By optimizing for local SEO, insurance company websites appear in relevant local searches for users in your area, which can help you attract new customers and grow your business.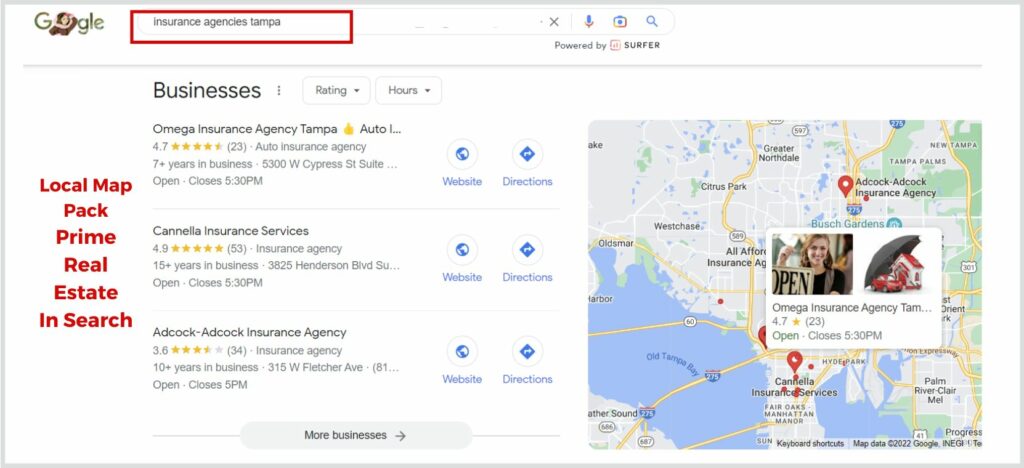 Business Citations and NAPs
This local SEO strategy aims to improve local search rankings.
Citations are mentions of your business on other websites, with or without a link back to your website.
NAP stands for name, address, and phone number.
To improve your local SEO and appear higher in local search results, be sure to set up your profile at places like Yelp, Google My Business Profile, and Yahoo Local, to name a few.
It is critical that your NAP information is consistent across all citations to ensure accuracy and avoid duplicate listings.
One way to find out where you need to create or update your business listings is to use a service like WhiteSpark or BrightLocal.
Setting up your citations across hundreds of business directories can also be quick and painless.
Identify Geo-Specific Keywords
We touch on keywords as part of your organic SEO process. It plays a significant role in your local SEO strategy as well.
Geo-specific keywords are terms that contain a location, such as "auto insurance Seattle" or "life insurance Los Angeles."
By targeting these keywords, you can attract local customers who are actively searching for the insurance products and services that you offer in their area.
Create Localized Landing Pages
The best place to add your geo-specific targeted keywords is to create localized landing pages for each city or region that you serve.
A localized landing page is a custom page on your website designed to rank highly in local search results.
This might involve optimizing the page for relevant keywords, adding NAP information, and including customer testimonials or reviews.
By creating localized landing pages, you can better target local users and increase your visibility in local search results.
Localized Link building strategy
To boost your localized landing pages, you want to generate some high-quality inbound links from other local businesses.
This can involve being listed in local organization directories you are a part of, collaborating on guest posts with other local businesses and participating in events or trade shows.
This is also known as off-page SEO.
Once you have established some quality inbound links to your localized landing pages, you can experience an improvement in search rankings and visibility in local search results.
When it comes to keyword research and local backlinks, it is recommended to consider finding insurance SEO services that can help you. The time saved on this alone can be huge.
If you consider an SEO service, you can pay around $500-$2000 per month.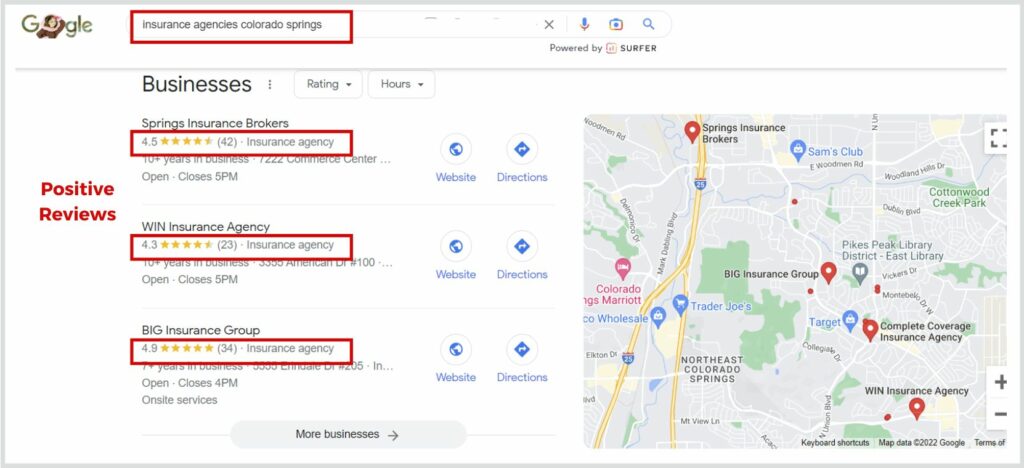 Get positive reviews
Reviews are essential to your SEO and digital marketing as they drive lead generation and insurance product sales.
When your target customer is looking for an insurance company, one of the first things they will do is check online reviews to see what others have said about your business.
That's why it's crucial to actively collect customer reviews and showcase them prominently on your insurance company's website.
When should I hire an insurance SEO company?
If you are looking to improve your online presence and drive more website traffic to your insurance business, hiring an insurance SEO company may be a good idea.
These companies have the expertise and SEO tools needed to optimize your website for keywords relevant to your industry and create localized landing pages that can help boost local search rankings.
You should strongly consider SEO services for your organic and local SEO campaign when you are ready to scale your business and achieve your goals for online visibility. This will allow you to grow your insurance agency website quicker than trying to figure it out alone.
Insurance Agent SEO FAQ
What is SEO in insurance?
The process of using various SEO strategies and techniques to improve your website's visibility and ranking in search engine results.
This can involve optimizing your website for relevant keywords, creating localized landing pages, and building quality inbound links.
Off-page and on-page SEO can be used to improve both organic and local search results.
What do you think are the best SEO tips for insurance agencies?
There are several key strategies that you can use to improve your insurance agency's SEO, including:
Optimizing your website for relevant keywords and local search terms.
Creating localized landing pages that target specific cities or regions.
Building quality inbound links from other local businesses or organizations.
Getting positive reviews and testimonials from customers.
Does SEO increase traffic?
Search engine optimization will increase your traffic and attract more of your target audience. For example, SEO for insurance agents improves your visibility and ranking in search engine results pages.
How do people find insurance?
Most people find information about the insurance industry on Google and other search engines. Therefore, they will typically enter keywords with high search intent, such as "car insurance," "home insurance," or "life insurance agents near me."