One of the best digital marketing strategies is SEO for accounting firms.
It can help you reach your target audience and convert them into leads and new clients without sending outreach emails, Linkedin DMs, or making cold calls.
Accounting firms are able to use your website as more than just a nice-looking digital business card.
You can turn your website into a powerful marketing tool that will help you generate leads and grow your accounting firm for years.
What is SEO for accountants?
SEO for accountants is the tactic that accounting firms can use to improve their website's visibility on Google and attract more qualified leads.
SEO is a long-term marketing strategy that can produce consistent website visitors if done correctly.
Many factors go into SEO for accountants, including on-page optimization, backlinking, and keyword research.
SEO can be a complex topic, but there are many simple SEO tactics that any accounting firm can implement to improve their website ranking and attract more leads.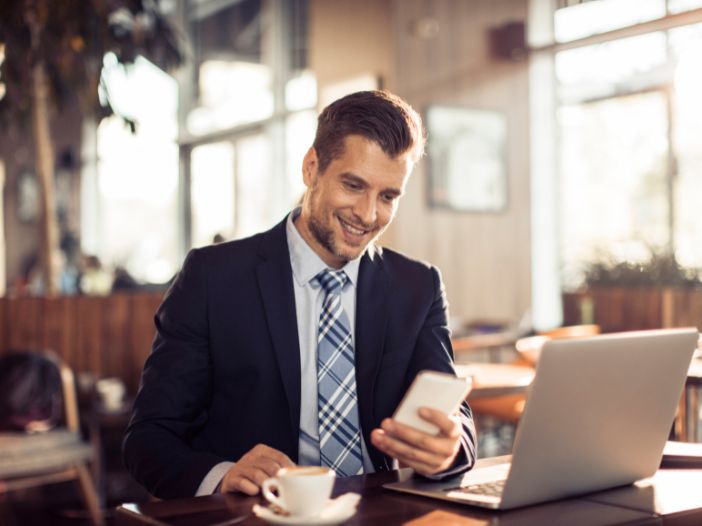 Why is search engine optimization important for accounting firms?
SEO for accounting firms is important because it can help them acquire more clients through their website, increasing ROI based on work done months ago.
When accounting firms create blog posts or landing pages on your website, they have the potential to show up in search engine results pages (SERPs) for months or even years after they are published.
This means that your website can continue to generate high-quality leads for your ideal clients.
For example, if your best clients are local in specific areas, the best thing you can do is focus on local SEO that will target people searching for accounts in your local area.
You basically want to translate the things that are growing your business offline and find how you can translate that to an online strategy.
Accounting firms also get to benefit from increased brand awareness.
If people want to learn more about accounting and constantly see your content pop up, they will begin to associate your brand with being an expert in the accounting field.
It is essential to keep in mind that SEO for accounting firms should not be looked at as a short-term marketing tactic but more of a long-term strategy because it can take months for your SEO efforts to start bearing fruit.
How to get high rankings with SEO for Accountants
SEO for accountants can be very technical, but here we'll break down exactly what you need to do in the simplest terms to get started with SEO for your accounting firm.
1. Get your website ready or built
Your accounting website is the foundation of your SEO efforts.
Every business directory or review site will list your website URL, which builds authority for your site.
This will be essential in helping the content on your site rank higher in search engines.
We recommend building one on WordPress if you don't have a website.
It's relatively easy to do, and you can get started for around $100-$200.
Things you need to focus on to have your accounting firm's website SEO optimized:
A fast-loading website
Mobile-friendly design
Optimized for conversions (Calls to action, contact forms)
Optimized for on-page SEO (Keywords, titles, meta descriptions)
A blog to help with keyword targeting
If your website is not optimized for SEO, you will struggle to rank in search engines.
2. Create and optimize your Google Business profile
The next thing you want to be sure to do is to establish your accounting firm as a legit business on Google with a Google Business profile.
This is essentially your business's listing in the Google Maps section.
A complete and optimized Google Business profile is vital for local SEO ranking factors.
Your goal should be to get your firm to show up in the "Map Pack" which are the three businesses that show up on the maps section when you do a local search.
Here are some tips for optimizing your Business profile:
Choose the right category
Use keyword in your business name
Add photos
Get and manage reviews
Add your website URL
Optimize your NAP (Name, address, and phone number)
Use a local phone number
Add your service area
Post regular updates
If you can follow these simple tips, you should be able to get your business ranking in the local Map Pack.
3. Perform Keyword Research
The first step in any SEO campaign is completing keyword research.
You must identify relevant keywords that your target clients use to search for accounting services online.
If you are new to keyword research, one of the best things you can do is to do a Google search for questions that your target market asks.
Then go to the 'People Also Ask' section and begin creating content answering specific questions.
This will give you an excellent foundation to start with as far as keyword research is concerned.
4. Start creating content
Without enough content, you will not be able to rank on Google.
This is because the content is still the number one ranking factor for search engines when it comes to successful SEO strategies.
Your goal should be to provide value through a blog post first and foremost and not just try to sell your services.
If you do this, people will begin to see you as an authority in the accounting field and be more likely to use your services.
Some content ideas for your accounting firm's blog:
How-to guides
Informational articles
Resource lists
Tutorials
Q&As
Interviews
Product reviews
Case studies
The sky is the limit when it comes to content ideas for a blog post as long as you focus on optimization.
Make sure that all of your content is keyword-optimized and provides value to your reader, and you'll get rewarded by search engines with more traffic to your website.
5. Keyword placement
If you write a blog post about 'The dangers of doing your own small business taxes' or 'How to find the right small business accountant,' you want to include the keyword small business in specific places.
Since you are targeting the keyword 'small business,' you will want to be sure to include the keyword in the following places:
Your Title
In the headings and subheadings
In your introductory sentence
The concluding paragraph
Your anchor text (text you hyperlink to other related content on your site)
Including your target keyword throughout a blog post increases the chance that your content will rank in search engines.
If you are unsure how to optimize your blog post for accounting SEO, our post, 'Small Business SEO: Get More Customers Online and in-office,' will guide you on everything you need to optimize your website for search engine optimization, such as page structure, on-page SEO, Off-page SEO, local SEO, Backlinks, tools and much more.
6. Optimize your website's speed
Google has stated multiple times that site speed is a ranking factor.
Would you wait 30 seconds for a page to load?
Probably not.
The same goes for your website's visitors. If your site takes too long to load, they will likely leave and find a better option.
You can check your website's speed with Google's PageSpeed Insights tool.
If you are using WordPress, a CDN like Cloudflare and a cache plugin like WP Fastest Cache will speed up your website immediately.
7. Internal linking to other content
Internal links are an essential part of SEO for accountants.
It's the practice of linking to other related content on your accounting website from within your own content.
Not only does it help Google understand what your content is about, but keeps people browsing your site longer, which can lead to more conversions and new clients.
A good rule of thumb is to link to 2-3 pieces of related content for every blog post you write.
If you are unsure of what content to link to, here are a few ideas:
Link to other blog posts you have written
Link to landing pages
Link to eBooks or guides
Link to your contact page
Remember, the goal is to provide value and keep people on your site for as long as possible.
The more touch points will increase the odds of them converting into a lead and search engines will reward you for having content that is relevant and useful for the initial search query.
8. Have a responsive website
Potential clients will visit your site from desktop and mobile.
So, your accounting firm should ensure that your website is responsive, meaning it looks great and functions properly on all devices.
If your accounting firm is using WordPress, plenty of responsive and easy-to-use themes work right out of the box.
It is possible that 70% of your website traffic can be mobile users.
So if your accounting website looks great on desktop but is not mobile-friendly, your accounting and CPA firm is losing out on many potential clients.
9. Build links to your website
Link building is still an important ranking factor when it comes to SEO for accounting firms.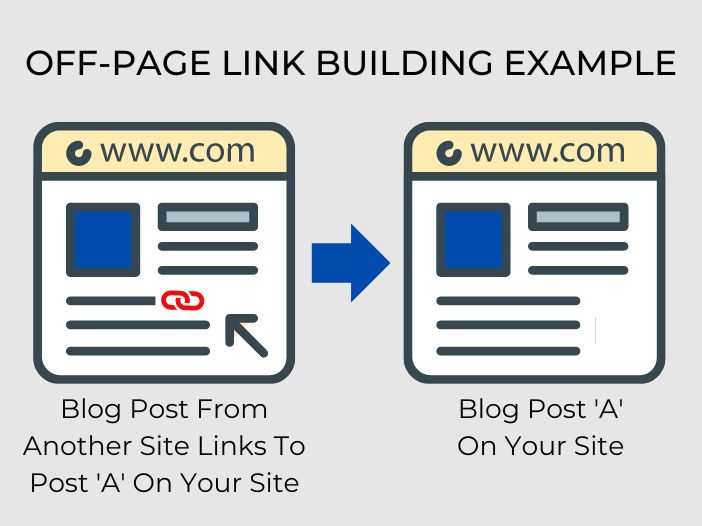 In the early days, you want your accounting firm to focus more on branded links like getting your website listed in business directories and the leading social media platforms.
Using a service that will get you dozens of links at a low cost will do more harm than good.
After your accounting firm has a healthy amount of content and wants to boost your ranking, looking for SEO services that build quality links is advised.
Typically if you can get links at an average cost of less than $100 per link, you may need to look for another service.
A quality link-building service should charge $500-$2000 per month on average.
10. Local SEO
You need to ensure your accounting firm is doing local SEO if you are targeting local clients.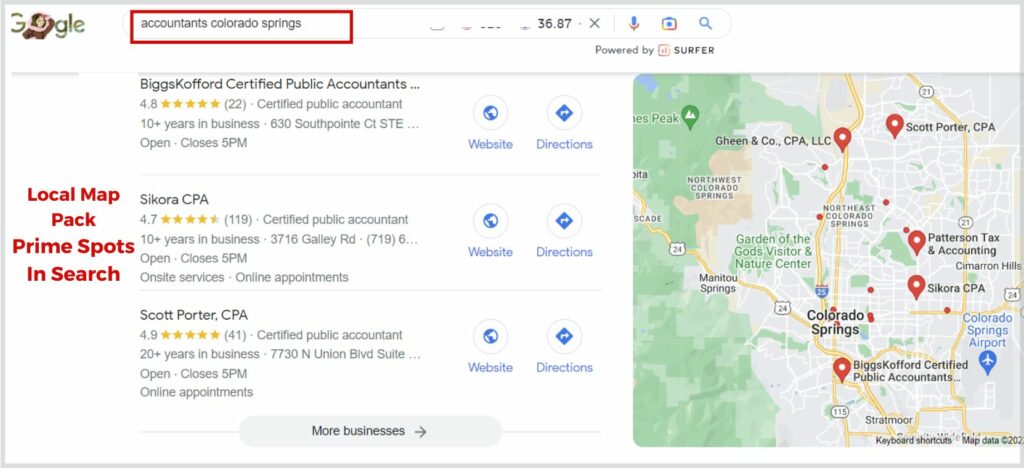 There are a few things you need to do as part of your local SEO strategy:
Optimize your website for local keywords
Collect reviews from past clients
Add local details to your site (Pages, Footer, Content, Contact page)
Get listed in local directories
Run Google Ads targeting your local area
By following these tips, you will be well on your way to ranking higher in Google's organic search results and getting more clients.
The accounting industry is tons of competition wherever you live, so if you can get even a tiny edge over your competitors, it will make a big difference.
Local SEO for accounting firms is an ongoing process, so even if you are not ranking number one today, keep at it, and you'll get there.
11. Social signals
Although small, social signals are good for accountant SEO.
Think about how many accountants are crushing it with social media marketing.
So if you can get even a few hundred likes, shares, and comments on your posts, it will make a difference.
The best way to get social signals is by creating great content that people want to share.
Another way to increase social signals is by using social media ads.
You can use Facebook or Linkedin Ads to amplify your content and get more people to see it.
Bonus tip: Add social sharing buttons to your website so people can easily share your content on their social media channels.
12. Track results
Search engine optimization is a process that has so many nuances and moving parts that it can be challenging to keep track of everything.
That's why it's essential to track your results so you can see the progress you are making and the areas that need improvement.
There are a number of tools you can use to track your SEO progress, but some of the most popular ones are Google Analytics and Google Search Console.
Both tools are free to use and provide a wealth of data that can help you fine-tune your SEO strategy.
13. Annual SEO audit
There will be things that get missed and need to be updated from time to time.
That's why it's essential to do an annual SEO audit of your site.
This will help you catch any technical SEO issues, broken links, or outdated content so you can fix them and stay on top of your SEO game.
You can benefit from accounting SEO for years, but it's not entirely hands-off.
It's not something you have to watch like a hawk, but you can't completely forget about it, either.
You'll change up your accounting SEO strategies and find better processes over time, so you will have older content that will need to be optimized for new SEO best practices.
14. Hire an expert
If all of this seems like too much work, you can always hire an expert to do it for you and help you drive new business.
There are a number of great agencies that specialize in accounting SEO and can help you take your firm to the next level.
Your marketing efforts need to be spent on the things you can do consistently well and produce the best results.
If you don't feel like SEO and writing content is not something you can do long-term, hiring the right SEO services is likely the best way to go if you have the budget.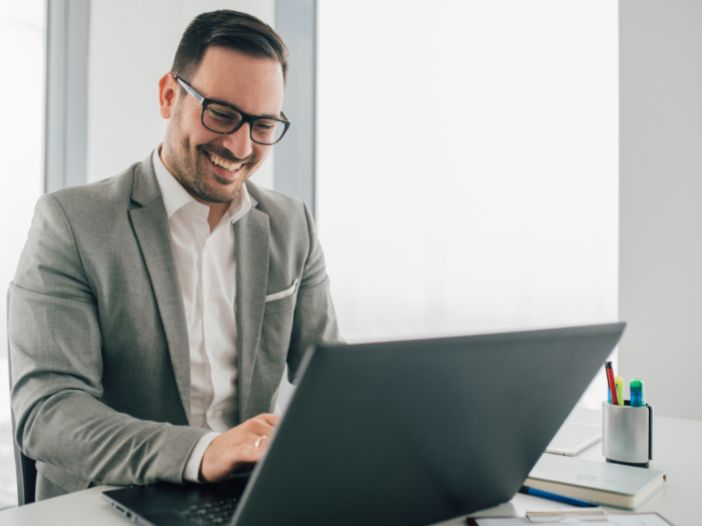 How to build your accounting business with SEO
Now that you can drive traffic to your site, you need to use that traffic to grow your business.
Here are a few ways you can turn traffic into clients:
Generate leads with pop-ups
You want to be easy to contact.
Just ensure it's not intrusive and only pops up after someone has been on your site for a while.
An exit intent pop works well since it only shows when the user appears to be leaving your site.
If you have a lead capture form on your site, make sure it's easy to find and that the fields are not mandatory.
The last thing you want is to make it difficult for someone to give you their information.
Use an email marketing tool to capture emails
Once someone lands on your site, they will not likely come back.
So you want to do what you can to capture their information so you can stay in touch.
One way to do this is by using an email marketing tool like Mailchimp or Constant Contact.
Both tools allow you to create forms you can embed on your site to capture emails.
Once you have someone's email address, you can add them to your email list and send periodic updates about your business, new blog posts, or special offers.
Keep this content interesting, or they will never open another email from you or unsubscribe.
Run retargeting ads for your ideal client
Once someone lands on a page on your site talking about small business tax services, you can show them ads related to that topic.
This is a great way to keep your firm top of mind and bring people back to your site who might not have been ready to convert the first time.
You can use Google Ads or Facebook Ads to run these retargeting campaigns.
Create a landing page specifically for the conversion
You want to understand your target market so well that you can create a page that speaks directly to their pain points and desires.
There will not be a navigation or anything else that can distract them from taking the action you want them to take.
This could be a signup form for your newsletter, a free download, or scheduling phone calls.
Make sure your CTA is clear and stands out on the page.
Offer a free consultation or audit
People want value, and one of the best ways to show them that you can provide it is by giving them something for free.
An excellent offer for accounting firms is a free consultation or audit.
This allows you to show the prospect what kind of value you can provide and hopefully convert them into a paying client.
Add a call-to-action on every page
You don't want to leave anything to chance, so make sure you have a call-to-action on every page of your site.
The important thing is that you always allow people to take the next step with you.
Have your phone number in the navigation or the header so people can quickly get in touch with you.
If you want people to sign up for your newsletter, make sure there's a form on every page.
The more places you have your CTA, the better chance you have of someone taking it.
Conclusion
SEO for accountants is the greatest digital marketing strategy you can use to grow your accounting business, but it's not the only thing you need to focus on.
Make sure you also network, attend events, and stay active on social media.
The more places you are, the more likely you are to be found by your ideal client.
And once you've got them to your site, it's essential to have a plan for converting them into a paying client.
By following the tips above, you'll be well on your way to growing your accounting business.