Accounting firms have fierce competition, and you'll struggle to attract new clients if you don't have a solid marketing strategy.
It's essential to be proactive and invest in marketing that will position your firm as a leader in the industry to stay ahead of the curve.
There are many different ways to go about this, from face-to-face networking to digital marketing, but going about it in the wrong way will lead you to spend much money with little to show for it.
We'll go into the most effective marketing strategies for your accounting firm so that you can start seeing results and growing your business.
The importance of accounting firm marketing
What the consumer expects and is interested in is constantly changing.
If your marketing strategy doesn't evolve with these changes, your firm will quickly become outdated, and clients will decide to go elsewhere for services.
To ensure that your marketing is always on point, you must clearly understand your target market and what they want.
Only then can you create a marketing strategy that resonates with them and leads to conversions.
How to promote accounting firms
There are many different marketing methods that accounting firms can use to attract new clients, but not all of them will be effective.
To save you time and money, we've put together a list of the most effective marketing strategies for accounting firms:
Pay only when people are interested
PPC advertising is a highly effective strategy to include in your marketing plan.
You get to put your offers in front of potential clients as they are actively searching for them.
If you are not implementing Google ads, you are missing out on an excellent opportunity to increase leads and grow your accounting firm.
Stay in front of people where they hang out
Social media marketing is more than just setting up some accounts and posting every now and then.
You need to be strategic about which platforms you use and the content you share.
Make sure you are active on the platforms your target market uses and that your content is relevant to them.
But I'm sure you are already aware of how tough it is to grow a social media account.
That's why you should implement social ads in your marketing plan.
This strategy focuses more on brand awareness and discovering what resonates with your audience.
Think of it more as a guaranteed view of your content.
Once you've figured out what content works well, you can then use that to drive traffic to your website and convert leads.
Utilize third-party trust
Listing sites that show positive reviews are a great way to earn the trust of potential clients.
When people are looking for accounting services, they will often check out listing sites to see which firms are highly recommended.
Think about it, when was the last time you bought anything online without checking out the reviews?
If you're not on these sites, you're missing out on an excellent opportunity to reach new clients.
Some of the most popular listing sites for accounting firms include:
Google Business Profile (Formely Google My Business)
Yelp
Yellow Pages
Make sure your firm is listed on these sites and that you regularly check for reviews and respond to them.
This will show potential clients that you are a reputable firm that other people trust.
Be interesting and social
Once you set up your social media accounts and start publishing content, you need to be active and engaged with your audience.
This means responding to comments, questions, and messages.
It might seem like a lot of work, but if you want to build trust and rapport with potential clients, it's essential.
You should also join relevant online communities and participate in discussions.
This will help you build relationships with other industry professionals and future clients.
It's important to remember that people do business with people they know, like, and trust.
If you can become a trusted resource for information, you're more likely to convert leads into clients.
Leverage existing clients
Referrals have the highest close rate of any marketing strategy.
This is because when someone you know and trust recommends a service, you're more likely to use it.
That's why it's essential to leverage your existing clients for referrals.
Make it easy for them by providing referral cards or an online form that they can fill out.
You can also offer a discount or incentive for anyone who refers a new client to your firm.
This is a great way to organically grow your business and get more clients without spending any money on marketing.
Get involved in the community
As an accounting firm, you should be involved in the financial community.
This means joining relevant online communities, participating in discussions, and attending industry events.
By getting involved, you'll be able to build relationships with other professionals and potential clients.
You can also use this as an opportunity to show off your knowledge and expertise.
People are always looking for recommendations, so if you can position yourself as a trusted resource, you're more likely to get clients.
Focus on digital ownership
Your website is the foundation of every digital marketing strategy you implement.
Successful accounting marketing campaigns start with a strong website optimized for conversions.
Your website should be designed to generate leads and get people to contact your firm.
Make sure your website is mobile-friendly, easy to navigate, and has clear calls-to-actions.
Solely focusing on social media platforms, you don't control could derail your marketing campaigns if the platform changes its algorithm or policies.
A website gives you complete control over your digital presence and should be the main focus of your marketing efforts.
➡️ We recommend Elementor + Hosting for your WordPress website. Even if you are a non-techie, you can use this low-cost website builder that uses premium templates and quality support in just a few clicks!
Leverage Google Search
Search engine optimization (SEO) will help your website get found when people search for things you offer.
Search engine optimization can attract clients 24/7, even when you're closed.
Make sure your website is optimized for relevant financial keywords and that you're regularly publishing fresh content.
You should also set up Google My Business to optimize your local SEO and make it easier for people in your area to find your firm.
Google Search is a powerful tool that your accounting firm can use to get more clients.
Focus on your local area
Local SEO is powerful for accounting firms.
Organic SEO can get you found all across the country, while local SEO focuses on getting you found in your city or town.
Local SEO is essential because most accounting firms serve a specific geographic area.
When it comes to financial services, many business owners and professionals still prefer to have the option to go into the office and meet face-to-face.
That's why it's important to focus on local SEO and make it easy for people in your area to find your firm.
Some ways you can optimize your local SEO include claiming your Google Business profile listing, optimizing your website for local keywords, and getting listed in local directories.
By focusing on local SEO, you can ensure that your firm is the first one people see when searching for an accountant in your area.
Use video to connect with your audience
Video marketing is one of the most effective ways to connect with your audience and build trust.
When people can see your face and hear you speak, they're more likely to feel like they know you.
This is important when it comes to financial services because people want to work with someone they can trust.
You can use video marketing in a number of ways, including creating helpful tutorial videos, promoting client testimonials, recording live events, and posting interviews with experts.
No matter what type of videos you create, make sure they're high-quality and offer value to your target audience.
High-growth accounting firms understand that this new digital world revolves around content.
Marketing accounting services could be as simple as hitting record and capturing the things already happening with your firm.
Create educational content
Blogging is still one of the most effective online marketing tools you can use to reach prospective clients.
A blog post can help other marketing ideas do better.
For example, if you want small businesses to know about your firm, you can write a blog post about how to choose an accountant.
If you want to attract high-net-worth individuals, you can write a blog post about their tax planning strategies.
This is a perfect way to leverage search engines for organic SEO.
Or you can discuss tax strategies for a specific state for high net-worth individuals.
Now you are increasing the relevance of your website for your Local SEO campaigns.
These are just a few examples.
You can use your blog to attract the types of clients you want and then link to your other marketing materials in the blog post.
This will help increase traffic to your website and improve your SEO.
Reach back out to people that showed interest
Marketing for accounting firms can get expensive.
Whether it's expanding your marketing team, increasing the ad spend on your social media pages, or improving your website, there are always ways to spend more money.
But one of the most effective marketing strategies for accounting firms is also one of the most cost-effective: reaching out to people who have already shown an interest in your firm.
These could be people that have visited your website, subscribed to your email list, or followed you on social media.
In marketing, this is referred to as retargeting or remarketing.
These are people that are already interested in what you do, so it's much easier to convert them into clients.
Let's say potential customers land on your tax strategy page on your website.
You know these people are interested in tax strategy, so you'd create an edutainment piece of content about this topic.
Now you'd run a social ad campaign on Facebook with a special offer only to people that landed on your website page.
There are many ways you can go about this but make sure it is on pages and actions that have the highest chance of becoming a client.
Nurture potential customers in their space
Email marketing is a must for your digital strategy.
It's a way of retargeting people interested in your firm's offers without the added cost.
Email marketing also allows you to get very specific about the types of clients you want to attract.
For example, to attract small business owners in the tech industry, you can create a segmented email list and send them customized content relevant to their needs.
You can also use email marketing to nurture potential clients that aren't quite ready to commit to your services.
This can be done by sending them helpful content, such as a guide on choosing the right accounting software or tips on reducing their tax bill.
You're establishing your value and will have better open rates by providing helpful and relevant information.
If all you send is salesy pitches and fluff pieces, people will quickly unsubscribe from your list.
Digital marketing for accounting firms doesn't have to be complicated or expensive.
Using a mix of strategies, you can attract the right clients and grow your business.
How to create a marketing plan for your accounting services
Many accounting firms get this part wrong, wasting time and money on marketing campaigns that don't produce results.
That's why creating a plan of action for marketing your accounting firm is essential.
Your marketing plan should be tailored to your firm's strengths and the needs of your ideal clients.
It should also be flexible enough to change as your business grows and evolves.
Choose your target market
Trying to market your firm to everyone is a recipe for disaster.
You'll end up spreading yourself too thin and won't be able to create targeted content that resonates with your audience.
That's why choosing a target market for your marketing campaigns is essential.
Your target market is the group of people that are most likely to use your services.
To choose, consider the following:
Who are your ideal clients?
What type of businesses do they own?
What are their pain points?
What solutions are you offering them?
Where do they hang out online?
Once you've answered these questions, you'll better understand whom you should target with your marketing.
Now, you can focus your efforts on reaching and talking to as many people as possible.
That way, you can better understand what matters to them and what they're looking for in an accountant.
You can also use this information to create targeted content that will resonate with them and attract them to your firm.
Pick a realistic budget
The accounting industry is competitive, so you need to decide on a budget that can move the needle for your firm.
If you're starting out, you may need to focus more on building your brand and using a more hands-on marketing approach.
Once you have an idea of how much you can realistically spend on marketing, you can start allocating your budget to different channels.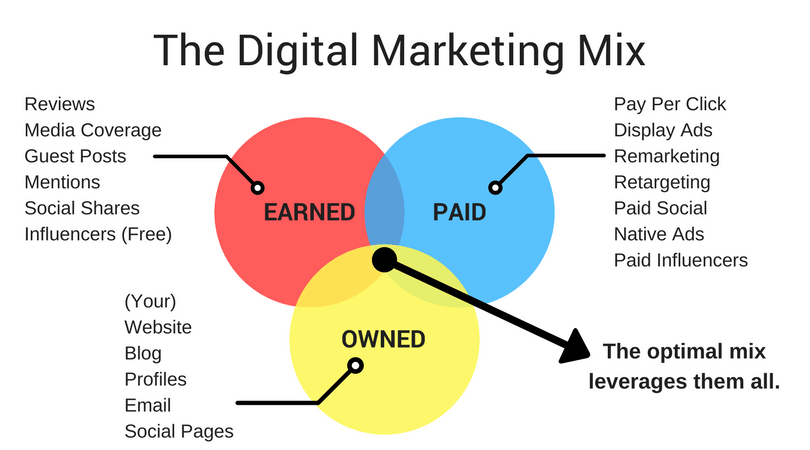 Pick the right channels for your firm
Many marketing channels are available, but not all of them will be a good fit for your firm.
You need to decide which channels will be the most effective for reaching your target audience.
You should also consider which channels will provide the best return on investment (ROI).
You want to create a holistic mix of channels that can provide short-term and long-term results.
Short-term results may have more upfront costs, like PPC, and will only work if you continue to invest.
While with long-term results will continue to work for you long after investment with little effort like SEO.
Research what is working for your competitors
Especially when the budget is a significant issue, you don't want to try and reinvent the wheel.
Look at what your competitors are doing and see if there's anything you can learn from them.
You can also use tools like BuzzSumo to research viral marketing campaigns and what other content is performing well in your industry.
This will give you an idea of the topics that are resonating with your audience and how you can create similar content for your firm.
Create SMART goals
Now that you have done your research and have an idea of what you want to achieve, it's time to set some goals.
But not just any goals. Your marketing goals should be SMART:
Specific: Your goals should focus on a specific area or metric.
Measurable: There should be a way to measure whether or not you've achieved your goal.
Attainable: Your goals should be achievable and realistic, given your resources.
Relevant: Your goals should be relevant to your overall business development strategy.
Timely: You should set a deadline for when you want to achieve your goal.
An example of a SMART goal for an accounting firm could be:
"To increase website traffic by 10% in the next quarter by creating and promoting blog content around relevant topics."
This goal is specific (increasing website traffic), measurable (by 10%), attainable (with some effort), relevant (people interested in accounting topics), and timely (in the next quarter).
Now that you have an idea of how to set SMART marketing goals, you can start planning your campaigns.
Monitor, Measure, and Pivot
Successful firms don't just focus on money in and money out.
You need systems to track your marketing efforts and see what's working and what's not.
This data will help you make decisions on where to allocate your resources for the best ROI.
And if something isn't working, don't be afraid to pivot and try something new. The key is always to be learning and adapting.
If you can do these things, you'll be well on your way to marketing success for your accounting firm.
Reasons why your CPA firm marketing fails
Now that you have a basic understanding of how to market your accounting firm let's look at some common mistakes that can cause your marketing efforts to fail.
Getting cheap professional services
Many firms look for budget marketing services and consultants to help with their marketing efforts.
While there's nothing wrong with being cost-conscious, you need to be careful of going too cheap.
Getting professional help from someone knowledgeable and experienced in marketing will save you time and money in the long run.
Using a single marketing channel
Getting good results from one channel is a great start, but you don't want to put all your eggs in one basket.
You need to create a holistic mix of channels that can provide multiple points of failure if one channel changes its target capabilities or reach.
Unrealistic goal setting
Just because you know an accounting firm that was able to fill up its appointment book by using just Facebook ads doesn't mean that will work for you.
Your marketing efforts will be different based on your firm's size, location, focus, and budget.
So it's essential to set realistic goals that reflect your situation.
Failing to adapt
Your customer's behaviors will change.
If your digital marketing strategy, referral program, or content marketing efforts are not adapting, you risk losing out to competitors and playing catch up.
How much should an accounting firm spend on marketing?
This may seem like a daunting task, but there are ways to estimate your marketing budget.
First, calculate your revenue for the year and then set aside 3-5% conservatively if you are focusing on steady growth and retention.
To scale and have more success with your marketing, set 5-10% of revenue towards that goal.
Then use 10% of that to explore and test merging channels or develop new tools and technology for your firm.
This will give you a baseline when estimating your marketing budget.
Conclusion
Growing an accounting firm can be challenging, but with the right marketing strategy, you can reach potential customers and grow your business.
Remember to focus on brand awareness, trust, and relationships.
If you can do the things mentioned in this guide, you'll be well on your way to marketing success for your accounting firm.