A solid financial website design is no longer a "nice to have" for financial services companies – it's now a necessity.
In today's digital world, customers expect easy-to-use websites that provide them with the information they need when they need it.
The financial services industry has been behind the curve when it comes to website design, but that is starting to change.
More and more financial services companies realize the importance of having a well-designed website. As a result, they are investing in making their sites more user-friendly and topically informative.
In this article, we not only wanted to give you web design inspiration but also give you some necessary features for financial services websites.
7 Best Financial services websites
A financial website provides information to prospective customers about a company's financial products and services. A financial website aims to educate, build trust, and generate leads. 
From online investment banking platforms to personal loans, these beautiful websites show examples of what a great financial website should look like in order to grow your business.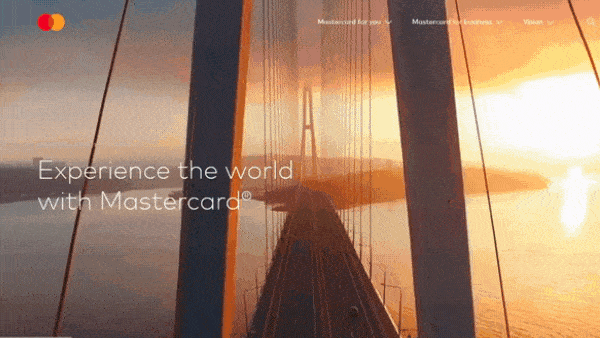 Mastercard
Mastercard has a simple yet powerful financial website design. The home page has a clean look with a minimalistic approach. The top navigation bar has only four items that clearly point users to key points of the site.
Takeaway: Keep your financial website design clean and simple. Use a minimalistic approach and focus on the key points you want to highlight.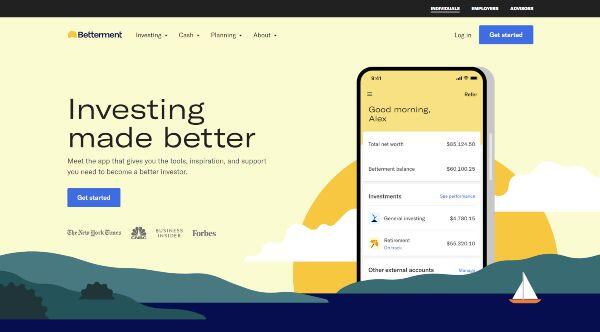 Betterment
Betterment did a great job on its financial services website design. They took a more modern approach while keeping things easy to navigate while having social proof visible straight away.
Takeaway: A modern website design can be very effective for financial services companies. Be sure to include social proof on your site to build trust with potential customers.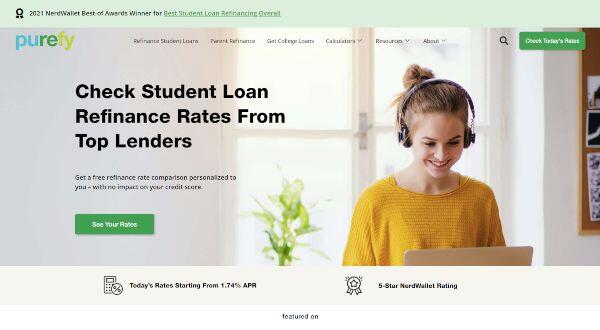 Purefy
Purefy's above-the-fold section is a perfect example of an effective web design. You immediately see their value, accompanied by a fantastic hero image representing student loan refinancing.
Takeaway: Be sure to clearly communicate the value you offer on your financial services website. Use an image that represents what you do to help visitors understand what you do instantly.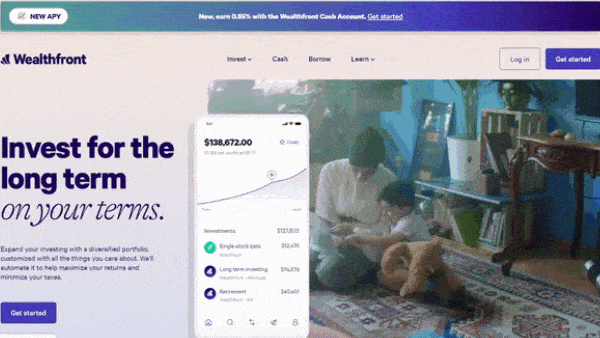 Wealthfront
Wealthfront does a great job with its web design, using a video to bring home the idea that anyone can invest at any level. This is a great way to quickly engage visitors and make them feel comfortable about what you do.
Takeaway: Use video on your financial services website to quickly engage visitors and make them feel comfortable about your products or services.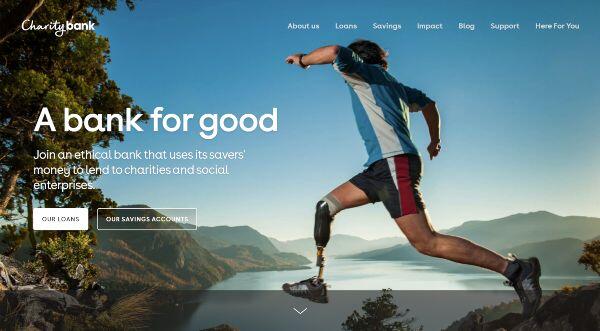 Charity Bank
Charity Bank's financial services website clearly communicates its mission and values on the home page. This is a great way to build trust with potential customers and let them know what you stand for.
Takeaway: Be sure to communicate your mission and values on your financial services website. This is a great way to nurture and build trust with potential customers.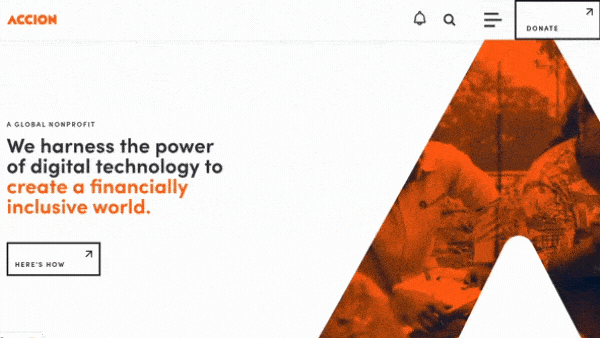 Accion
Accion is one of those financial services websites that make their site easy to navigate and has clear branding. The top navigation bar is straightforward, with only four items. In addition, the home page has a lot of whitespaces which makes it easy to scan.
Takeaway: Keep your financial services website design simple and easy to navigate. Use a lot of whitespaces to make it easy for visitors to find what they are looking for.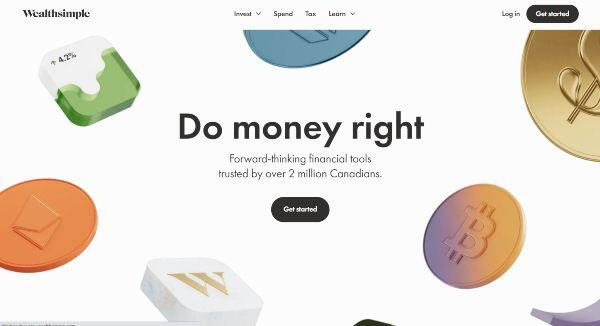 WealthSimple
WealthSimple's web design is clean and visually appealing. They use the space above the fold perfectly where people can understand what the site is all about without the need for scrolling by simply using graphics.
Takeaway: Use the space above the fold effectively on your financial services website. This is where you can quickly communicate what your site is all about.
What should I put on a finance website?
Your financial website should be designed to educate, build trust, and generate leads. Here are some key features your site should have:
Targeted content
The best financial websites provide targeted content that is relevant to their audience. This content should be educational and informative, and it should be presented in an easy-to-understand way.
Your entire website should be designed with your target audience in mind, and your content should be no different.
The moment users land on your homepage, they should be able to tell that your site is relevant to their needs.
Lead capture forms
With a clean design, your lead capture forms stand out and give clear value to visitors. These forms should be easy to find and easy to fill out so that users can get in touch with you without any hassle.
Contrary to belief, lead capture forms do not take away from an elegant design when done right.
It's important to remember that not all visitors will be ready to contact you right away. That's why it's essential to have a well-designed website that captures leads and helps you build relationships with potential customers.
Strong calls to action
Your financial website should have strong calls to action (CTAs) that encourage visitors to take the next step. These CTAs could be in the form of a button or a link, and they should be put in strategic locations on your website.
Your CTAs should be clear and concise, and they should offer value to users. For example, a CTA could provide a free consultation or a free report.
SSL encryption
If you're collecting any sensitive information on your website, it's essential to have SSL encryption in place. This will ensure that all data is transmitted securely and that users can trust your site.
SSL encryption is vital for financial websites, as users will be sharing personal and financial information with you.
Consistent color scheme
Your design concept should include a consistent color scheme that is carried throughout your entire website. This will help create a cohesive look and feel, and it will make your site more visually appealing.
Your color scheme should be professional and modern, and it should reflect the type of business you're in.
When users go from one page to another, they should be able to tell that they're still on your site. This is why it's important to have a consistent color scheme throughout your financial website.
Modern design elements
Many financial institutions have outdated websites that are not responsive and do not offer a good user experience. This can make it difficult for users to find the information they need, and it can also make your business look out of touch.
It's essential to stay up-to-date with the latest design trends so that your website looks fresh and modern.
Mobile friendly
Interactive animations may look great on desktop but can often be too much on mobile. If your financial website is not mobile-friendly, you risk losing potential customers.
Designing your website with both desktop and mobile users in mind is essential. This means ensuring that your site is responsive and easy to navigate on all devices.
Simple navigation
Make sure the financial service you offer and all other important information are easy to find on your website. Users should be able to navigate your site without any difficulty. In addition, they should be able to find the information they need quickly and easily.
Your navigation menu should be designed to be easy to understand, and all of your pages should be well organized.
Clear value proposition
A finance websites design should have a clear value proposition that tells visitors what you do and how you can help them. This statement should be short, concise, and to the point.
Your value proposition should be placed prominently on your website so that users can see it as soon as they land on your site.
Testimonials from satisfied customers
Financial services websites can now feature customer testimonials to help build trust with new visitors. Customer testimonials are a great way to show that your business is reputable and that you're providing a valuable service.
If you have many satisfied customers, be sure to ethically ask them for a testimonial that you can feature on your website.
For example, financial advisors have a tough time gaining trust from new clients. But if they have a page on their website with testimonials from past clients, it will help build trust and show potential new clients that they're worth doing business with.
How to get website visitors
Now that you have web design, it's time to get people to visit your new great website.
Optimized SEO content
You want to create content that your client base is searching for.
Don't make the mistake of only creating content for the sake of creating content. This will not help you attract organic traffic or convert leads into customers.
Your content should be well-written, informative, and use relevant keywords for your target audience. It should also be optimized, so your website's content shows in search results.
For example, if you offer investment services, you wouldn't want to create content on "How to start a business." This would be off-topic, and it wouldn't help you attract your target audience.
Instead, you would want to create content such as "The 10 best investment strategies for beginners" or "5 things to consider before investing More Money."
Social media
Social media is a great way to generate traffic to your financial services website.
You can use social media to share your blog posts, promote your business, and connect with potential customers. You can also use social media ads to target a specific audience with laser precision.
Paid advertising
If you want to get immediate results, you can also use paid advertising to drive traffic to your financial services website.
Paid ads can be a great way to reach a larger audience and get more visibility for your business. However, it's important to remember that paid ads are just one part of an effective marketing strategy.