Email marketing is one of the most effective ways to build your brand and turn leads into clients, but are you doing it right?
Email lets financial advisors interact with your prospects on a one-on-one basis. It is a great opportunity to introduce yourself and make a lasting impact.
When done correctly, email marketing can help paint a brand image that converts and builds client loyalty. 
In this guide, we will show how financial advisors can market their business, and build brand loyalty with email in the right way.
But first, let's discuss why you should focus on email marketing for building your brand.
Elements of An Effective Financial Advisor Email Marketing Campaign
To get better results with email marketing, you have to find out what makes an effective campaign in the first place.
An effective email marketing plan has the following elements:
Personality.
The personality of the brand should reflect its email marketing communication.
From the email copy's tone and voice to the newsletter's designs and templates, you must incorporate them into your newsletter.
Recognizability.
With a brand's solid identity, your email must create a sense of familiarity with your audience.
What would you like your newsletter to be known for? Your reader must be able to easily identify the brand in the first few seconds into the email.
Consistency.
The key to a memorable email is consistency. Your newsletter should be consistent with your website and other platforms where your brand exists.
To do this, it is essential that you develop a brand guideline that will apply to all your marketing channels.
Uniqueness.
Think of creative ideas to make your email stand out.
The competition is intense in your customers' inboxes. You have to find what makes you different from the competition.
Authenticity.
Nothing resonates more with a reader than a genuine brand message.
Strive to create content that deviates from a continuous sales pitch, and rather, offer more value to your audience.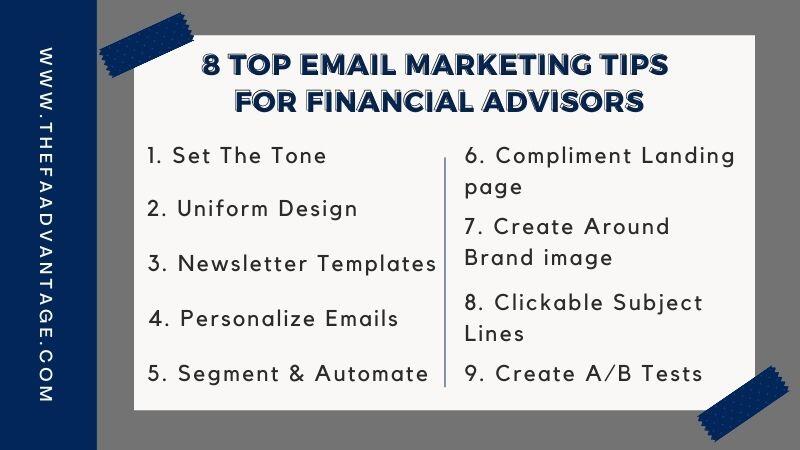 Develop Brand Trust with These Email Marketing Tips
Do you incorporate all elements of an effective email campaign?
If not or you feel you need to improve- it is time to apply them with these eight actionable tips.
1. Establish tone and voice
An effective email campaign involves writing compelling copies.
And in email copywriting, you have to think about how you would talk to your customers.
Should your brand be friendly or serious? Should you be conversational or formal? Should you be funny or matter-of-factly?
When writing the email copy, establish your email's tone and voice based on the personality of your brand. Then, stick with it.
The most important thing about this tip is to be consistent.
Source: Brafton
The voice of your email should match your succeeding emails, your website, your social media, and the other platforms where your brand is.
On the other hand, your tone may adjust to what's appropriate for a specific message given that it still adheres to your brand guidelines.
A consistent tone and voice create a memorable email copy. And being memorable is one way to build brand awareness.
2. Work on a uniform design
Aside from copy, financial advisors should also work on creating a uniform design.
Design and copy make your brand identity, and they should go together.
For example, if you are writing in an authoritative voice, the design of your newsletter should use more professional-looking colors and images.
If you are using a cheerful voice, you can be more playful with your fonts and color schemes.
Again, the key here is consistency.
Remember that as a financial advisor, you are building your brand identity. You would not want to confuse your readers with email designs that do not match the copy.
To achieve consistency in your email, it pays to develop a branding guideline.
This makes it easier for even outside designers and copywriters to make memorable emails that are true to your branding.
3. Create newsletter templates
Templates streamline the email creation process. And they do not just save you massive time, they also build the foundation of solid brand awareness.
People love seeing patterns. This helps them retain the information they are seeing.
When making your newsletter templates, try to incorporate certain formats in your layout that your audience would easily recognize.
For instance, you may always open your newsletter with an image. Or you can go for a bold text that captures a reader's attention.
Find what format works well with your audience, and then stick with that template.
4. Personalize your email
When creating an email, personalize.
Personalization is the use of subscriber information to create tailor-fit email content.
And when we say tailor-fit, it goes beyond addressing your reader by his name on the salutation.
It's about creating relevant and individualized content for your subscriber.
Just take a look at OpenTable's personalized email below: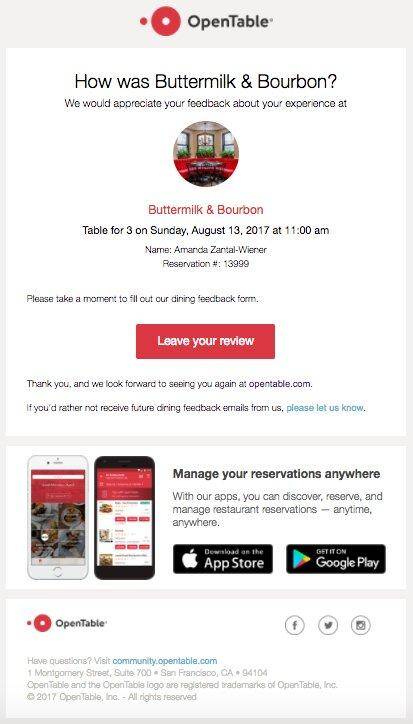 Source: HubSpot
Personalizing your email is crucial because people want value.
This tactic allows for a customer-centric approach that provides readers a pleasant experience.
And what does this mean for your business? You get better results.
In fact, statistics show that personalizing your email subject lines generates 50% higher open rates.
"Emails with personalized subject lines yield 50% higher open rates." – Yes Lifecycle Marketing, 2017
To personalize your email, financial advisors have to segment your subscribers into a more detailed list which we will discuss in our next tip.
5. Segment and automate
Email list segmentation refers to the process of dividing your subscriber list into smaller audiences or "segments."
You divide them based on a set of rules to better target your audience's interests.
There are many ways to segment your subscribers. But the best way to do it is segmenting by behavior.
In behavioral segmentation, your subscribers are the ones triggering the segment based on real actions.
This makes it the most powerful way to segment because you get insights on how users "behave" on your website.
Email list segmentation is key to delivering the right, personalized content to the right recipient. Yet 50.4% of email marketers don't segment their email list at all.- Get Response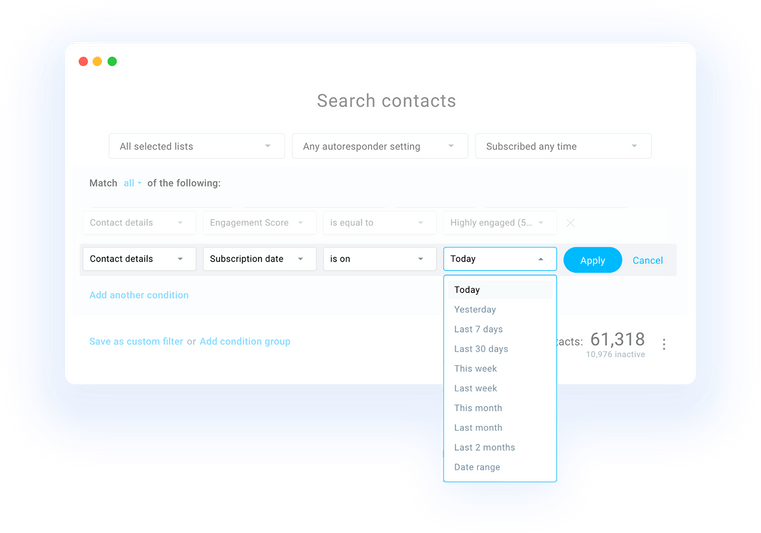 Source: Get Response
For instance, if a new user visited your website for the first time, you can trigger an email automation workflow to send him a welcome note.
You can also add him to your segments for later engagement.
With behavioral segmentation, financial advisors can create custom emails for first-time visitors, users who have searched or purchased a product, and people who abandoned a cart, among others.
Allowing financial advisors to eliminate sending random emails whose content is likely to be thrown into the spam folder.
Both behavioral segmentation and automation can be done using software like MailerLite.
6. Complement your landing page
Email campaigns do not end with a reader clicking the email. Often, the goal is for your readers to reach a certain landing page.
For instance, you have a one-time offer for your customers.
You managed to get their full attention that they would even be eagerly clicking on your call-to-action.
Now, imagine the horror on their face when they get redirected to a landing page that looks completely different from your email.
Worst, the page does not contain the offer at all.
It scares off people. And that is bad email marketing.
That said, ensure that you take the same effort in making your landing page just like how you did with your email.
And if you require people to carry out a specific action, make sure it is simple enough to understand in both your email and landing page.
7. Create campaigns around your brand image
When we talk about email campaigns for brand, financial advisors should craft campaigns with your brand image in mind.
From your welcome email, purchase confirmation to your thank you note and updates, everything in the campaign must be built around the image you are trying to create.
This is especially true for long-term email campaigns.
Doing so paints a clearer identity for your brand, and it gives you a deeper understanding of the brand message you are trying to convey.
The more you get familiar with your brand, the more it shows in your future content pieces.
8. Create A Click-Worthy Subject Line
Your subject line will likely be seen 80% of the time but only clicked on less than 10% of the time.
Those numbers fluctuate and will likely get worse over time.
It is vital that you create a subject line that peaks attention and makes them want to learn more.
It is said that pro writers will create 50+ in order to narrow down one that will lead subscribers to click.
9. A/B Test
The final tip in the list is to A/B test your emails.
A/B testing allows you to identify what aspects of the email resonate the most with your audience.
To test, create two versions of the same email campaign.
Tweak one variable you want to assess, which can be the email's subject line, body, CTA, or the use of visuals. Then, send it across sample groups equally and randomly.
The version that gets more open rates and click-through rates indicate what works well for your brand.
Just ensure that you're running one test at a time to get valid results.
Email Marketing and Branding
Brand awareness refers to how well your consumers recognize your brand.
The more familiar your target audience is to your firm, the more likely they are to do business with you.
And what better way to build consumer familiarity than email marketing?
Email marketing is one of the most cost-effective digital channels available today.
It is not only a low-cost strategy to get the word out on your business, but it also offers one of the best ROIs for your dollar.
"Email marketing generates an average of $42 for every $1 spent." — Data & Marketing Association, 2019
Second, email marketing is the only digital channel to provide direct and regular interactions with your audience.
When a website visitor subscribes to your email list, he becomes a valuable lead that shows a desire to engage with you.
With email, you can target this individual to turn him into a paying and loyal customer.
The great part is: you can target him in the place he visits daily—his inbox.
It is only in email marketing that you have this kind of opportunity.
That said, if you want to succeed in your business, you have to focus on perfecting your email strategy.
Conclusion
When done right, email marketing can be your most powerful tool to raise trust for your brand.
By knowing the elements that make an effective email marketing campaign, you get a better understanding of how you can craft pieces that get higher open rates and click-through rates.
And with the actionable tips above, you're one step closer to developing your brand with email.