Will you entrust your hard earned money to a stranger?
That is one of the million things in the minds of clients when they meet financial advisors. As financial advisors, I'm sure thoughts about, "what clients want from a financial advisor?"
They're looking for a combination of different critical traits. That includes integrity, reliability, expertise, and technical know-how. It's a mix of trust, competence, and authority.
It's not all about just building a relationship with clients. Being a financial advisor means building a relationship of trust.
Everything revolves around that.
Can they trust you as a professional to give a concise expert opinion?
If you have the following traits, then maybe you can nudge your clients in the right direction. Consider the following:
They Need an Advisor Who Understands Their Unique Needs
Trust is at the core of the financial services industry and it is the leading factor that clients are looking for.
Clients aren't just looking for experts—we have an overabundance of that it seems nowadays.
Yes, you need to prove that you are an expert in your field. But clients will need more—they want to know that you are an authority in the financial planning world.
What does that mean?
Sure, you need to know the ins and outs of the financial market. However, to be an authority, you also need to know how the market relates to your niche's individual investments.
You're not just a subject-matter expert. You're also very familiar with the many financial conditions people are experiencing today.
And you can find solutions in your industry to match your client's needs.
They Want Someone with People Skills
Stephen Covey once said that people should first "seek to understand before they seek to be understood."
People skills (yes, it's a skill)are vital for every financial advisor. People don't want an advisor that knows nothing more than to pitch products.
If you come across as someone who is salesy or all you want is to push product after product, then you're going to lose the client.
If you have a genuine understanding of your prospect's financial situation, then you'll end up at the top of their list.
Speak with genuine human interest—not like an ad robot that pitches pop-ups on the screens.
Provide Holistic Solutions
The best advisors are the ones who can provide solutions for the entirety of a financial problem.
The solutions that they provide should be all-inclusive – from tax issues to philanthropic goals.
You should be able to offer estate planning, business planning, retirement, and investment options directly or through strategic partnerships.
They Want Someone with Good Communication Skills
We mentioned earlier that the finance world is an industry grounded in trust. To forge that trust, you need to know how to best communicate with a prospect or client.
Not all communication is verbal.
Nowadays, you need to craft your emails, social media posts, texts, instant messaging, and video and phone calls that build relationships. Cater to the experience of communicating with you.
Being personable each and every time provides a very down to earth human appeal, which makes you standout.
They Want an Educator
As an advisor, people count on you to teach something that they don't know about their finances.
One of the reasons why they come to you is to seek advice. Renowned financial coach Dave Ramsey calls this the "heart of a teacher."
You should be able to assess the aptitude of your clients when it comes to their finances. You can then move from there to provide information that they need—filling the holes in their financial situation as it were.
As an educator, you should reduce complex jargon to simple terms everyday people can understand.
You don't really know a subject until you can express it in the simplest terms.
When you meet prospects and clients, don't be judgmental or assuming. You should instead be curious and helpful. Provide only the information they need and show them what's missing in their financial plans when opportunities present themselves.
Your role in this endeavor is to provide your clients with clarity, filtering out the unnecessary and irrelevant economic news.
You provide financial information that they can act on. Sometimes they just need someone to help them explain the current financial situation to their family members.
The tricky part is determining how much education your clients need. They usually come with an idea or a financial plan.
It's your job to reveal more options and nuances that they may have missed.
A Strong Professional Network
This aspect ties up with being an authority as it was mentioned earlier. As an authority in your niche, people will expect you to be well-connected.
As a professional, you are expected to partner with other industry leaders. If they need solutions from other providers, then you should be able to refer them to reliable resources.
They Want You To Get Them Better Returns
Some clients will come to you looking to get better returns out of their investments.
Maybe they have invested in a VUL or some other product or financial instrument, but they're not getting the amount that they expect.
As their financial advisor, you will be expected to offer options that give better returns.
High Financial Acumen
Advisors should have a higher level of financial acumen since it is their field of expertise.
This means they can competently balance profitability with potential risks. They understand market volatility and know how to navigate through economic turbulence.
In the end, it is your job to provide a sense of stability even if the market becomes uncertain. You've been in deep water as it were and know how to guide everyone safely to shore so to speak.
Respectful to Their Clients
Clients want a financial advisor that will respect them regardless of their financial position, age, asset types, and other conditions. Advisors need to work with clients—it's a collaborative effort.
Finances are personal and a great deal of respect must be provided from both sides of the fence. Respect of course is developed through a strong relationship of trust.
Works with Different Asset Sizes
Studies show that the majority of people would prefer to speak with financial advisors only after their assets reach up to $100,000.
This represents around 47% of the populace with the other 30% being willing to work with financial planners when they have around $80,000 in savings.
This of course reflects client perception and to some degree the current practice among financial advisors as well.
An excellent advisor on the other hand should be willing to work with people no matter how much funds people have in the bank.
Everyone needs financial advice regardless of the size of their holdings.
Proven Experience and Track Record
Clients will want to work with a financial planner or advisor who has a proven professional experience.
This is where a strong personal brand can give you an edge. You will be looked up and controlling the narrative around your expertise will go a long way.
It all starts with making sure to emphasize that you are a Certified Financial Planner (CFP).
Your certification proves that you have experience in the financial services industry.
It is proof that you uphold the highest ethical standards as a professional.
A Support Team Backing You Up
The best financial advisors don't work alone. They have a team to provide support.
Advisors have a lot of clients and keeping up with all their financial needs is a lot of work.
Advisors that have an entire team behind them ensure efficient and reliable service.
A Final Word
The traits that clients look for in financial advisor are built on the principle of trust.
If you can establish that trust and nurture it through efficient and reliable service, then you will be a sought after name in this industry.
Giving the aforementioned factors here, some due diligence will boost your capability of attracting and building long-term relationships with your clients as a financial service professional.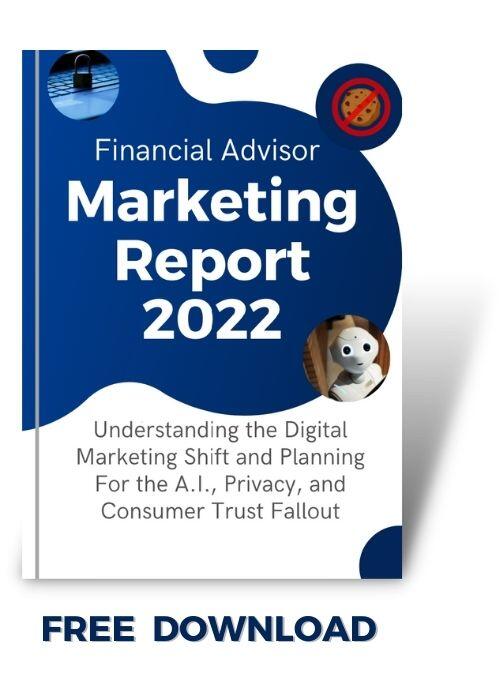 Attracting Better Leads Online
Our 2022 Marketing Report is 100% Free! Learn what it takes to be successful online with all the digital changes happening right now!
(No Email Or Anything Required)
You May Also Like