When creating a value proposition that sells, businesses today have to be more savvy and strategic than ever before.
In the digital age, there is an overwhelming amount of content and noise competing for attention online.
This is why creating a value proposition that cuts through the clutter and speaks directly to your target audience is essential.
It's not enough to create something that sounds catchy or cool.
Your value proposition needs to be laser-focused on your target buyer's behaviors and what they are looking for.
To help you get started, we've put together a list of 9 hot value proposition examples from businesses that are killing it in the digital age.
What is a strong value proposition?
A value proposition is a statement that articulates the unique value that your product or service offers to customers.
It should be clear, concise, and persuasive and explain why your product or service is better than the competition.
Your value proposition should answer the following questions:
What problem does my product or service solve?
Who is my target customer?
What are the unique features and benefits of my product or service?
Why should my target customer care about my product or service?
Creating a strong, unique value proposition is essential for any business, but it's essential for your marketing campaign's overall success.
➡️ If you are interested in creating value propositions that help your sales team close more deals, check out our article: What Are The Key Elements Of A Value Proposition?
Value proposition examples
These companies show great value proposition examples you can use as inspiration for your business.
1. "Will my product be a success or a flop?" – Survey Monkey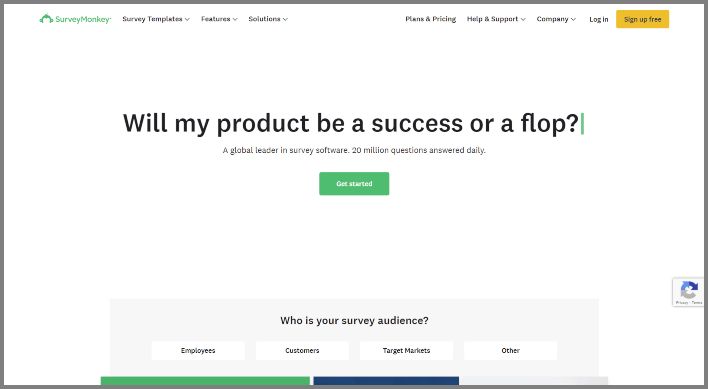 Survey Monkey's value proposition directly asks a question that is top of mind for many businesses and entrepreneurs.
They promise to take the guesswork out of product development by helping you gather customer feedback quickly and easily.
Other questions they ask are, "Are my customers actually satisfied? "Are my employees actually happy at work? "Do people really like attending my events?
Key Takeaway
A simple value proposition that asks the question your target market is already thinking about can be very compelling for your marketing messaging.
2. "Automate your sales outreach, side hustle, social posts, data entry, and contracts." – Zapier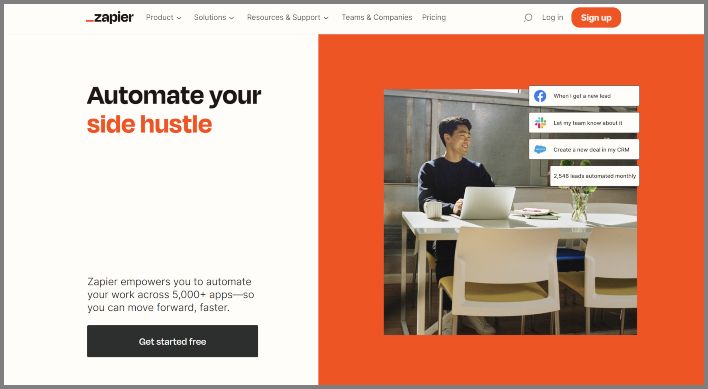 Zapier's value proposition does a great good of letting customers know they can save time and effort by automating tasks.
They round out their value prop by saying, "Zapier empowers you to automate your work across 5,000+ apps- so you can move forward, faster."
With the number of apps and tools people use these days, this is a powerful value proposition that perfectly links the value chain.
This is especially appealing to small business owners and entrepreneurs who wear many hats and are always looking for ways to optimize their time.
Key Takeaway
Ensure you are focusing on how your product or service simplifies a customer's life by solving a specific pain point.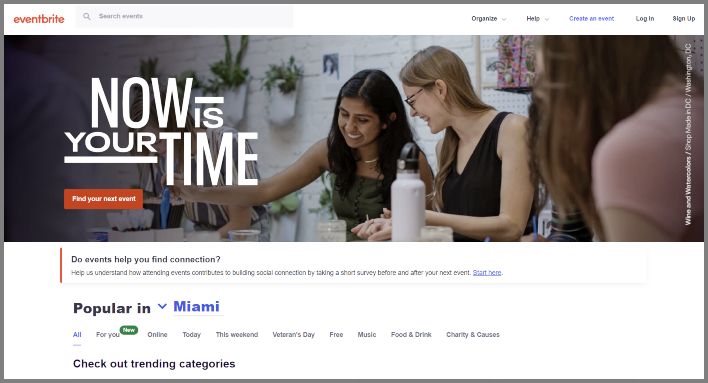 Eventbrite's value proposition speaks to its target market of people looking for something to do.
Their platform allows customers to find and purchase tickets to events happening near them easily.
This value proposition is simple, but it's also very effective in getting people to take action.
People are always looking for things to do and ways to connect with others, so this value proposition hits the mark.
Other notable Eventbrite value propositions include "Find the right event for you" and "Discover events that matter."
Key Takeaway
Creating a compelling value proposition doesn't take a lot of bells and whistles. Sometimes, the most straightforward messaging that focus on the customer's desire can be the most impactful marketing strategy.
4. "Powerful, not overpowering." – Hubspot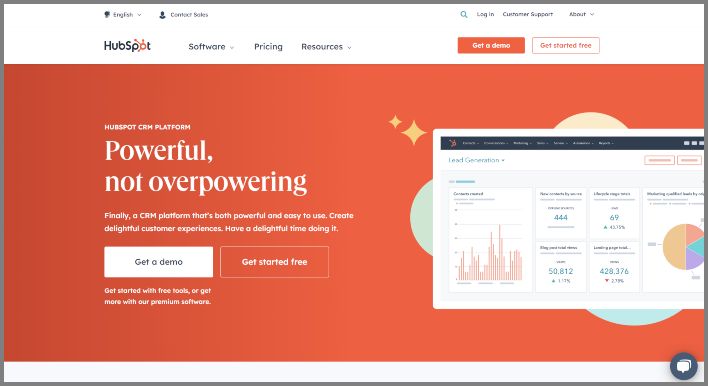 Hubspot has one of the best value propositions for CRMs.
One common consensus amongst small businesses is the difficulty setting up, managing customer data, and keeping track of sales leads.
Hubspot's value proposition directly speaks to this pain point by saying their CRM is powerful but not overpowering.
They go on to say that their CRM is easy-to-use, which is another central selling point for small businesses.
Key Takeaway
Hubspot's award-winning blog has helped them build a strong brand identity that complements its value proposition perfectly.
Consider how you can use your brand's unique voice to stand out from the crowd when crafting your value proposition.
5. "If you can dream it, you can sell it with Shopify." – Shopify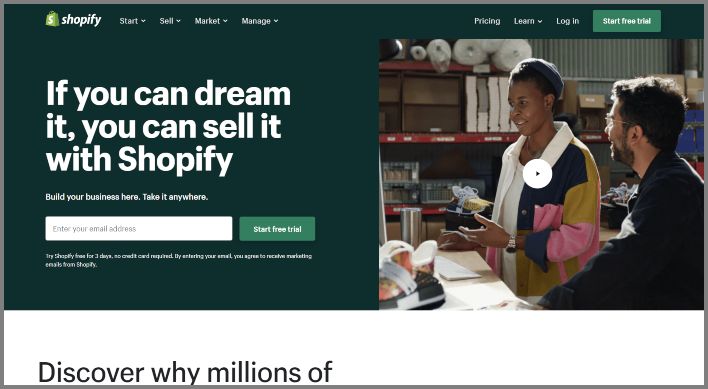 Shopify's value proposition is all about empowering businesses of all sizes to succeed.
No matter what you want to sell, Shopify gives you the platform and tools you need to start and grow your business quickly and easily.
This value proposition is very inclusive, which makes it appealing to a wide range of businesses.
They also finish off the value proposition by offering a 3-day trial. This risk-reduction tactic is very effective in getting people to take action.
To complement their value proposition, the following section goes right into social proof by letting visitors know millions of people use their platform.
Key Takeaway
When creating an acceptable value proposition, mix in other effective marketing tactics, so they all work together to close the deal.
6. "The way the world agrees." – DocuSign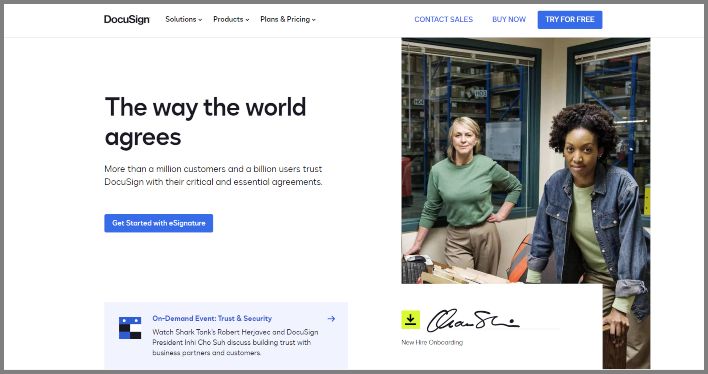 DocuSign's value proposition is all about convenience, security, and efficiency.
With DocuSign, you can sign documents electronically, which is much faster and more convenient than traditional methods.
They finish off their value proposition with social proof mentioning that they have a million customers and a billion users.
This value proposition does a great job of letting customers know they can save time with DocuSign.
Key Takeaway
DocuSign's value proposition is short, sweet, and to the point.
Sometimes, all you need is a few words to get your message across effectively if there is already brand awareness to support it.
7. "Asana helps teams execute 42% faster." – Asana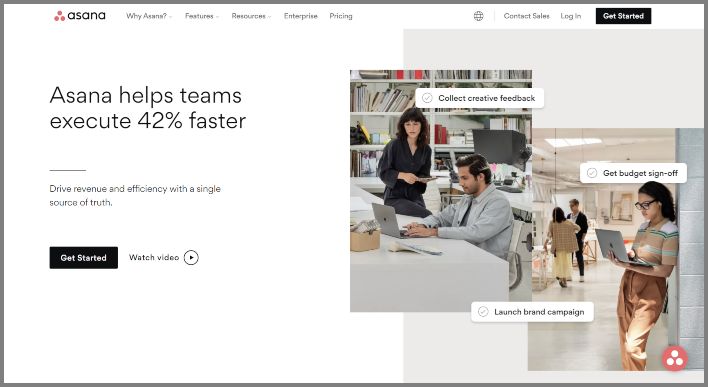 Asana's value proposition focuses on how its product can help organizations and marketing teams be more productive.
They back up this claim with data from a study they conducted, which found that teams using Asana were able to execute tasks 42% faster.
This value proposition is very specific and supported by data, making it more credible to customers.
They finish with a powerful statement: "Drive revenue and efficiency with a single source of truth."
Key Takeaway
This value proposition makes a strong case for why customers should switch to Asana of all the tools at their disposal.
When creating your own value proposition, think about what unique selling points you have that other products don't and use that to your advantage.
8. "Simplify how you work." – Box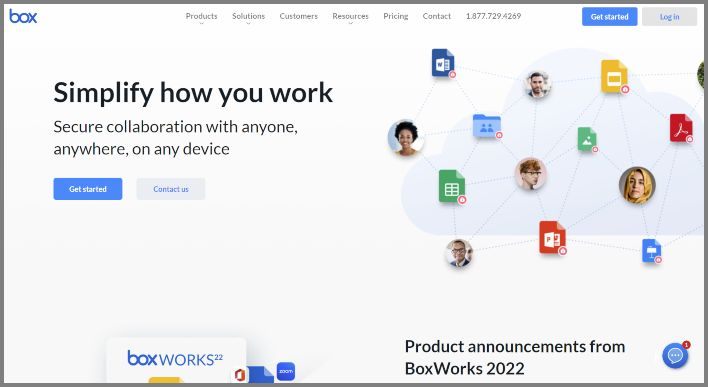 Box's value proposition is all about making work easier for its customers.
They accomplish this by letting users access their files from anywhere, on any device.
This value proposition is very straightforward and easy to understand.
The graphic that compliments the value proposition does a great job of illustrating how Box connects people and teams.
Key Takeaway
The value proposition is just one piece of the puzzle. Next, focus on how you can complement it with other visuals to drive home your point.
9. "Get more done together." -Zoom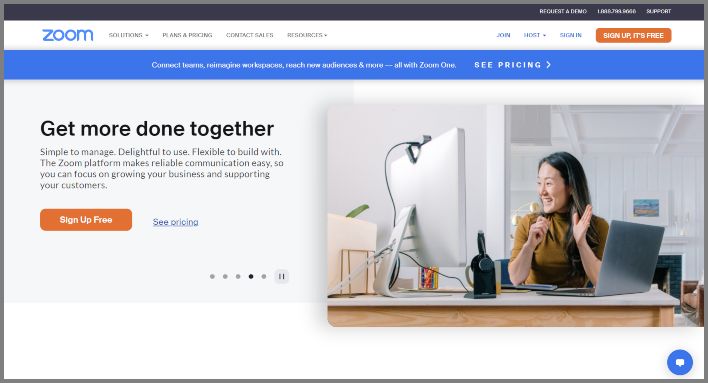 This effective value proposition is straightforward, but it's also very effective.
The word "together" is powerful because it reinforces the idea that Zoom is a collaborative tool.
This value proposition is timely and relevant with the rise of remote work.
To back up this claim, they mention that over half a million companies use Zoom for video conferencing.
Key Takeaway
The word "together" is key in this value proposition. It's an inclusive word that makes people feel like they are part of something bigger, even when "together" is not in person.
People like to be a part of something and feel a sense of community, so use that to your advantage in your value proposition.
Final thoughts on these value proposition examples
These value proposition examples give you a good idea of how you can craft a compelling value proposition for your business to help create customer loyalty, increase sales, and drive growth.
Remember to keep your value proposition simple, clear, and concise, and most importantly, make sure it's relevant to your target audience.
Once you find a value proposition that works well, incorporate it across all your marketing materials and branding strategy, from your website to your social media accounts.
Resources to create your own value proposition
What Are The Three Types Of Value Propositions – Click Here
What's Another Word For Value proposition – Click Here
Strategyzer 's Value Proposition Canvas – Click here