Online events have become a popular way to engage audiences and deliver content.
Millions of people moved to online events since in-person events became impractical.
Many of those who moved online have found that they prefer webinars and webcasts to in-person events.
You can view or participate in an online event from anywhere in the world, and they're usually more affordable than in-person events.
This trend is here to stay.
You can see that even as in-person events make their comeback, there is still the hybrid option which is a mix of in-person and online.
This is the future of events.
Now that we know this, the question becomes: what's the difference between a webcast and a webinar?
Webcasts are one-way broadcasts that allow you to share audio or video content with an audience.
Let's take a look at the key differences between webcasts and webinars:
What's a webinar?
A webinar is a web-based seminar. A virtual two-way interactive event that allows you to engage with your audience in real time.
Webinars are great for lead generation because they allow you to capture leads with forms and calls to action.
You can also use webinars to close deals by offering attendees a product demonstration or a discount.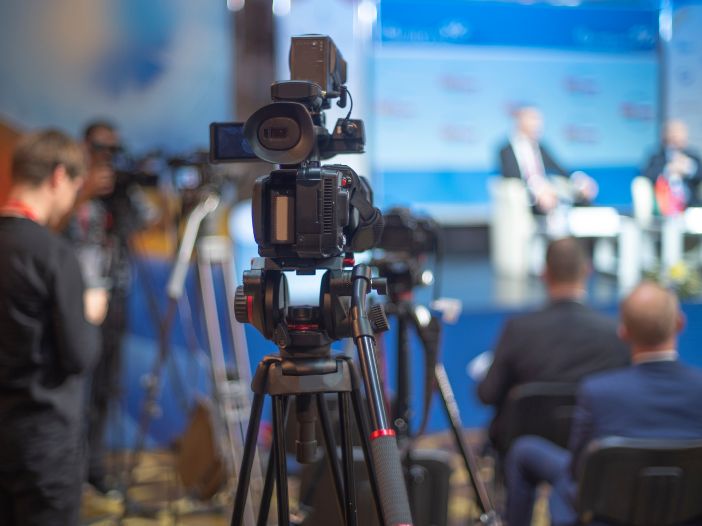 What is a webcast?
A webcast is a one-way broadcast that allows you to share audio or video content with an audience.
Webcasts are great for building thought leadership and delivering content to a large audience.
You can also use webcasts to generate leads by offering a free download or access to exclusive content for attendees.
Now that we know the major differences between webcasts and webinars let's look at the different ways you can use each type of event.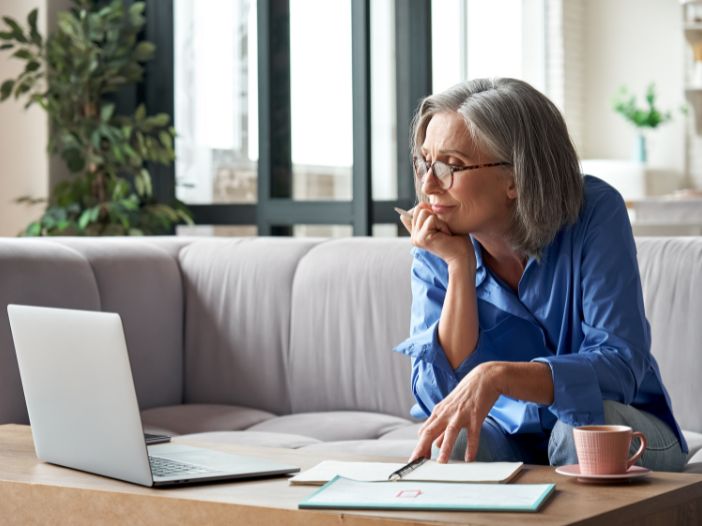 Webcast vs Webinar: The Similarities
Webcasts and webinars have clear differences, but their similarities can be confusing when deciding the best option for your online audience.
Virtual Events
They are both virtual events and are the virtual alternative to a face-to-face event.
Webcast and webinar participants do not need to travel to attend the event.
This makes them more convenient and accessible for audience members who are located all over the world.
The function
The function of a webcast and webinar is also similar.
Both webcasts and webinars aim to educate or entertain the audience by sharing information in an engaging way.
The format
While webinars and webcasts differ in format, they both use video, audio and visual aids such as slide decks or video clips to help with the delivery of the content.
This makes them both visual and auditory events, which can help hold the audience's attention for extended periods of time.
Collaboration
Webcasts and webinars still require some collaboration between hosts and presenters.
Even though they are virtual events, some planning still needs to go into the event so that everything runs smoothly on the day.
Testing equipment, scheduling rehearsals, and preparing materials are all tasks that need to be completed before the event.
Flexibility
With a traditional television program, the budget or number of audience members can restrict the format or audience size.
With webcasts and webinars, there is a lot more flexibility to change things up and experiment until you find what works best for your audience.
This could be anything from using more cost-effective equipment, locations since there is a virtual audience or even the length of the event.
You can also try out different types of content to see what your audience responds to the most.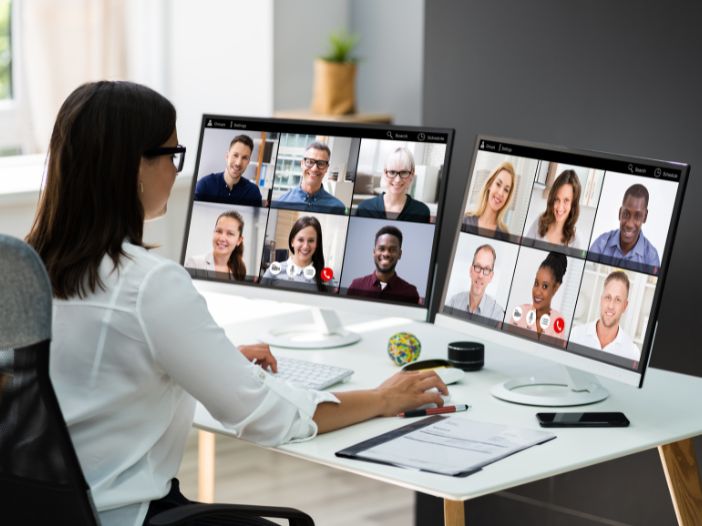 Webcast vs Webinar: Differences
There is some clear difference that you should be aware of before planning your next event.
Here's an overview of the differences between a webcast vs webinar:
Differences in engagement and interaction levels
If your goal is to have a one-way communication where your audience isn't required to do much other than listen and watch, then a webcast is probably a better option.
Think Ted talks or keynotes where the audience is there to learn and be inspired by the speaker.
It's a one-to-many communication model.
It's a two-way communication model that feels more like a conversation than a presentation.
On the other hand, if you're looking to have a few too many with audience participation where they can ask questions and participate in polls and surveys, then a webinar might be a better choice.
Think of online meetings with presentation slides that typically finish with an offer or call to action.
Differences in format
A webcast is usually a pre-recorded video streamed online ("as live") at a specific date and time.
This means that the audience watches the video at the same time. They can't fast forward or rewind.
A webinar is usually a live stream where the audience watches and listens to the presenter in real time.
Some webinars will also offer the option to download a recording after the event.
A webinar can also be virtual meetings where online attendees can ask questions and interact with individuals they likely would never have access to.
This is the format that most people are familiar with when they think of webinars.
Differences in costs
Another key difference between webcasts vs webinars is the cost.
Hosting a webcast is typically expensive since it requires professional equipment and editing.
You also need to promote your webcast so that people actually show up and watch it.
Conversely, a webinar is a much more cost-effective solution since you don't need to worry about production values or promoting your virtual event to a massive audience.
All you need is a laptop and an internet connection.
Differences in timings
Webcasts can last up to several hours, whereas webinars are typically an hour or less.
Webcasts take much longer to produce, whereas webinars can be planned and executed relatively quickly.
Large Audience vs Small Audience
The audience size for a webcast can be in the thousands, whereas a webinar audience is usually smaller, around 100-500 people.
Webinar software is not designed for large audiences. It would be challenging (and expensive) to host a webinar for a thousand people.
This is not a flaw, but simply a difference since webinars are focused on creating a more intimate setting.
Differences in content
Finally, the content for a webcast is usually more polished and professional since it's been edited and rehearsed.
A webinar is more conversational in nature since it's live.
You can't script a webinar the same way you would a webcast.
You need to be comfortable with winging it and thinking on your feet which can be a bonus if you are focused on personal branding or comfortable sharing your expertise on the spot.
You will not know what questions or objections may come your way.
So, there you have it! Some key differences between webcasts vs webinars that you should keep in mind when planning your next event.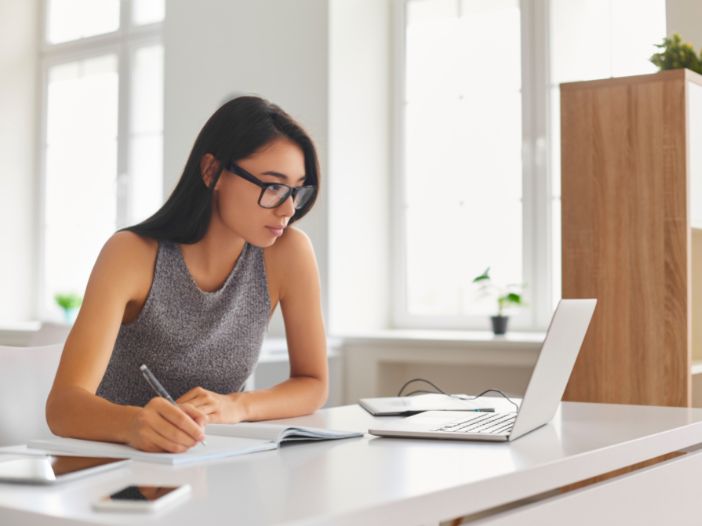 Webcast vs Webinar Comparison
PROS
CONS
Webinar
Smaller, more intimate audience

Higher interaction and engagement with virtual attendees

Can have more of a "one-to-one" feeling

Can be as simple as using screen sharing
Need some technical knowledge

If too many attendees try to join they'll be locked out
Webcast
Audience can be large

Can be difficult to produce

Higher cost
Audience is passive

Generally more expensive to produce
How to Decide: Webcast vs Webinar?
Now that you understand the key differences between a webinar and a webcast, you're probably wondering when you should use each one.
When to choose a webinar?
You'll likely want to use a webinar for the following reasons:
To close deals by offering a product demonstration or a discount for attendees
For a product launch
To generate leads by capturing attendees' contact information
To build relationships by offering valuable advice or training
To increase brand awareness by hosting a celebrity or industry expert
Webinar Types
Webinars can be as simple or complex as you want.
Here are some of the most popular types:
Question and answer: audience members submit questions in advance (or during the webinar), and the host answers them live.
Interview: the host interviews a guest expert.
Product demonstration: the host demonstrates how to use a product or service.
Training: the host provides live training on a particular topic.
Case study: the host showcases how a customer has used your product or service to achieve success.
Panel discussion: the host moderate a panel of experts on a particular topic.
Evergreen content: Record your first webinar. Now you have an evergreen webinar available on demand and working for your 24/7.
When to choose a webcast?
You may want to opt for a webcast over a webinar in the following cases:
When you have a large audience and need to reach as many people as possible
When you're live streaming an event, such as a keynote speech or concert
When you want to produce a high-quality, polished video
Webcast Types
There are two main types of webcasts:
Massive event streams: Broadcasting live events. This can be popular keynote speakers to music festivals.
Corporate announcements: For large companies, set up a webcast that can handle thousands of employees simultaneously.
Sporting or gaming events: For events that have a lot of audience participation, like e-sports.
Continuous live feeds: For webinars that are more like a TV show, with new episodes airing on a regular schedule.
Now that you know the key differences between webinars and webcasts and when and how to use each, you can start planning your next event!
Remember to keep your audience top-of-mind so you can choose the proper format.
How to Choose the Right Webinar or Webcast Platform?
Now that you know when to use a webinar vs webcast and what kinds of each are available, it's time to choose the right platform.
Going with a webinar
The best webinar platforms will offer:
HD video and audio quality
The ability to host 100+ attendees
Live chat feature and Q&A features
Screen sharing and co-announcing capabilities
Recording and transcription services
Marketing integrations
Robust customer support
Our Top Recommended Webinar platform
Demio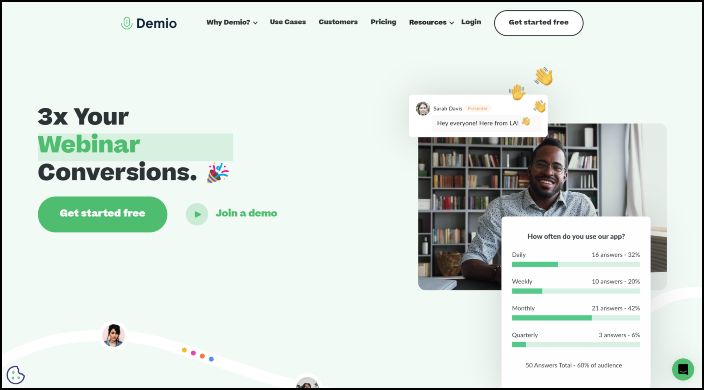 Demio offers a user-friendly, feature-rich webinar platform perfect for businesses of all sizes.
Some of our favorite features include the following:
The ability to host up to 1,000 attendees
A smooth, streamlined interface
Powerful marketing and engagement features
Whether you're just getting started with webinars or are a seasoned pro, Demio is a great option for hosting your next webinar.
Honorable mention webinar platforms include:
GoToWebinar, WebinarJam, Zoom, Crowdcast.
Going with a webcast
The best webcast platforms will offer the following:
The ability to stream to millions of viewers
Customizable branding and player features
Marketing integrations
Robust customer support
Our Top Recommended Webcast Platform
Vimeo Livestreaming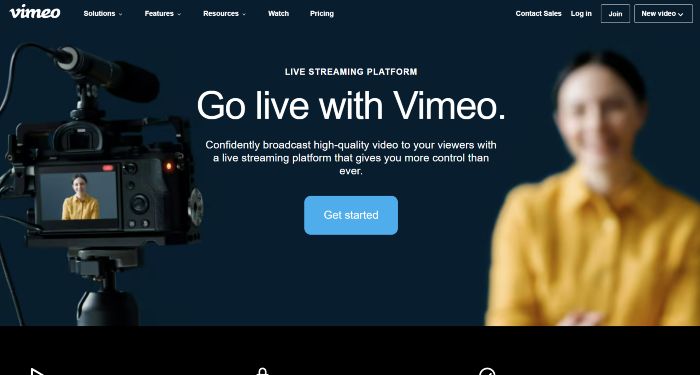 Vimeo Livestreaming has everything you need to stream your live event to a wider audience. From customizable branding to software integrations, Vimeo Livestreaming has it all.
Some of our favorite features include the following:
The ability to stream to millions of viewers
Customizable branding
Stream on five other platforms at once
Marketing integrations
If you want to reach a broader audience with your next live event, Vimeo Livestreaming is the perfect platform.
Honorable mention webcast platforms include:
Ustream, Dacast, YouTube Live, Facebook Live.
Do the research and decide which platform is suitable for you and your audience.
Then, get ready to host a successful event!
Aligning Your Business Goals With Either Format
The same principles apply to webinars and webcasts: you need to align your event with your business goals.
Your event needs to deliver value to your audience, whether in the form of education, entertainment, or both, based on your audience make up.
It also needs to be well-promoted so you can reach your target audience and achieve your desired results.