Do you want to be a thought leader in your field?
A thought leader is someone who offers guidance and insight to those around them. They help others with their knowledge and experience in a particular topic.
To cement your reputation as a thought leader in your industry, you need to have strategic thought-leadership content strategy.
But what exactly is thought-leadership content?
How do you create it?
In this post, discover the essential things you need to know with thought-leadership examples and how to use content to build your online presence.
Also, learn from the examples of established thought-leaders to inspire and guide you in crafting high-quality content for thought-leadership marketing.
What is Thought Leadership Content
Creating thought leadership content presents your brand as an authoritative voice in your industry.
It aims to inform, educate, provide insights and help answer the biggest questions in your audience's minds.
This type of content is based on unique perspectives, experiences, and resources that inform your brand's philosophy and product.
You share this using content marketing to build credibility, trust, and ultimately, loyalty.
Remember, thought leadership content is:
Informative, educational, and helpful, not self-promotional
Solve the pain points of your audience, not a marketing piece about a product or service
Positions you as the go-to expert in your industry, not just a mere brand trying to make sales
While publishing thought leadership content is used as a content marketing tool, remember that it takes a customer-first approach. It is not entirely about what you know.
Rather, it is what your audience wants and needs to know from you.
Remember what it is and what it is not to effectively position yourself as a leader in your field.
Types of Thought Leadership Content
Thought leadership content ideas can be shared in different formats, such as:
Blog Posts & Articles
Writing blog posts and articles for content marketing is one of the most common and effective ways to demonstrate expertise in your niche.
It requires you to publish posts about topics that resonate with your market consistently.
By publishing new blog content, you show how well-versed you are in your field.
This can be anything from industry news to educational content that helps your target market solve specific problems.
This consistency eventually builds a following for your blog, which helps boost your credibility.
Ensure you use keyword research to make sure you give your posts the opportunity to be found in search engines.
eBooks & White Papers
Look at some thought leaders in your industry. Chances are, they have authored at least one book or white paper about their subject matter.
Writing eBooks and white papers may require time for in-depth research, but it isn't as demanding as maintaining a blog schedule.
The heavier graphics and thorough content also provide real value to your audience, which in turn, position you as an authority in your field.
Original Research & Insights
Conducting your own surveys, research, and data gathering instead of relying on existing reports can make you stand out from the crowd.
As a thought leader, your followers expect you to provide something new to the field.
Presenting original research and insights about your industry satisfies this need, which in turn, establishes thought leadership.
Videos & Infographics
We live in a visual world, that's why videos and infographics make for great thought leadership strategy.
Both types are easy to digest and engaging to users. This is especially true for videos, which is a consumer's favorite type of content to see from brands on social media.
That said, consider creating explainer videos and interactive infographics to inform and engage your audience.
Media Appearances & Guest Posts
Your brand recognition grows the more you appear in media interviews, articles, features, and industry-related websites and blogs.
The more people recognize your brand, the more you'll be perceived as a thought leader.
So, it is also important to work on fresh content ideas outside your current platforms.
Build relationships with the press, contribute guest articles and get your name out there.
Virtual Events & Public Speaking Engagements
Just like media appearances, getting active in virtual events can give your reputation a significant boost.
Aim to participate in conferences, trades, and exhibits not only as an attendee but as a speaker when possible.
Speaking engagements are particularly crucial in building your resume as a thought leader.
If you can, hold your own webinars and podcasts to build yourself. In the new normal, it's still a must to make human connections with the people in your field.
Digital Hubs & Training Resources
As a thought leader, your primary goal is to teach your followers. Thus, creating a learning hub for your audience to receive relevant content is crucial to your success.
Offer training resources, programs, courses, and events that will help your users solve their problems alongside the other forms of content mentioned above.
Social proof
Thought leadership is not just about what you say.
It's also about what others say about you and your original ideas.
As often as possible, whether it be from social media comments, DMs, reviews on various platforms, always find a way to collect and display as many of these as possible.
Best Thought Leadership Examples To Build Your Brand With Content
Based on the types above, let's look at some thought leadership examples of brands that are doing great with their content.
Take inspiration from these brands so you can create valuable content for thought leadership marketing that grows your business. 
Grow by Acorns and CNBC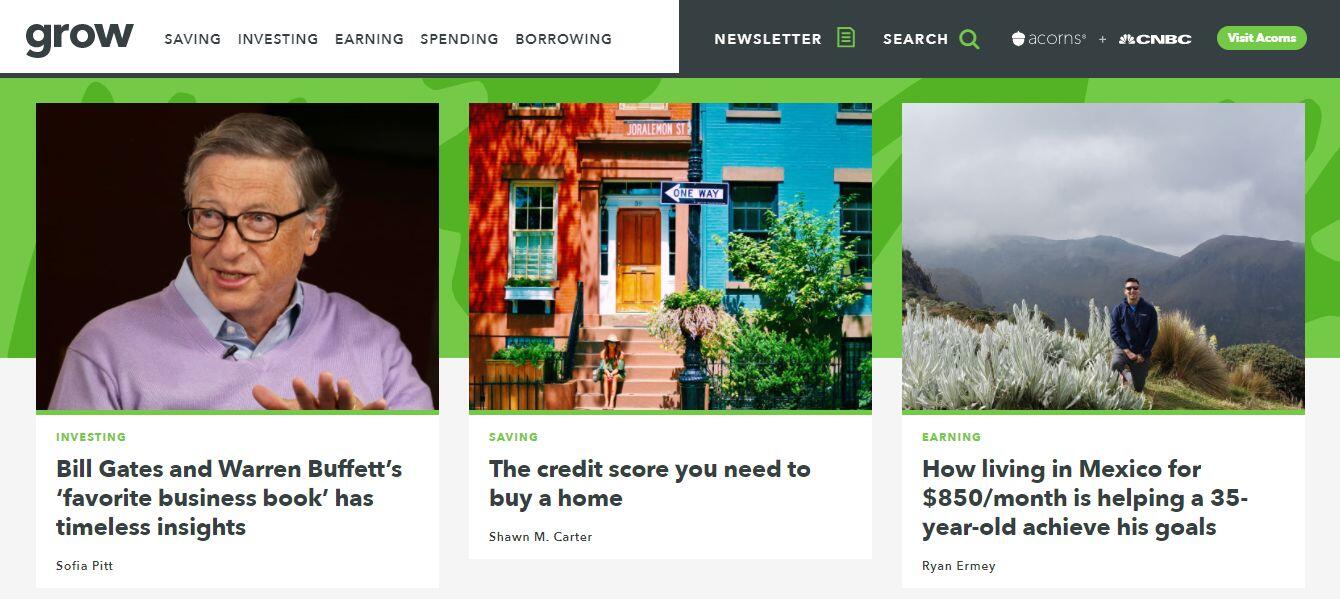 Acorns may be a company offering financial investments, but they know not to oversell their services with their content. Instead, they make good use of their blog to tackle the more interesting side of financing.
To appeal to their audience, they publish content revolving around saving, spending, and earning that people could highly relate to. They also partnered with news provider CNBC and built a team of financial experts to boost the blog's credibility.
This sincerity to help people make the most out of their money earns them a spot on this list.
Takeaway: Be helpful.
Degreed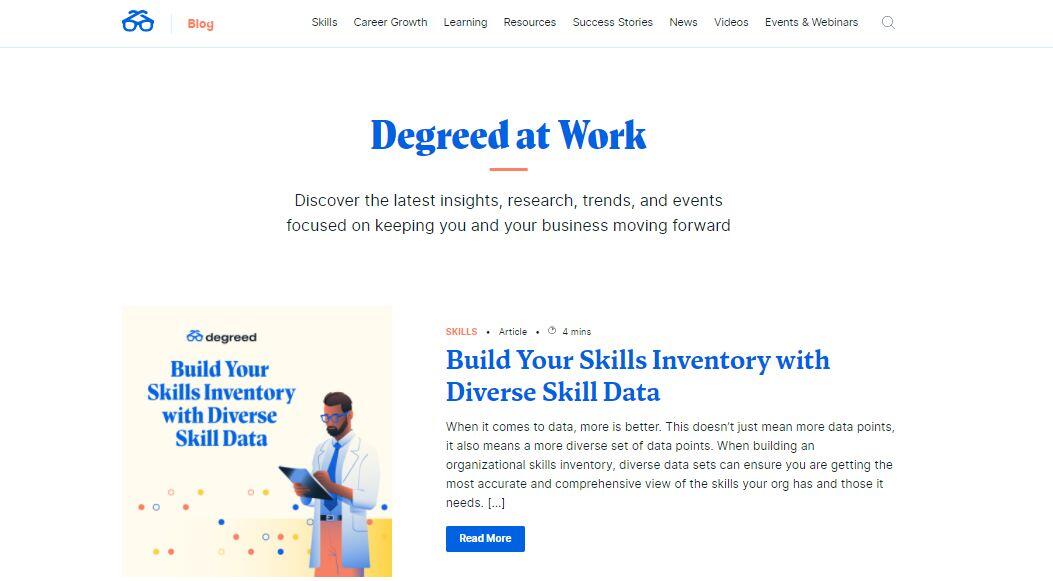 When it comes to building authority, publishing whitepapers is a surefire way to get the job done. Education technology company Degreed recognizes this, which is made evident by their thorough and well-designed whitepapers.
It is a smart move for Degreed to leverage this type of content as whitepapers are often perceived to be highly-authoritative. This especially works when your target markets are entrepreneurs and businesses, who usually look for real value from brands.
Takeaway: Provide real value to your audience.
Burning Glass Technologies
Data is a powerful tool to establish thought leadership. And for for-profit enterprise Burning Glass Technologies, it is one key to stand out from the competition.
The said brand uses data to become a formidable name in its field. Together with industry authorities like the Bureau of Labor Statistics, Burning Glass Technologies offers a wealth of original content from raw info about labor and the job market.
As the brand brings something new to the table, it gets a huge chunk of attention from the community.
Takeaway: Add to the conversation.
MarieTV by Marie Forleo
When it comes to creating video content for thought leadership, Marie Forleo does it spot-on.
It is truly impressive how she handles her web series, MarieTV. Not only does she create videos that help people create a business and life they love. She also goes the extra mile addressing her audience's problems.
One notable thing about her content is her effort to answer questions from her viewers every week. She does this with much gusto, not only answering on her YouTube channel but also on her website. This genuine care to help her audience has earned her a loyal following.
Takeaway: Engage with your community.
Oprah Winfrey
From one host to another, Oprah Winfrey's brand is built around authenticity.
People follow Oprah's content because it's genuine. She opens her stories to the world to empower other people.
She isn't afraid to share her experiences, joyful or sad, to encourage her audience to embrace their own stories. And this genuineness translates well to her content, whatever the format.
Throughout the years, she remained herself and taught us that thought leadership isn't just about your knowledge. It is also about being who you are, not just as a brand, but as a person. And that this genuineness should reflect on your content.
Takeaway: Be authentic.
Build a Better Agency Podcast by Drew McLellan
In industries like digital marketing, agency leaders are often strapped for time. If you're targeting these people, how do you get them to consume your content?
Drew McLellan knew exactly what agency heads needed, that's why he created the Build a Better Agency Podcast.
His 30-45 minute podcasts are just what busy marketing leaders need to get educated on how to improve their agencies.
By thinking of his audience's needs, he was able to appeal to them and get a fair share of their time.
Takeaway: Think of your audience's needs.
First Round Review
While getting interviewed sure can help with your thought leadership marketing journey, interviewing people can also boost your reputation. The First Round Review blog is proof of that.
The said venture capital firm spends its time interviewing entrepreneurs. The people behind the blog seek thought leadership advice from real companies to feature on the website.
Through this approach, the First Round Review blog has managed to get media attention as well as a positive response from the community.
Takeaway: Reach out to other experts in your field.
Business Class by American Express
Here's another brand that doesn't just rely on its own expertise.
Business Class by American Express is a blog for small businesses. Previously called Open Forum, this blog lets their business customers post content on their website.
Along with their team of writers, content from business owners make up American Express's blog. This cumulative effort to provide a thought leadership hub gives Business Class a spot on our list.
Takeaway: Build a community.
HubSpot Academy
In the marketing world, HubSpot is a respected brand well-known for its top-notch automation tools. However, people's recognition of this brand doesn't just end with their software products.
This company brand is also admired for its free online knowledge hub, HubSpot Academy. Here, you will find training resources for professionals and entrepreneurs aiming to grow their careers and businesses. They offer certification programs and practical courses to help their customer base and visitors.
Takeaway: Educate your target audience. Successful thought leaders aren't only experts, but they are also excellent teachers.
Developing your Thought Leadership Marketing Strategy
What can we learn from the examples above?
When developing your thought leadership content, you have to take into account the following elements to pull off an effective content marketing strategy.
Be helpful: People turn to brands that help make their daily lives easier.
Provide real value to your audience: Your effort to create content that offers real value pays off with a loyal following.
Add to the conversation: Thought leaders are expected to lead and not just follow. You do this by offering something new to the field.
Engage with your community: Don't just post content and leave it there. Engage with people before, during, and after publishing your content.
Be authentic: People can see through pretensions. Always be genuine when informing, educating, and entertaining your audience.
Think about your audience's needs and problems: When creating content, consider how to solve your audience's problems.
Reach out to other experts in your field: Sharing knowledge with fellow thought leaders does not only help your community. It also puts a spotlight on your brand.
Build a community: Involve your audience in your content creation process.
Educate your audience: Real thought leaders are excellent teachers. People will trust you if you can teach them what they need.
Use a Call To Action: Always tell your audience what to do next so your content fills your pipeline and you can convert leads into paying customers
Final Words
Content marketing is essential to establish yourself as a thought leader in your field. As such, you should understand what is thought leadership content to know how to create it.
Remember: There is no such thing as the "best" content. What works for one brand may not work for another. Thought leadership content comes in many formats, and it is up to you to discover which will work best for your message.
However, there are definite elements that you need to consider when creating content. The thought leadership examples above should guide and inspire you as you develop your own content marketing strategy.