Here's a pro-tip: Work on solidifying your personal brand.
Building a personal brand is one of the greatest things you can do for your career or business. Anyone who's looking for a marketing strategy–from job seekers to startup founders or even executives–can benefit from having a strong personal brand.
When it comes to branding yourself, there are many social media channels to build your presence on. But none can match the advantages that LinkedIn has to offer.
In this post, find out why you should take your personal branding efforts on LinkedIn. Learn how having a strong LinkedIn presence can help establish your professional brand. Most importantly, discover the steps you need to create your personal brand on LinkedIn.
Why is LinkedIn Important for Personal Branding?
LinkedIn may be best known as a place to upload your resume to show recruiters. But that's in the past. Now, it has evolved into a more sophisticated platform perfect for building your personal brand.
Today, LinkedIn boasts of various features that let you showcase your value, build connections, and reach out to your audience. From contact targeting to article publishing to lead generation and conversion tracking, you'll find tools to grow your personal brand on LinkedIn.
This opens plenty of opportunities to use the platform in different ways. Your LinkedIn profile, when done strategically, can portray different roles that support your goal of establishing a personal brand:
It's your online portfolio
It's your personal website and blog
It's your 24/7 salesperson
It's your career coach
It's your researcher
It's your online directory
It's your professional association
It's your review platform
With your LinkedIn profile playing many roles for your brand, you have to spend time working on it. Continue reading to find out how you can build a strong personal brand on LinkedIn.
How Does LinkedIn Help Promote Professional Branding?
Fact: LinkedIn is the world's largest professional network. That alone explains its importance to your professional branding. In more detail, here are specific ways a LinkedIn brand helps you.
LinkedIn serves as your living resume
A solid LinkedIn profile gets your brand positioned for more opportunities.
Thanks to this platform, you're given a space to construct a professional image of yourself. LinkedIn allows you to list your skills, experiences, and accomplishments for your potential clients and employers to see.
You can update your profile whenever you make a career move, complete a new course, get speaking engagements, or publish new articles, research, or case studies.
Consistently updating your LinkedIn profile sends the right signal to your target audience that you're constantly advancing your career, and that they should check out your brand.
Your professional career becomes an open book that can influence how people perceive you.
LinkedIn helps you get found on Google
Have you ever tried to Google your name? What shows up on the first page of the search result?
If you're applying for a job or emailing a potential client, chances are, they'll search your name on Google. And you don't want them to see the less desirable results about you online.
Hence, if you want to control the narrative about your name, it's time to work on your LinkedIn profile. One great thing about this platform is that it is easier to rank your LinkedIn profile on Google than your website, giving you more visibility.
When your profile ranks, this leaves searchers a good impression of you as a professional individual.
LinkedIn connects you with people
When it comes to networking, LinkedIn is top-notch. With over 700 million professionals using the platform, you're more likely to find your target audience in this channel.
Here, it is easy to find relevant people in your industry, send an invite to connect and grow your network.
The LinkedIn Groups also provide excellent opportunities for your personal brand to gain recognition. With a free LinkedIn account, you can join up to 50 groups for sharing your content, researching your market, and making meaningful connections.
That said, LinkedIn is a great place to build relationships, which you need to grow your professional brand.
LinkedIn communicates your value
LinkedIn is a great platform to broadcast the word about your brand in front of a large, targeted audience.
Here, you can post regular content to show your expertise in your subject matter.
When you achieve a milestone, post it on your profile. If you read an informative article that you think can be of value to your connections, share it with your network. If you have some thought-provoking questions for your followers, ask away.
Posting on LinkedIn can reach a lot of people that can help build awareness of your brand. Even a simple comment on other people's posts can go a long way in this channel.
You can even publish articles directly to LinkedIn to demonstrate thought-leadership, establishing your authority and credibility.
Be strategic about what you post to communicate your value the best way possible on LinkedIn.
LinkedIn offers a trove of information
LinkedIn's wealth of resources and analytical tools can help you with your market research. From its LinkedIn Groups to LinkedIn Company Pages to LinkedIn Search functionalities, you'll find the tool useful.
Here are some ways you can use LinkedIn for research:
Looking for insights about your market
Searching for experts in your industry
Gathering information for your customer profile
Curating popular content ideas
Staying on top of current events in your field
Find candidates for your team
Learn more about a company's culture and key personalities
How Do I Create a Personal Brand on LinkedIn?
By now, you might be excited to build your personal brand on LinkedIn. To help you get the most out of your brand, here are some tips to strengthen your profile.
Optimize Your Profile for Search
A well-optimized profile lets you be found by potential clients or employers online. But how do you optimize your profile?
LinkedIn isn't just a social media channel. It is also a search engine platform, so you need to use the right keywords specific to your expertise and industry.
Once you identified the keywords, use them in the following sections of your profile:
Headline, summary, and job descriptions.
Headshot, banner, and images.
At the top 3 list of the skills section.
Pulse posts, which is LinkedIn's blogging platform.
Contact information section.
Projects and Publications sections.
Choosing the right words and using them in your profile make the difference between getting found and being invisible on LinkedIn.
Create Your Headline
In the headline field, you're allowed to fill up to 120 characters. It's one of the first things that your profile visitors will see, so make the most out of this space.
The headline is an excellent place to show your personal branding statement, which is a 1-2 sentence summary of your brand.
To take advantage of your headline, make sure that it answers all of these questions:
What are you expert in?
Who do you help?
What sets your personal brand apart?
Here's an example of a personal branding statement in the headline: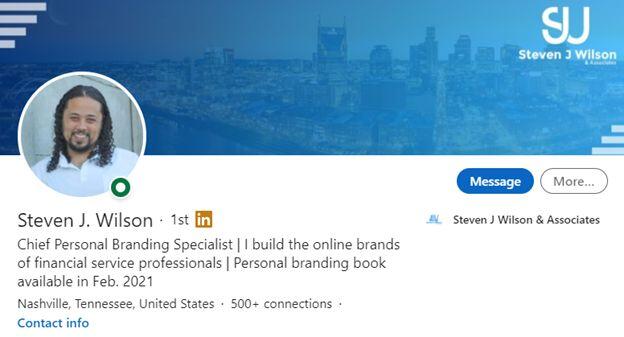 "I build the online brands of financial service professionals."
Also, don't forget to optimize the headline with keywords so you can be found via relevant searches.
Craft Your Description
The About section is the support text to your headline. It is where you sell yourself to a potential client or hiring managers.
In this part, mention compelling points that would make your visitors want to connect with you. It should include your skills, experiences, and accomplishments.
However, sell yourself for what you want to do, not what you've done in the past.
This means you don't just squeeze every work you've done before in your summary. Instead, highlight the works that are relevant to the clients or jobs you want to attract.
For instance, if you're a photographer and want to attract soon-to-wed couples, be sure to feature previous works related to weddings.
Your other portfolio can be placed below in the Experience section.
Choose Your Headshot
Remember that LinkedIn is a platform for professionals, so use a profile photo that would help you look professional. Don't just use your usual Facebook or Instagram selfie photos on your LinkedIn profile.
You don't need to have a professional photoshoot to do this. Just keep these things in mind when having a headshot:
Show your face and/or shoulders
Make eye contact and smile
Dress professionally
Don't wear accessories that can obscure your face
Avoid pixelated photo
Ensure you have excellent lighting
Don't have anyone else in the photo
Also, be sure to name your headshot with your keyword. For instance, name your photo "personal branding consultant Tennessee." People who are searching for this term may see your image come up on the search results page. The same goes for your banner and other images.
Design a Banner Image
LinkedIn also lets you upload a banner image to your profile. When choosing a cover photo, keep in mind that it should tell your brand story.
Insert elements that clearly tell what your brand is about. For instance, if you're a writer, you can include an image of a pen in your cover photo. It wouldn't also hurt to inject your personality in the banner to make it more creative.
If you have a graphic designer who can create your cover photo, great. But if you have limited resources, Canva.com offers plenty of templates to design your own banner.
Write Articles
You might be thinking, "Why would I want to publish an article on LinkedIn? when I can publish it on my website's blog?"
It's a valid question, but did you know that every time you publish on LinkedIn, the post shows up on your connections' feed. But the best part is that they get notified of your post.
That means more people can get to read your article when you publish on the said social media platform versus your blog.
There are various ways to take advantage of LinkedIn posting.
Publish a LinkedIn exclusive article.
Publish an excerpt of an existing blog article to LinkedIn. Then, direct your audience to continue reading on your website.
 Syndicate content from your blog and repost it to LinkedIn.
With such a feature, it's worth considering publishing articles directly on LinkedIn.
Engage with Others
A solid LinkedIn branding strategy isn't just about you posting content. It also involves building relationships with your connections.
Make sure to engage with other people's content regularly. Interact with fellow professionals, especially those with who you plan to work together in the future. Find time to share, like, and comment on posts relevant to your goals.
Converse with prospects or recruiters to introduce yourself, which can increase your chances of success when you pitch your products or services to them.
Engaging with others doesn't only build relationships. It also literally connects you with your target audience. In LinkedIn, a simple comment shows up to your network, which usually appears like this:  "Steven J Wilson commented on this post."
Leverage this to further your brand recognition.
Get Endorsements & Recommendations
LinkedIn also allows users to leave endorsements and recommendations on your profile. These are great to have as they act as social proof of your expertise.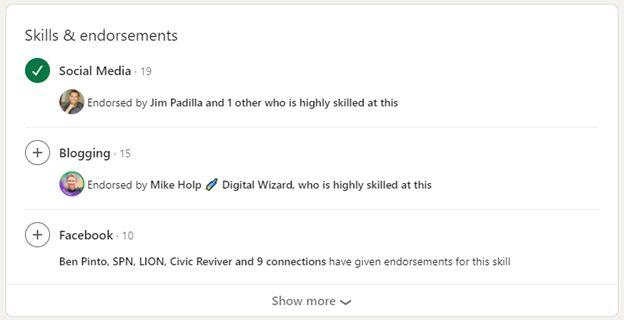 Don't just wait for people to leave testimonials. Be proactive and ask for endorsements and recommendations from relevant connections. In LinkedIn, you can request recommendations from your connections easily from your profile.
You can start asking your colleagues, clients, or professors for their testimonials.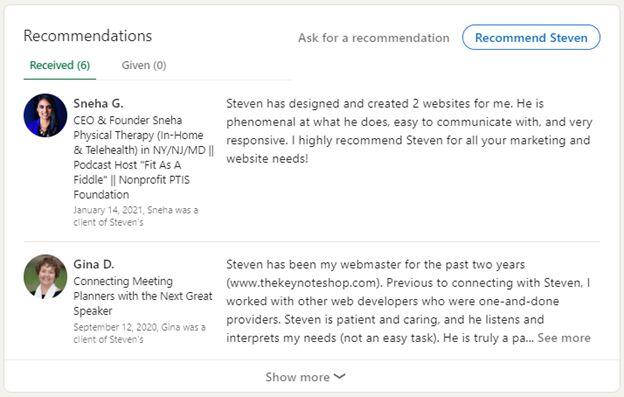 When requesting recommendations, ask them for feedback on a specific skill to boost your reputation. It also pays to mention why you want the recommendations.
In return, always say thank you and write a recommendation for them.
Personalize Your Connection Request
A personalized invitation boosts your chance of getting accepted. So, spend some time writing your invitation to build that connection.
A good LinkedIn connection request contains the following:
Explanation on how you know the person
Reason why you want to connect
What you admire most about his brand
Some information from his profile (e.g., recent blog or specific skill set)
When sending your invite, show a bit of enthusiasm to further improve your chance of getting accepted. Also, always end it with a thank you.
Don't Pitch Too Soon 
While you are using LinkedIn to sell yourself, don't make the mistake of pitching straight away.
It's tempting to sell to someone you meet the first time because you don't want to miss the opportunity. But this may only ruin your chance to build potential relationships with your audience, which is the reason why you're establishing a personal brand on LinkedIn in the first place.
The best approach is to be helpful to your audience. Show you're sincere in connecting with them, and that you'd want to help them with their needs, concerns, and problems.
At the end of the day, your audience remembers genuine relationships, not cold pitches.
LinkedIn Personal Branding Examples
If you need inspiration, we rounded up some of our favorite professionals who are on top of their personal branding game on LinkedIn. Check out their profiles and learn what they did best to stand out from their peers.
Jonathan Palmer
Video is huge on LinkedIn right now, and if you are or planning on getting involved in creating videos on LinkedIn, Jonathan is the person you should follow. Jonathan shows and teaches you the power of being yourself through LinkedIn videos while growing your brand or business at the same time. Jonathan has been dominating LinkedIn for the past two years, and there is no doubt in our minds that he will be able to inspire and guide you on the path to success with LinkedIn video.
Connect with Jonathan Palmar on LinkedIn: https://www.linkedin.com/in/jonathanpalmar/
Cher Jones
It wouldn't be fair to mention building a brand on LinkedIn and not mention Cher Jones. She is the perfect representation of showing your professionalism while letting people connect with who you are on a deeper level. If you need more amazing energy and tips from a dedicated LinkedIn power-user that has been crushing in for years, then, Cher is who you need to connect with. Cher hosts a weekly show called #JustAskCher, and we highly recommend you tune in.
Connect with Cher Jones on LinkedIn https://www.linkedin.com/in/itscherjones/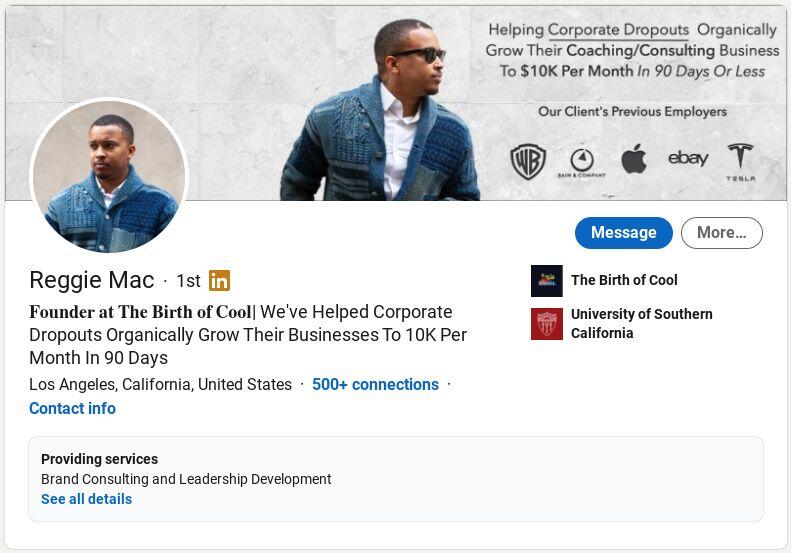 Reggie Mac
Reggie will inspire and help you achieve better results with your brand from the content he shares. Reggie does a great job of posting thought-provoking content while genuinely engaging with his connections. Every business professional should model and take Reggie's advice to grow your relationships and business utilizing his LinkedIn strategies.
Connect with Reggie Mac on LinkedIn https://www.linkedin.com/in/reggiemac/
Joel Lalgee
Joel is one of my favorite people to follow on LinkedIn. He shares some great thought-provoking content and is a perfect example of a LinkedIn power-user doing amazing things on the social media platform without being salesy or pushy. If you are looking to grow your brand on LinkedIn, you should follow and soak up everything Joel does on LinkedIn.
Connect with Joel Lalgee on LinkedIn https://www.linkedin.com/in/bestrecruiterever1/
Wrapping Up
When it comes to building your personal brand, LinkedIn is currently the best social media channel to be apart of. It is a sophisticated platform meant for creating personal brands, offering plenty of benefits for career seekers and business owners alike.
Leverage the platform and start branding yourself now.
Be sure to follow Steven J Wilson on LinkedIn.