Customers expect their bank or credit union website to be modern, user-friendly, and informative in this digital age.
Financial institutions must invest in cutting-edge web design to remain competitive.
Updated designs and features on bank websites are now largely considered a key trust factor in determining whether new customers will open an account with a particular institution.
To help you create a world-class bank or credit union website, we've compiled a list of the best designs from around the world.
These websites set the standard for excellence in the banking industry, from sleek and minimalistic interfaces to interactive and engaging content.
Best Bank Website Designs
When selecting these designs, we choose excellent bank websites while giving you various styles and features to learn from.
The Bank Of Princeton
The Bank of Princeton has a modern and sleek design that is easy to navigate. The home page has a minimalistic approach, with just a small amount of text and large images.
The use of whitespace makes the content easy to read, and the website as a whole is very user-friendly.
The interactive map on the Contact page is a great way to help visitors find their nearest branch.
Key takeaway: 
A minimalist approach can be very practical for bank websites. Large images and minimal text help to make the content easy to read and digest. Consider using interactive elements, such as maps to help visitors find the information they need quickly and easily.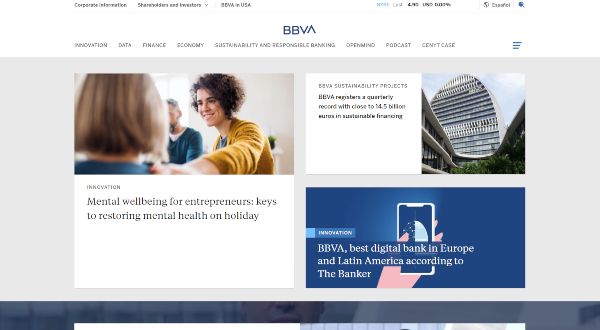 BBVA Compass
The first thing you'll notice about the BBVA Compass website is their focus on content creation.
Their blog features articles on a wide range of topics, from personal finance tips to small business advice.
This is a great way to engage with their target audience and build trust.
Key takeaway: 
Content is a great way to engage with your target audience and build trust. By creating informative and interesting articles, you can position your bank or credit union to appear high in search results and have plenty of content to share on social media.
Capital One 360
The Capital One 360 website has a fresh and modern design. The hero image on the home page is eye-catching and relevant.
The use of large, bold text makes the site easy to navigate. The links to essential pages are clearly visible and easy to find.
The blog section is well designed, with each article featuring a large image and a summary.
The articles are easy to read and provide valuable information.
Many are still unbanked, so having basic financial literacy can go a long way.
Key takeaway: 
Include a blog on your website to provide valuable information to your visitors. Use large images and clear text to make the articles easy to read.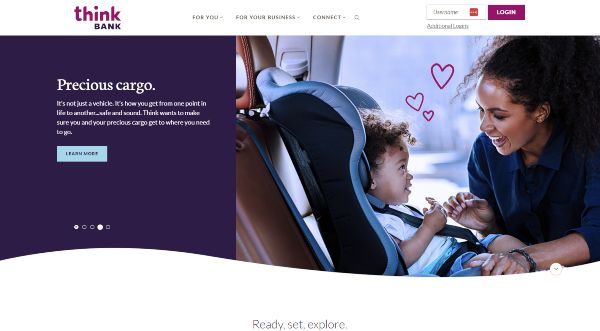 Think Bank
Think Bank's web design is clean, modern, and user-friendly.
The home page features a large hero image with clear links to important pages.
The use of whitespace makes the content easy to read, and the overall design is very sleek.
They did a great job of image selection to connect with their target market visually.
They set up their navigation and give many details about what they can offer while remaining clean and concise.
Key takeaway:
Your website's navigation should be easy to use and understand. Use clear and concise text to explain what your institution offers. Select images that will resonate with your target market.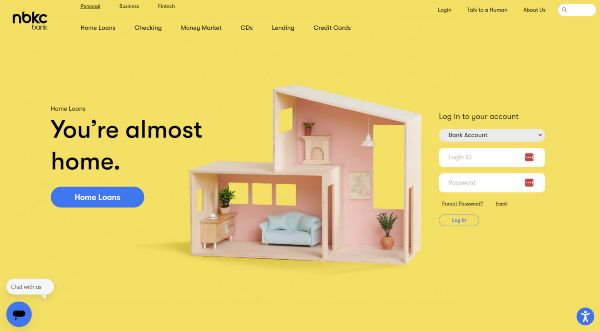 NBKC Bank
NBKC Bank's website is clean and modern, minimalistic design.
It's bright, inviting, and easy to navigate.
The home page features a large hero image, with a call to action making it clear what they want you to do next.
There's much information on the website, but it's well organized and easy to find.
The use of a well-thought-out chatbot makes it easy for potential customers to find what they are looking for without having to wait for a live person.
Key takeaway: 
Create a bank website that is easy to navigate and has a clear customer focus, guiding them to your most important pages. Consider including a chatbot on your site to help potential customers find the information they need quickly and easily.
Ally Bank
Ally has a top-tier bank website design when it comes to branding. Everything on the site — from the colors to the fonts to the photos — is on-brand and consistent.
They put thought into details that seem overlooked on many sites, like custom icons and illustrations.
This focus on the details creates a feeling of quality and trust.
The site is easy to navigate with clear links to important pages, and the overall design is modern and sleek.
Key takeaway: 
Your website should be an extension of your brand. Everything from the colors, fonts, and photos should be on-brand and consistent. Pay attention to the little details. They matter.
PenFed Credit Union
Credit unions should take note of PenFed Credit Union's contemporary design.
Their bank website design still has a traditional feel but offers modern touches, like the video backgrounds on some pages.
The color palette is soft but still eye-catching.
They do a great job at displaying their many banking services, all above the fold, in a way that is still easy to digest and understand.
Key takeaway: 
Your bank website can have a modern design without feeling cold or sterile. Use a soft color palette and include traditional elements to give your website a warm, inviting feel that gives off a sense of familiarity.
Byline bank
Byline bank is one of our favorite designs when it comes to having a well-thought-out customer focus.
Our favorite element is how the customer's online banking menu.
It is nicely positioned to almost blend in with the mosaic-style image gallery on the home page.
This allows Byline to add more content without it feeling overwhelming.
The pops of orange and the font selection give the site a friendly feeling.
Which matches their tagline perfectly; "Your neighborhood bank."
Key Takeaway: 
Your website should focus on your customer. Add pops of color to give your site personality and life. Select fonts that match the feeling you want to evoke.
Flushing Bank
We like how Flushing Bank starts by piquing potential customers' interest with their bank website design.
When one of the first things visitors see on your site is something like bonuses and earning up to $1,000, you are sure to drive people deeper into your website.
People have a very vanilla outlook on the benefits of using a bank.
Flushing does a fantastic job of breaking that mold by displaying what their bank has to offer by putting their bonuses and rewards front and center.
Key takeaway: 
Let your customers know that you have something special to offer them. The faster you can grab their attention and convince them that you are "different" from the rest, the better.
Zenith Bank
Zenith Bank lets you know immediately want they are about with the first thing likely to catch your eye in the top left corner with their red Internet Banking button.
They switched the norm of having the logo appear in this top left position and wanted the customer to know that they offer online banking.
You will see their logo and a search bar in the top right corner.
The overall design of this online bank is straightforward and customer-focused.
Key takeaway: 
Your web design does not have to be flashy or over the top to be effective. Simple designs can be just as impactful, if not more so. Use colors that represent your brand and highlight essential elements on your page.
P&N Bank
P&N Bank catches potential customers' attention by mentioning they can get $3,000 cash back on eligible refinances.
The design of the website is very straightforward.
This can be a good thing when it comes to banks because people want to feel like their money is in good hands and that they aren't being taken for a ride.
A financial institution can radiate trustworthiness by having a sleek and simple design.
Key takeaway: 
You don't have to do a lot to make an impact. Sometimes less is more. Be clear and concise in your messaging and design. Let people know what you have to offer without bombarding them with too much information.
Honorable mention: Florist Federal Credit Union
Florist Federal Credit Union has a simple design that does what a credit union is supposed to focus on; community/ member perks.
They focus on three things that members have told them are important; "Great Service, Better Rates, Easier Access."
This is what every credit should focus on.
Key takeaway: 
Always focus on what your customer wants.
What makes banking websites good?
Whether it is a credit union, digital bank, or a traditional bank, there are certain design elements that make websites for banking appear trustworthy, conversion ready, and compliant.
Application of security measures
A bank website must have specific security features to protect user information. This includes features such as encryption, firewalls, and intrusion detection.
This includes your bank's mobile app, where there are elements you can't control, such as the download of malicious apps or the phone's OS being outdated.
2FA or multi-factor authentication is also something to consider since it's an extra layer of protection for logging in.
Create customer journey maps
To effectively help your existing and potential customers navigate your website design and easily find or discover all the banking services you offer, you need to create customer journey maps.
This will help you understand how users interact with your website and what their needs are.
You can use this information to design a website that is easy to use and conversion ready.
Make sure your website is compliant
There are specific regulations that banks must follow, such as the Gramm-Leach-Bliley Act (GLBA) and the Dodd-Frank Wall Street Reform and Consumer Protection Act if you are in the U.S.
Your website needs to be compliant with these regulations in order to avoid any penalties.
Some of the things you need to consider are:
Ensuring that all forms on your website are secure
Having a privacy policy that is easily accessible
Ensuring that all sensitive information is encrypted
Consider your target audience
Who is your target audience? This should be one of the first questions you ask when designing a website for a bank.
Your target audience will determine the overall tone and style of your website. For example, if you target millennials, your website will be more modern and sleek.
If you are targeting baby boomers, your website will be more traditional and conservative.
Keep these things in mind when designing your banking website, and you will be sure to create a website that is good for both users and conversion.
Yes, technically, you can serve everyone, but it's going to be very difficult to speak to everyone all at once without losing the overall effectiveness of your message.
Great bank websites focus on whom you're trying to reach the most.
Then naturally, through brand loyalty and word of mouth, you will still attract prospective clients from the other end of the spectrum, but that's not your focus.
Maintaining Brand Identity
The best bank websites also do a great job staying true to their brand consistency and identity.
Your website should be an extension of your brick-and-mortar bank. It should have the same feeling, look, and user experience.
The goal is to make it easy for customers to transition from one platform to the other without feeling like they're in a completely different world.
If your bank is known for its customer service, then make sure it shines through on your website.
The easier you make it for customers to find what they're looking for, and the more helpful your website is, the higher the chances are of them using your website again in the future or opening a new account.
Responsive design
A good bank website needs to be responsive in order to provide a good user experience.
This means that your website should be able to adapt to any device, whether it's a desktop computer, a laptop, a tablet, or a smartphone.
Your website should be easy to use and navigate no matter what device someone is using.
If your website is not responsive, you risk losing potential customers because they will have a bad experience using your website on their mobile devices.
Make sure your website is fast
Another essential factor to consider is the speed of your website.
In today's day and age, people are used to things happening instantaneously.
If your website is slow, it could make it practically unusable if your customer is on bad wifi or has a slow internet connection.
Make sure your website loads quickly by optimizing your images and using a content delivery network (CDN) which also adds another layer of security.
Call to actions
A good call to action is more than just a button that says "click here."
Your call to action should be clear, concise, and easy to spot.
It should also be relevant to the user. For example, if you're trying to get someone to open a new savings account, then your call to action should say something like "Open A New Savings Account."
Make sure your call to action stands out by using a color that contrasts with the overall color scheme of your website.
Your call to action should be placed in an easily accessible spot on your website.
Easy navigation
Having a user-friendly site is critical for a good bank website design.
Banking websites should be easy to navigate so users can find what they're looking for without hassle.
Your navigation bar should be simple, with clear labels that tell the user where they are on your website and what they can expect to find there.
You have likely noticed a bank website design that tries to include too much information on their navigation bar and drop-down menus.
This is not ideal as it can be overwhelming for users and make your website seem cluttered.
It's important only to include the most important links on your navigation bar, and if you have much content on your website, consider using a clean drop-down menu to keep things organized.
Mobile banking
Your customers expect access to their checking accounts and other banking services from their mobile phone.
A good bank website design will take this into consideration by providing a mobile-friendly version of their website or a separate mobile app.
Your mobile app should be well designed and easy to use.
Customers can complete tasks such as checking their account balances, transferring money, deposit checks, and other common banking transactions.
Site search
Even with a clean design, you still want to make it easier to convert prospective clients by giving them the ability to search your site.
Adding a search bar in an easily visible spot on your website can help users find what they're looking for without having to click through every page of your website.
Some individuals will land on your bank website and go to the search bar to find your auto loans page because they already know what they want.
Customer service
You have spent time building trust, so don't lose it by not having good customer service.
It's essential to have a phone number and email address that customers can use to reach out to you if they have any questions or need assistance.
Your customer service should be prompt, helpful, and courteous.
You may also want to consider adding an online chat feature to your website so users can get help in real-time.